Mednick Supports Cross-Cultural Research
Dr. Alison Marganski researches socially interactive intimate victimization and contemporary dating behavior among young adults
By Staff | March 15, 2013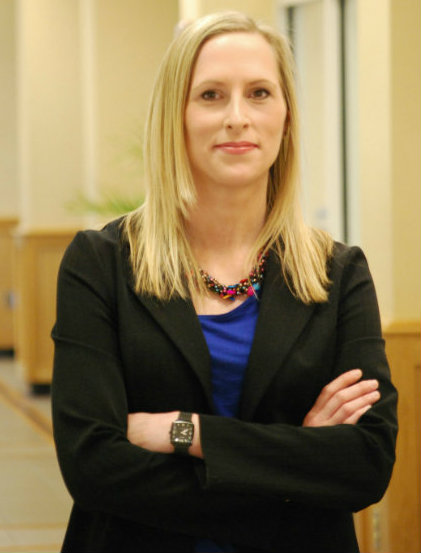 Assistant Professor of Criminal Justice Dr. Alison Marganski was awarded the 2012 Maurice L. Mednick Memorial Fellowship last summer by the Virginia Foundation for Independent Colleges. The $2,000 fellowship has supported her project "Socially Interactive Technology and Interpersonal Violence Among Young Adults in Poland and the United States: Drawing Cross-Cultural Comparisons and Examining Victim-Oriented Services."

Marganski's ongoing cross-cultural study is aimed at investigating violence and its acceptability among young adults in current or potential intimate relationships. In particular, her research investigates the extent of socially interactive victimization and behaviors considered "acceptable" and "unacceptable" among young adults in parts of the United States and Poland. It considers whether there has been a transferability of conduct from the real world to the virtual world by examining patterns in each, and it also explores the perceived influence of social networking on relationship experiences. Additionally, the study examines perceptions of punishment for socially interactive intimate violence, and also investigates traditional victimization services available for individuals in problematic relationships. The results will provide recommendations for future policy, practice, and research.

"With numerous published entries on subjects of family and social violence, several related professional presentations, and various articles under review, Dr. Marganski is a young scholar already making an impact in her field. She is attentive to how her scholarship can link knowledge to action," writes Vice President for Academic Affairs and Kenneth R. Perry Dean of the College Dr. Timothy O'Rourke in his nomination letter.

Dr. Marganski joined the faculty at Virginia Wesleyan in the fall of 2010. She received her Ph.D. in Criminology and her M.A. in Criminal Justice from Rutgers University in Newark, New Jersey. While completing her degrees, she engaged in research assessing violence victimization experiences among prisoners re-entering the greater Newark community, volunteered at a local area women's shelter, and worked as a consultant for the Center for Problem-Oriented Policing. Her dissertation, titled Adult Attachment as a Mediator/Moderator to Early Experiences of Family Violence Victimization on Adult Physically Violent Behavior, was successfully defended in April of 2010.

Dr. Marganski is passionate about student learning and has taught a variety of courses including but not limited to: Social Research; Criminology; Gender, Crime and Justice; Family; Family Violence: Causes, Consequences and Responses; Extreme Murder: Serial Killers, Spree Killers and Mass Murderers; and Media, Crime and Criminal Justice Policy. She has promoted student engagement through numerous special events and has hosted various speakers on campus to raise awareness on important social issues.

The Maurice L. Mednick Memorial was created in 1967 in honor of a young Norfolk industrialist who died from accidental causes and whose family and business associates wished to perpetuate his name by establishing a memorial that would emphasize his and the donors' strong interest in higher education. Administration of the Mednick Memorial Fund is vested in the Virginia Foundation for Independent Colleges to encourage the professional development of college professors and improve their academic competence through fellowships for research and advanced study.

Founded in 1952, the Virginia Foundation for Independent Colleges is a nonprofit fundraising partnership supporting the programs and students of 15 leading private colleges in the Commonwealth: Bridgewater College, Emory & Henry College, Hampden-Sydney College, Hollins University, Lynchburg College, Mary Baldwin College, Marymount University, Randolph College, Randolph-Macon College, Roanoke College, Shenandoah University, Sweet Briar College, University of Richmond, Virginia Wesleyan College, and Washington and Lee University.