Meet the Faculty: Dr. Jayne Sullivan
This lifelong educator is the newest Governor of Rotary District 7600, and is responsible for more than 3,000 members and 64 clubs.
By Megan Z. Shearin | February 17, 2010
Jayne Sullivan, Ph.D.
Associate Professor of Education/Special Education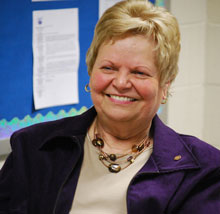 Dr. Jayne Sullivan considers herself a "lucky lady" when she finally goes to bed in the wee hours of the morning.
This high energy, go-go attitude professor with a boisterous laugh has retired four times, and she readily gives herself an 'F' when it comes to receiving those Social Security benefits.
Before coming to Virginia Wesleyan in 1999, Sullivan was employed with St. Mary's County Public School system in Maryland for 30 years. She was a teacher, elementary principal, director of elementary schools and director of student services and special education. She brings the love of teaching into the classroom, where she teaches reading, special education and curriculum courses to Virginia Wesleyan students.
Her smile can light up a classroom, but it's her tough and tenacious mindset that motivates her students.
"My dad was in the war, and I moved three times in third grade," said Sullivan. No big deal to this "Army brat." By the time Sullivan finished high school she had attended 19 schools and moved 24 times.M.Ed., Bowie State University
Ph.D., University of Maryland
M.Ed., Loyola College of Baltimore
B.S., University of Maryland
"I even attended 5th grade in a 4th grade classroom while in Germany," she quipped.
Perhaps it was her worldwide exposure that led Sullivan to join a Rotary Club in 1990. Rotary is the world's first service club organization with more than 1.2 million members in 33,000 clubs worldwide. One of the organization's largest goals has been the worldwide eradication of polio.
Recently, Sullivan was elected Governor of Rotary District 7600 [the great Hampton Roads area] for 2010-2011. She is responsible for more than 3,000 members in 64 clubs, and is expected to visit each club.
"That's a lot of clubs to visit, but my passion besides teaching is Rotary," said Sullivan, who is only the second female governor selected for District 7600. She previously served as a club president, scholarship co-chair, assistant governor and district secretary."I still get nervous on the first day of school. I worry that I'll be good."
Her community outreach through Rotary has taken her into local third grade classrooms to distribute dictionaries and a crisis center working with at-risk youth. She also serves on the Clean the Beach committee.
For this professor who graduated with a degree in textiles and clothing, her professional career has been about learning and teaching others.
"I can cook and sew," joked Sullivan. "Imagine that."
In her spare time, she enjoys reading, attending theatre productions and watching movies. She is the proud grandmother of Austin, 11, and Cole, 9. Her son is a firefighter and her daughter is a teacher.