Meet the Faculty: Dr. Kathy Merlock Jackson
Jackson is accepted and attends the International Radio and Television Society's Faculty Seminar on Disney/ABC in Burbank, Calif., August 10 - 12.
By Megan Z. Shearin '06 | August 12, 2009
Kathy Merlock Jackson, Ph.D.
Professor of Communications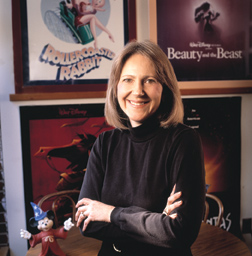 From presenting at international conferences on the cultural battle between the two best-selling fashion dolls, Barbie and Bratz, to writing books on Walt Disney, Dr. Jackson has a passion for media, children's culture and animation.
Ph.D., Bowling Green State University
M.A., Ohio State University
B.A., West Virginia University
"Mass media tell the stories of a rapidly changing, technologically dynamic global culture," said Jackson. "As coordinator of the communications program and internships, I have the exciting and challenging job of encouraging students to explore these stories, find their meanings, and create stories of their own."
Dedicated to research, Jackson is the author of four books, as well as numerous articles and reviews. She is a former president of the American Culture Association and currently edits The Journal of American Culture. In 1984 she received the College's Samuel Nelson Gray Distinguished Teaching Award and in 2004 became its first recipient of the Batten Distinguished Scholar Award.
Over Winter Session 2010, Jackson and Dr. Terry Lindvall, C.S. Lewis Endowed Professor of Communications and Christian Thought, will co-teach a new course, "Walt Disney in America." The course includes a trip to Walt Disney World in Florida.
Recipient of the 2007 Governing Board Award, the American Culture Association's highest award for scholarly contributions to American culture studies, Jackson believes that her work is not complete just because a student graduates. She often follows her students for years, assisting them with finding jobs in the communications field and with conducting research in graduate school.

"At Virginia Wesleyan, teaching class is not an end in itself, but the beginning of a relationship with students whose lives and careers I will follow for years," she said.