Meet the Faculty: Dr. Mavel Velasco
Her summer travels included a two-week trip to Bolivia as a recipient of a 2009 Faculty Summer Development Grant from the College.
By Megan Z. Shearin '06 | September 9, 2009
Mavel Velasco, Ph.D.
Professor of Spanish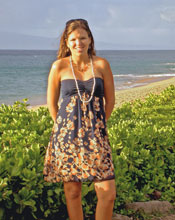 On the weekends, one might find Dr. Mavel Velasco dancing the night away at a Latin Club.

"I come from a culture where you don't have to be tall, young, and thin to dance well or to enjoy dancing," she said.

A native of Bolivia, Velasco was exposed to the Quechua and Aymara indigenous communities as a child, and has lived in Saudi Arabia, Spain and Japan. At the College, she teaches courses in Spanish and Latin American Music and Dance.
Outside of teaching, Velasco is passionate about Latin American politics. In the 1970s, her college, the State University in Bolivia, was closed down under the dictatorship of Hugo Banzer. She left her home country to continue her education in the U.S.Ph.D., M.A., and B.A., Rutgers University in New Jersey

"I believe that my job doesn't end with the classroom," said Velasco. "My main objective is to always give students opportunities."

In the community, Velasco is the chair of a local Hispanic organization, the Hispanic Leadership Forum, which organizes annual conferences about the Hispanic community in Hampton Roads. She also oversees a weekly Hispanic Outreach Program teaching English as a Second Language and leads Spanish Reading Time with kids at a local library just minutes from the College."I enjoy teaching, and I like having the opportunity to introduce students to new ideas, cultures, ways of thinking and seeing the world; and in this way, help them understand themselves, their own language and their own culture."

"For the students, it's great for them to learn about the Hispanic culture," she said.

A strong supporter of study abroad, Velasco established an internship opportunity for students to live and teach English at a school in Bolivia. Locally, she established a partnership with Liberty Tax for students to improve their fluency in Spanish.

In 2008, she was recognized by MIX Magazine in its list of "Power People of Color" for her contributions in the education community.