Meet the Faculty: Dr. Maynard Schaus
Over the summer, Schaus mentored a Virginia Wesleyan student completing a summer undergraduate research fellowship on environmental sustainability.
By Megan Z. Shearin '06 | August 26, 2009
Maynard Schaus, Ph.D.
Batten Professor of Biology, Recipient of the 2008 Batten Scholar Award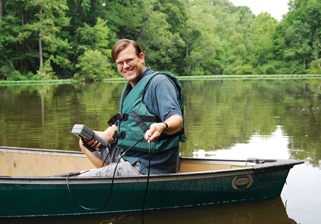 As Coordinator of Undergraduate Research at the College, Dr. Schaus' motto is to engage and mentor his students, taking learning to another level.

Schaus has worked with students on numerous research projects, from the use of highway undercrossings by mammals to the effects of green roofs on the nutrient content of runoff water.
"I try to find something that both the students and I can be interested in," he said of his research topics. "Through undergraduate research, I am able to engage undergraduates in this unique type of learning and challenge them to take their learning to the next level."Ph.D., Miami University (Ohio)
B.A., California Lutheran University

A three-time grant recipient from the St. Johns River Water Management District, Schaus has regularly taken students to Florida to study the effects of a large-scale fish removal on the nutrient cycles in Lake Apopka. His research on the role of fish in lake nutrient cycles has been published in several peer-reviewed journals.

"If you really want to learn science, you have to DO science," he said. "At its core, science is a process of learning new things, not a list of things to learn."

John Maravich '11, the College's first recipient of an undergraduate research fellowship from STIHL, Inc., received guidance from Schaus on his carbon emission research.In addition to conducting research and teaching courses in biology and ecology, Schaus is the associate editor of the Freshwater Systems Domain of The Scientific World JOURNAL, which publishes peer-reviewed journals for biomedical, life and environmental sciences.