Meet the Faculty: Dr. Paul Ewell
His family heritage and scholarly research focuses on commercial fishing on the Eastern Shore, Virginia.
By Maura Bradley '11 | January 4, 2010
Paul Ewell '89, D.B.A.
Assistant Professor of Management/Business/Economics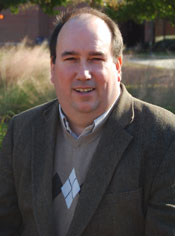 Since the mid-17th century, Dr. Paul Ewell's family has made their living from commercial fishing on the Eastern Shore, Va. It's a legacy he continues today.
"I love to fish and I love to teach," he said.
When Ewell is not teaching on campus, you can find him working his family's soft-shell crab business in Hunting Creek on the Eastern Shore.
He previously owned his own risk management consulting agency, but sold it to teach full-time. He uses those real-life business experiences to enhance teaching in the classroom.
Ewell leads classes that involve taking fieldtrips to different distribution centers and planning service-based events and fundraisers on campus. One assignment in his Introduction to Information Systems course is for students to create an IT proposal for a company. Ironically, a group in 2009 created a fictitious commercial fishing business.
D.B.A, Nova Southeastern University
M.B.A., Salisbury State University
B.A., Virginia Wesleyan College "It's one thing to lecture about business, but these opportunities make it so much better for the students," he said.
In 2009, Ewell was given the opportunity to combine his love of research and commercial fishing through a Faculty Summer Development Grant from the College.
He spent the summer traveling from Tangier Island to creeks and docks on the Eastern Shore, archiving commercial fishing boats and equipment and collecting oral history from the local watermen. He recorded their stories in mp3s.
"My research combines techniques, ideas and skills from various disciplines. This helps me better develop an integrated approach to the study and teaching of the liberal arts.""I have a love of the industry and a passion for the history of the industry that I hope to preserve," he said.
Both he and his wife are Virginia Wesleyan alumni and have coined the term "ODACiacs." They can be found in the stands at Virginia Wesleyan athletic events.
"I'm at Virginia Wesleyan because I am very much a believer in this place," he said. "I don't have a job; it's a passion."