Men's Soccer Champs
Marlins overcome Randolph College in 2-1 ODAC Championship victory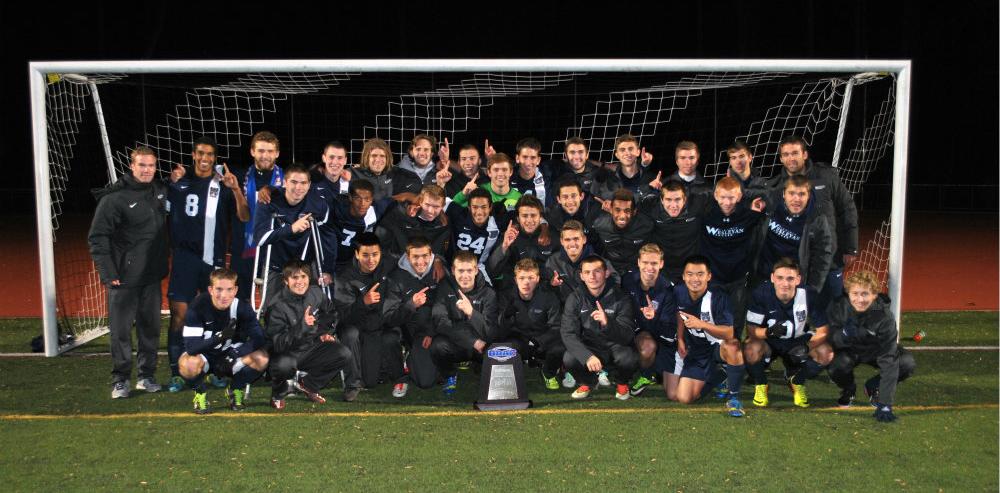 November 10, 2013
Virginia Wesleyan College senior Brian Cornell made his career-high 10th goal of the season one he will remember for a long time to come.
Cornell connected on a penalty shot in just 1:43 into overtime to lift second-seeded Virginia Wesleyan's Marlins to a 2-1 victory over top-seeded Randolph College Saturday at WildCats Stadium in the 2013 Old Dominion Athletic Conference (ODAC) championship game on Nov. 9.
Virginia Wesleyan (16-4-1), which finished as conference runner-up last year after losing in overtime at Roanoke College, recorded its 10th ODAC title overall and its first since 2008. The Marlins also earn the ODAC's automatic berth in the 2013 NCAA Division III championship tournament. It will be VWC's 17th NCAA appearance and first since 2009.
"I couldn't be prouder of this group," said Chris Mills, who directed the Marlins to an ODAC championship in his first year as head coach. "This is a moment they will forever remember!
Cornell's goal capped a hard-fought effort by both teams, which featured alert defensive play that stepped up when needed. Randolph (17-2-1) produced 27 shots, led by Corey Sindle and Jacob Lusczek with seven each, while Virginia Wesleyan fired 22, led byJosh McNamara with seven and Josh Kemp with six.
Randolph scored first when Sindle hit on a shot from about 20 yards out at the 76:34 mark of the game. The WildCats barely had time to celebrate however, as Virginia Wesleyan tied the game just 26 seconds later. A cross by junior Isaac Arrington (DeSoto, Texas/Midlothian)glanced off a Randolph player and past the goalie to make it a 1-1 score.
"Our guys showed a lot of character after giving up a goal," said Mills. "We bounced back and were able to equalize fairly quickly. The guys understood what was on the line and continued to grind until the final whistle."
That's the way the competition ended in regulation time, sending the teams into overtime.
The victory was the ninth in a row for Virginia Wesleyan and avenged a 4-1 loss to Randolph in September on the WildCats' field. VWC is 10-0-1 in its last 11 outings. Goalie Connor Kirkham (Centreville/Chantilly Westfield)helped the Marlins' cause with eight saves. Carter Smith (Greensboro, N.C./Grimsley) recorded five saves for Randolph.
Virginia Wesleyan College's men's soccer Marlins will travel to Pittsburgh, Pennsylvania to face the Tartans of Carnegie Mellon University in the first round of the 2013 NCAA Division III championship tournament. View the 2013 Tournament Bracket