Panhellenic Council's Efforts Recognized
VWC sororities Alpha Sigma Alpha, Phi Sigma Sigma, and Sigma Sigma Sigma receive Circle of Sisterhood philanthropy award
By Stephanie Smaglo | April 9, 2013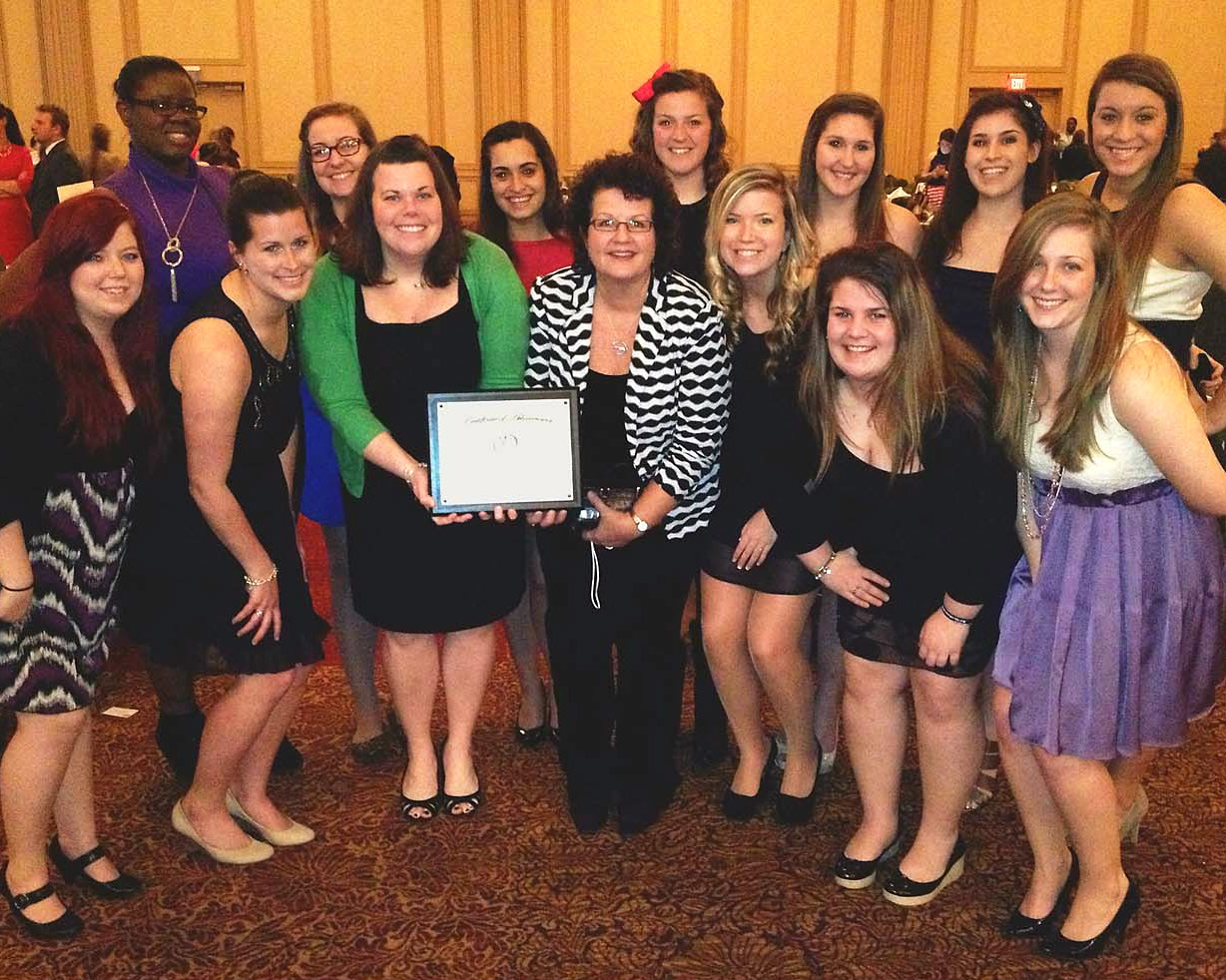 Every day, women all over the globe are subjected to violence and oppression solely because of their gender. As a college educated woman, Ginny Carroll felt that she had a responsibility to do something to help, but she knew that she couldn't do it alone. As fate would have it, she happened to be very well-acquainted with a large community of women she knew could help – sorority women.

Inspired by the book Half the Sky, by Nicholas Kristof and Sheryl WuDunn, Carroll started the Circle of Sisterhood (CofS) Foundation to leverage the collective wisdom and influence of sorority women to support entities around the world that remove educational barriers for girls and women.

Virginia Wesleyan's Panhellenic Council, which consists of sororities Alpha Sigma Alpha, Phi Sigma Sigma, and Sigma Sigma Sigma, became involved with CofS last year while attending the Southeastern Panhellenic Association's (SEPA) annual conference.

"SEPA had chosen Circle of Sisterhood as their philanthropic partnership," says Director of Student Activities, Greek Life, and Commuter Services Jennifer Mitchell. "When we learned about this cause – that the movement was happening all over the country and that sorority women were helping to raise awareness – we were immediately hooked."

With the help of additional Greek Life students, organizations and athletic teams, the sororities have raised a grand total of $4,250 this academic year through fundraising events, including a "Penny Wars" competition and a partnership with the Skinny Dip Frozen Yogurt Bar. Sorority representatives traveled to Atlanta, Georgia March 21-23 for the 2013 Southeastern Panhellenic Conference, where they personally handed their check to the CofS founder Carroll.

They have also increased awareness through guest speakers, including Carroll herself, and sex-trafficking survivor Carissa Phelps. In October, the VWC Panhellenic council organized a screening of the four-hour PBS television series Half the Sky: Turning Oppression into Opportunity for Women Worldwide.

"Everyone that has helped the cause by either sitting at a table selling t-shirts, spreading the word, or coming to the viewing, means a great deal," says Mitchell. "This has helped bring awareness to a big issue that is happening all around us."

VWC received recognition for its hard work at last month's conference when SEPA presented the College with the Circle of Sisterhood philanthropy award. Every year, the association recognizes panhellenic communities who have gone above and beyond, highlighting creative programs, events, and efforts in alignment with their core values of scholarship, leadership, philanthropy, and sisterhood. VWC representatives in attendance included staff members Jennifer Mitchell and Student Activities Coordinator Devin Cowhey, and students Gracie Gustin '16, Tory Hassell '14, TJ Jackson '13, Trisha Kohansby '14, Brooke Ladyman '14, Rachael Mays '15, Brittany Popp '15, Hannah Rice '15, Jasmine Rivera '14, Casey Simmons '13, and Amy Smith '13.

"It was one year ago that I passed the Circle of Sisterhood table," says senior Amy Smith. "I was drawn toward it by the bright colored shirts and Ginny Carroll's smile. At that moment I had no idea that the two minutes I spent learning about Circle of Sisterhood would grow into a deep love for the organization. The passion I have for this cause is endless."

On April 1, the VWC Panhellenic Council received word that Virginia Wesleyan is one of 14 schools selected to send one student representative on "The Trek," a CofS trip to West Africa to break ground on a new school. The chosen student will have the opportunity to serve CofS on behalf of millions of sorority women worldwide. Campuses that raised at least $1,000 during the 2012-2013 academic year were eligible for selection.

"Sisters all over the nation are doing what we do best," senior Sigma Sigma Sigma member Rio Ziegler writes in a blog post. "Collaborating ideas, recruiting advocates, and taking action in order to bring this issue to light. This is our chance for sisters to help sisters."

Learn more about the Circle of Sisterhood Foundation and the Half the Sky Movement. For more information, contact Jennifer Mitchell at jemitchell@vwc.edu or 757.233.8785 or Devin Cowhey at dncowhey@vwc.edu or 757.455.3383.