Philosophy Professor Selected as Teaching Affiliate with The Pluralism Project at Harvard University
Dr. Steven Emmanuel is creating a documentary on Vietnamese Buddhism in Pungo, a rural area in Virginia Beach, Va.
By Megan Z. Shearin | December 14, 2009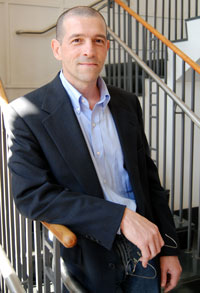 Norfolk/Virginia Beach, Va. – Virginia Wesleyan College's Professor of Philosophy Dr. Steven Emmanuel has been selected as a teaching affiliate with The Pluralism Project at Harvard University for the creation of the documentary film on Vietnamese Buddhism in rural America.
The film, which focuses on the local story of monks in Pungo, a rural area in Virginia Beach, Va., thoughtfully explores some of the challenges of religious diversity in rural America. In 2006, a group of Pure Land Buddhist monks from Vietnam relocated from the Kempsville area of Virginia Beach to a 4-acre property in Pungo. Not long after relocating, the Monks found themselves in the center of controversy, facing resistance from both local residents and the city council of Virginia Beach. >>Read more
"Like the first documentary [Making Peace with Viet Nam], this project explores issues that are important to me, both personally and as an educator," said Emmanuel. "In this case, the focus on religious freedom dovetails nicely with Virginia Wesleyan's institutional commitment to promote constructive engagement with diverse faith traditions."
Over the summer of 2009, Emmanuel and the monks co-taught a public course on Buddhism in Virginia Beach. The course, "Wisdom for Modern Living: Buddhist Teachings and Practice," was aimed at educating the local public about both the religion and philosophy. The course ran for three months, with two-hour classes once a week. A second course is scheduled to begin early in 2010.
Emmanuel's third film, Making Peace with Viet Nam, is a feature-length, color documentary that focuses on the aftermath of the Vietnam War. Released in 2008, the film has received high accolades from the domestic and international film community and most recently received an audience award at the 2009 Red Rock Film Festival. >>Read more
Emmanuel is also working on Contemplating Thoreau, a 15-minute film capturing the spirit of Henry Thoreau at Walden Pond State Reservation in Concord, Mass.
About The Pluralism Project
The Pluralism Project is a research organization at Harvard University which was founded in 1991 by Dr. Diana L. Eck. Its mission is to help Americans engage with the realities of religious diversity through research, outreach, and the active dissemination of resources. The Pluralism Project maintains an active network of affiliates whose work in the United States and other multi-religious societies greatly expands the impact of its mission.
###