Prepared to Declare
'Declaration Days' alumni panels help VWC students choose majors

By Stephanie Smaglo | April 3, 2014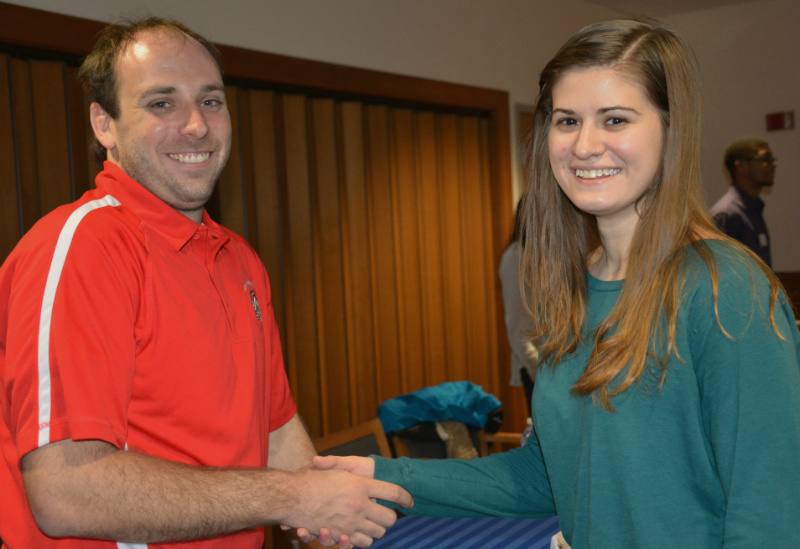 When it comes to choosing a major, students are encouraged to pick a subject they're interested in that's related to the professional life they'd like to build. Sounds simple, but most young college students would beg to differ. To help undeclared students make this important decision, Virginia Wesleyan held its first-ever "Major Declaration Days" March 25-27. The event featured three divisional alumni panels in which nearly 20 Wesleyan graduates shared how their majors helped shape their lives post-VWC.

"This was a wonderful opportunity to showcase our successful alumni and provide a forum for them to connect with current students," says Lina Green, director of alumni relations.

The three-day event kicked off with the Division of Natural Sciences and Mathematics panel on March 25, with alumni whose majors ranged from biology to computer science. Sitting on the panel was Jason Byzewski '06, a mathematics major with certification in secondary education. Now a math teacher and soccer coach at Salem High School in Virginia Beach, Byzewski spoke to the versatility of a liberal arts education.

"I feel that I learned enough about a variety of things to be comfortable in almost any situation," he says. "My major helped prepare me to teach any level of class in terms of subject and students. Over the past seven years, I have taught everything from Introduction to Algebra to advanced placement calculus."

Beth Widmaier '99, a recreation and leisure studies major with a focus in therapy, participated in the Division of Social Sciences panel, also held on March 25. Now a registered nurse, Widmaier works as the palliative care navigator for Riverside Regional Medical Center in Newport News. She was recently honored with a Virginia Nurses Foundation "40 Under 40 Award."

"My major gave me all of the pre-requisites needed for quick and easy entry to nursing school," she says. "VWC helped shaped the person I am today and continues to do so through opportunities as an alumna."

Stephanie Kimec '08, an associate pastor at New Creation United Methodist Church in Chesapeake, spoke at the third panel on March 26 along with other alumni representing the Division of Humanities. Kimec majored in religious studies, Spanish and political science.

"My majors helped prepare me for graduate school," says Kimec. "They gave me the tools and skills needed to continue my education and helped prepare me for a world and profession where being flexible is important."

A Majors Fair was held in the Jane P. Batten Student Center on March 27 with representatives from each department on hand to answer questions about VWC's majors and minors. Students like Jenna Davila '17 had the opportunity to formally declare a major. Davila chose Earth and Environmental Sciences after Batten Associate Professor of Ocean and Atmospheric Sciences Elizabeth Malcolm encouraged her to attend the event.

"I'm taking meteorology right now and I'm really enjoying that class," she says. "I also really love geology and climatology. Learning more about each course made me more interested in the field."

The event culminated with a Declaration Celebration in the CMAC to mark the significance of the week's events. Students celebrated their decision as they were welcomed to their new departments by VWC faculty, staff and alumni.

Additional VWC graduates participating in the Major Declaration Days alumni panels included: Dr. Frank Bottone '93 (biology); Jeff Bradford '05 (business, Spanish); Christine Cipriani Jones '91 (communication); Cindy Dixon '01 (psychology/teacher certification); Nancy Kroll '81 (art education); John Maravich '11 (earth and environmental science); Bob Michie '87 (political science); Lonnie Paster '78 (social science); George "RP" Patillo '11 (computer science); Deb Paxson '75 (English); Marla Robinson '13 (health and human services/social work); Jason Silvia '08 (criminal justice, sociology); and Paresa Taghavie-Moghadam '10 (chemistry).