Professor Awarded Faculty Fellowship for Summer Research in Mongolia
Associate Professor of History Dr. Dan Margolies will use his experiences to create a new course on Mongolian history.
By Staff | April 20, 2010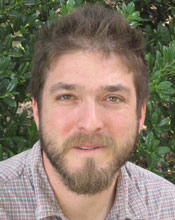 Norfolk/Virginia Beach, Va. – Virginia Wesleyan College's Associate Professor of History Dr. Dan Margolies is the recipient of a Faculty Fellowship from the American Center for Mongolian Studies (ACMS), which will bring him to Mongolia during summer 2010. This is the first year the ACMS has offered Faculty Fellowships for research in Mongolia.

During his time in Mongolia, Margolies will study traditional music making and the ways traditional music is inscribed on the urban and rural soundscape and formally presented to (and experienced by) by the musical ear of the sojourner. In so doing, Margolies intends to gauge the projection and reception of sustainability concepts in musical performance as it is presented in Mongolia.

"I am particularly interested in exploring the meaning and relevance of sustainability in traditional music in a globalizing area such as Mongolia, which has actively and successively maintained a rich intangible cultural heritage," said Margolies. "My knowledge of Mongolian music is rooted in years of listening as well as engagement with the literature connecting contemporary Mongolian development and modernization and traditional performance."

Upon return, Margolies plans to use his experiences in Mongolia as a springboard for a new upper level course on Mongolian history to be implemented with the new curricular reform. Margolies teaches a wide variety of courses at Virginia Wesleyan including classes on Asian History, globalization and empire, American foreign relations, and Southern history. He received his Ph.D. and M.A. from the University of Wisconsin-Madison and his B.A. from Hampshire College.
The American Center for Mongolian Studies (ACMS) is a non-profit, non-governmental educational organization that supports the development of Mongolian Studies and academic exchanges with Inner Asia. The ACMS represents a consortium of over 35 academic institutions in North America and Mongolia, and is a member of the Council of American Overseas Research Centers (CAORC). More information is available at http://www.mongoliacenter.org/.
###