Pull Up a Chair in Marlinville
Homecoming 2012, Oct. 5-7, promises fun with VWC family and friends, including exciting new events
By Staff | September 24, 2012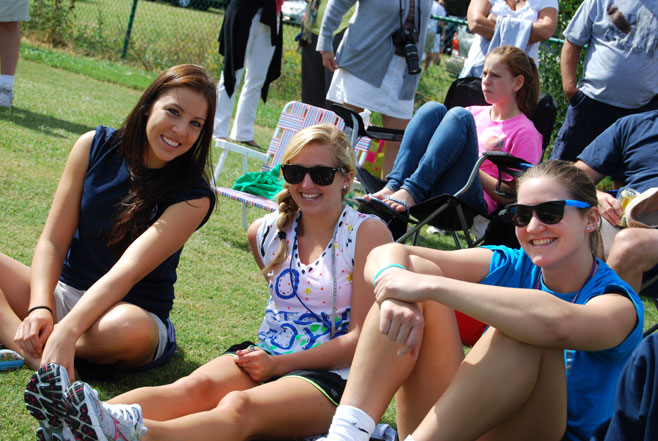 Don't miss the opportunity to gather with your favorite faculty and fellow alumni, students, and parents for a weekend in the sun at Virginia Wesleyan College, October 5-7. Homecoming and Parent Weekend 2012 will celebrate the past, present, and future of VWC with time-honored traditions and special events. Make your plans now to attend.
The festivities will kick off on Friday with the annual Homecoming Parade down Batten sidewalk at 2:30 p.m. complete with a Key West-themed show of Marlin spirit. Following the parade will be the Alumni Awards Reception and Ceremony, the Oktoberfest Dinner and the first theater performance of the weekend.
A new event this year, the VWC Cross Country Team/American Legion Post 35 Homecoming 5k trail race, will take place at 8 a.m. on Saturday and is open to runners and walkers of all abilities. The proceeds go to VWC's Cross Country/Track & Field teams and the community work that Post 35 does with our military veterans and their families.
Also on Saturday, President Billy Greer and Butch Everett, Chairman of the Board of Trustees, and guests will be on hand for a special ribbon-cutting ceremony to mark the grand opening of Virginia Wesleyan's new Everett Tennis Center at 10 a.m. All are welcome to celebrate a new era for VWC tennis.
Following the Tennis Center Opening on Saturday will be the annual Alumni and Conference Athletic Games, Faculty Tent, Tailgate and Reunions and, later that evening, the Homecoming Dance in the Boyd Dining Center.
This year's theater production in the Hofheimer Theater is Noises Off by Michael Frayn, a hilarious play-within-a-play farce that features an ingeniously designed three-dimensional rotating set that allows the audience to see all the "backstage" antics. In addition to the Friday and Saturday evening performances, there are matinees on Saturday and Sunday.
Homecoming and Parent Weekend concludes on Sunday with the final theater performance, two worship services in the Monumental Chapel and an 11 a.m. brunch.
"As Virginia Wesleyan College enters its 51st year of transforming lives, we cherish the opportunity to connect with our remarkable alumni, parents and supporters and all those who have had a part in making VWC the place it is today," says David Buckingham, Vice President for Student Affairs and Dean of Enrollment Services. "We hope you will join us for Homecoming and Parent Weekend 2012. Go Marlins!"
For complete information including a detailed schedule of events, visit the Homecoming and Parent Weekend 2012 page in our alumni section.