Remembering Edna Crallé Sanders Johnston
Wife of VWC's first president, Joseph S. Johnston, passed away on Aug. 26 at the age of 102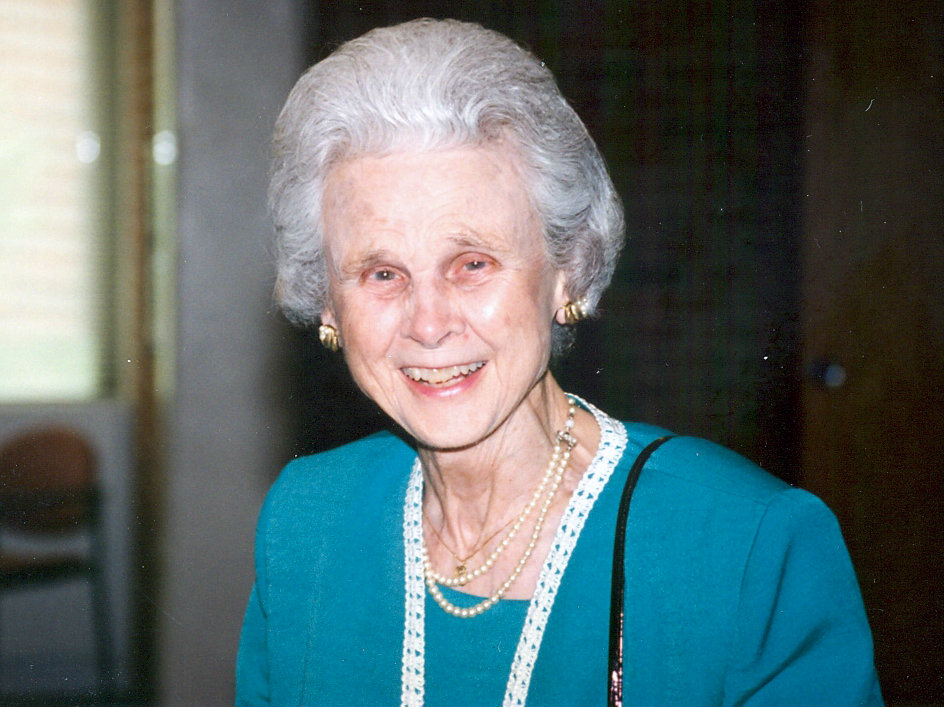 Edna Crallé Sanders Johnston, wife of Virginia Wesleyan College's first president, Joseph S. Johnston, passed away on Aug. 26 at the age of 102 and one month.

Mrs. Johnston was born in Kilmarnock, Virginia, on July 26, 1911 to George Washington and Lillian Crallé Sanders. She was a graduate of White Stone High School and Randolph-Macon Women's College in Lynchburg, where she majored in Classic Languages. She was a lifetime member of the Phi Beta Kappa Society and taught one year in the high school at Wicomico Church.

In 1935, she married Joseph Shackford Johnston, who at the time was a young minister in the Methodist Conference of Virginia. They celebrated 69 years of marriage prior to his death in 2004. As the wife of a Methodist minister, she served alongside her "Joe" in churches in Whaleyville, Oakton, Warrenton, Arlington, Norfolk, Richmond, Alexandria, Springfield, and Petersburg. She also served with him in his positions as District Superintendent of the Petersburg and Norfolk districts and as the first president of Virginia Wesleyan.

Joseph and Edna were joined by family in May 1995 for the dedication of Johnston Hall in Village II. The dedication recognized Joseph's service as the founding chair of the VWC Board of Trustees and as the College's first president. The Joseph S. and Edna Crallé Johnston Endowed Scholarship, currently being awarded to Whitney Symons '15, was established in 2002.

Always one to volunteer in her community, Edna was a Sunday school teacher, a member of the Women's Society of Christian Service, and a member of the Women's Club of White Stone. She enjoyed reading, gardening, and staying in touch with friends. She is remembered as a wife, mother, grandmother, and great-grandmother who nourished her family with love.

Mrs. Johnston was preceded in death by her brother, George W. Sanders, III. Surviving are her daughters, Anne J. Owen of Kilmarnock, Va. and Ginger Philbrick and her husband, Jim, of White Stone, Va.; her son Joe Johnston and his wife, Susan, of Berryville, Va.; her grandchildren, Lee Anne Washington of White Stone, Va., Edna Whay and her husband, Scott, of Lancaster, Amanda Washington of White Stone, Va., Jennifer Einhorn of Voorhees, N.J., Andrew Johnston and his wife, Tricia, of Annapolis, Md., and Stephen Johnston and his wife, Christina, also of Annapolis, Md. James Philbrick III and his wife, Rayna, of Hatboro, Pa., and Michael Philbrick and his wife, Sharon, of Port Jefferson, N.Y., and 15 great-grandchildren.

Funeral services were held Aug. 31 at the White Stone United Methodist Church in White Stone, Virginia. The family has asked that memorial donations be made to Virginia Wesleyan.