Research Symposium Explores New Format
Keynote speaker, interdisciplinary focus added to annual kick-off event under guidance of program's new director Dr. Sara Sewell
By Stephanie Smaglo | April 26, 2013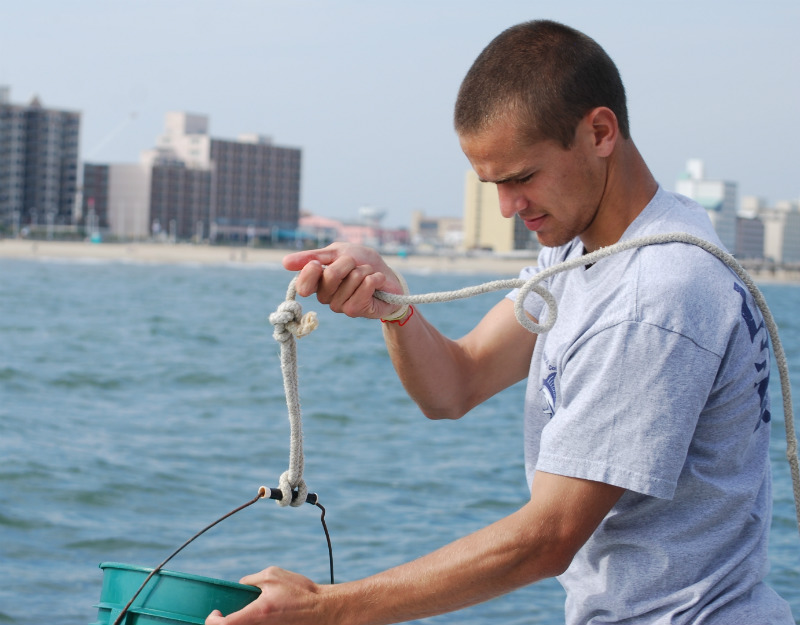 Each year at Virginia Wesleyan, around 100 student researchers are busy collecting samples, taking surveys, performing experiments, and scouring texts, taking on the challenging task of producing original research. Students emerge from these pursuits not only with papers, posters, and presentation experience, but also with new knowledge and a deeper understanding of their fields. To showcase their hard work, the College's Undergraduate Research Program hosts a yearly symposium. With the guidance of new program director Dr. Sara Sewell, the Eighth Annual Undergraduate Research Symposium (April 29-May 3) will take on a new, more interdisciplinary format.

Perhaps the biggest change in this year's event is the shakeup of the week's kick-off event. In previous years, the three academic divisions – Humanities, Natural Science and Mathematics, and Social Sciences – took turns hosting the opening ceremonies, focusing on their particular discipline. This year, Sewell is integrating the fields by including a student research presentation from each division.

"We are a liberal arts college," says Sewell. "Liberal arts, by definition, means that we are engaged widely on intellectual issues. We like to see the relationships, the connections, between different disciplines and different ways of thinking."

Three student-researchers were chosen by faculty committees to represent their divisions at the kick-off. Jacob Settle '12 (psychology) will present "The Prevalence of Disordered Eating Behavior in Association with Nonconsensual Sexual Experiences in College Women;" Jessica Landry '12 (English) will present "The Question of 'I' in Till We Have Faces: Gender and the Becoming of the Self;" and Matthew Boyce '13 (chemistry, biology) will present "Investigation of Sample Matrix Effects Using Spinning Sampling Chamber Laser Ablation ICP-MS."

Sewell and the Undergraduate Research Committee – made up of Assistant Professor of Criminal Justice Dr. Alison Marganski, Batten Associate Professor of Marine Biology Dr. Soroaya Bartol, Professor of Communication Dr. Kathy Merlock Jackson, and Director of the Hofheimer Library Sue Erickson – have also chosen to include a keynote speaker in this year's kick-off event.

Kim Fahle, a 2010 Virginia Wesleyan graduate who earned a Master of Arts in English at the University of Delaware, will speak about her recent research on George Aiken's adaptation of Uncle Tom's Cabin and will explain how VWC's Undergraduate Research Program helped her prepare for graduate-level studies.

"Undertaking research was such as huge part of my experience at VWC," Fahle says. "Doing independent research allowed me to take ownership of the knowledge I was gaining in my courses. It makes you more inquisitive about the topics and ideas that interest you already. Most of my research projects grew out of something that I had heard or discussed in a class and wanted to investigate further."

As an undergrad, Fahle researched Jane Austen's focus on complementary matches as the ideal for marriage, and Gnostic influences on the writing of 19th century poet William Blake.

The remainder of the week will feature daily research presentations from each division, as well as a poster reception with the Women's Resource Center. Sewell hopes that students will walk away from the event with the confidence and drive to take on undergraduate research projects of their own.

"Undergraduate research frees students to pursue what interests them, what they have a passion for," says Sewell. "It's just you and your brain and you get to go figure out what you love. It allows you to develop the highest level of thinking skills, and those are great for graduate school, but they're also great for other parts of your life, professional and personal pursuits."

Virginia Wesleyan's Undergraduate Research Program supports student researchers in a variety of ways, including grants to cover research expenses and fund attendance at regional, national and international conferences, and workshops to help students prepare and present their research. Learn more about the Undergraduate Research Program.

View the Undergraduate Research Symposium's complete schedule of events. For more information, contact Director of Undergraduate Research Sara Sewell at ssewell@vwc.edu.