Scholarly Research on Last Supper "Supersizes" Professor's Reputation
After his research became the lead story in U.S. and international news, Dr. Craig Wansink is awarded the seventh annual Frank and Jane P. Batten Distinguished Scholar Award.
By Megan Z. Shearin | July 29, 2010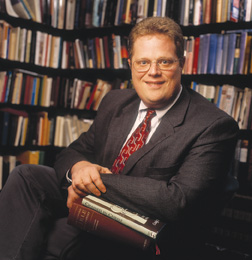 Research, writing, creative performances, active engagement with professional organizations, and curricular development are all at the center of what distinguishes Virginia Wesleyan faculty since classes began four decades ago.
One such faculty member is Dr. Craig Wansink, professor and chair of the department of religious studies and associate dean of the College.
This spring, Wansink was catapulted to the forefront of U.S. and international news for his article and research on the supersizing of food portions and plate sizes in the painting of the Last Supper over the past millennium. The article, co-authored with his brother, was published in the International Journal of Obesity, making Craig a media sensation overnight. Wansink's article was covered by diverse media outlets such as the New York Times, Fox News, the BBC, Psychology Today, and the Chicago Tribune, to television programs such as Good Morning America and CNN. In total, the article was cited in more than 700 newspapers and magazines with Wansink being interviewed by reporters in over 25 different countries, including Australia, Mexico, Canada, Brazil, Holland, Spain and Germany.
"It's been four months and I'm still receiving phone calls and e-mails about the research," said Wansink. His latest inquiry is from Focus, a national Italian scientific magazine, which plans to do a major spread in an upcoming issue.
So it wasn't surprising that during the 2010 Commencement ceremonies Wansink was awarded the seventh annual Frank and Jane P. Batten Distinguished Scholar Award. The award recognizes outstanding scholarship and is determined by nominations and votes cast by full-time faculty members at the College.Ph.D. and M.A., Yale University
M.Div., McCormick Theological Seminary
B.A., Morningside College
Completed international study in Jordan, Israel, Germany and Japan
In his nominating letter, Dr. Dan Margolies, Batten Professor of History, describes his colleague as "an intellectual dynamo on campus, in the Hampton Roads community, and in the broader scholarly world. His original and captivating scholarship has helped to produce the kind of attention that the College has never had previously."
While there's no doubt that faculty research informs and elevates teaching, some might be surprised to know that Wansink's interest in research started 32 years ago when there was a strong concern about the United States' dependence on fossil fuels.
Specifically, he was intrigued with American policies relating to energy independence and the metallic compounds that could best store hydrogen for use in hydrogen-powered cars. His research interest led him to become involved in high school debate competitions, and he represented his home state of Iowa in the National Debate Tournament.
"Nothing shaped my understanding of research more than competitive high school debate," said Wansink. "The expectation that we would argue one side of a proposition for one hour, and then shift to the opposite side for the next hour, helped me to develop skills related not only to research but also to empathy.""For me, the most exciting thing from all the attention I've received about the article is that students from the past have gotten in touch. Alumni whom I taught in class and those whom I didn't teach have contacted me. They tell me they saw the article and how it brought back good memories of their experience at Virginia Wesleyan."
His enthusiasm for debate then translated into research interests in metallurgical engineering. He was one of eight Iowa students awarded grants to study at Ames Laboratories, a United States Department of Energy national laboratory run by Iowa State University. There, he conducted research relating to hydrogen storage.
Drawing from his own framework in research, Wansink actively encourages his students to complete independent research projects on subjects that interest them.
"If students choose their own topics, they tend to be much more interested, and then they invest tremendous thought, energy, and enthusiasm in their research," said Wansink. "As a professor, there's nothing more satisfying than having expectations of excellence for students and then helping students meet those expectations so they can accomplish what they imagined."
Along with his teaching and scholarly research, Wansink is an ordained Presbyterian minister and pastor at the 200-member Second Presbyterian Church in Norfolk, Va. He regularly speaks publically in a variety of venues in Hampton Roads such as the Joint Forces Staff College, the Institute for Learning in Retirement, local elementary schools and high schools, and local churches and synagogues."As a professor, you really want your students to be better than you. All of us have different kinds of skills – some of those skills aren't fully developed and some are skills that I don't have. It's great to see how students' minds work and to see them conduct independent research and continue to graduate school."
Raised in Sioux City, Iowa, Wansink remains active in his hometown and is currently Chair of the Board of Trustees of his alma mater, Morningside College. He conducts research associated with higher education and best practices relating to academics, student leadership, study abroad, board development, recruitment and retention, and strategic planning.
"You ultimately have to do the things that are meaningful to you," said Wansink. "If I didn't see it as a calling, I wouldn't have the energy to do this."