Shelter Helps Transcend Social Barriers
College's seventh annual on-campus shelter serves community, challenges perceptions of homelessness and enriches lives of all
By Staff | January 11, 2013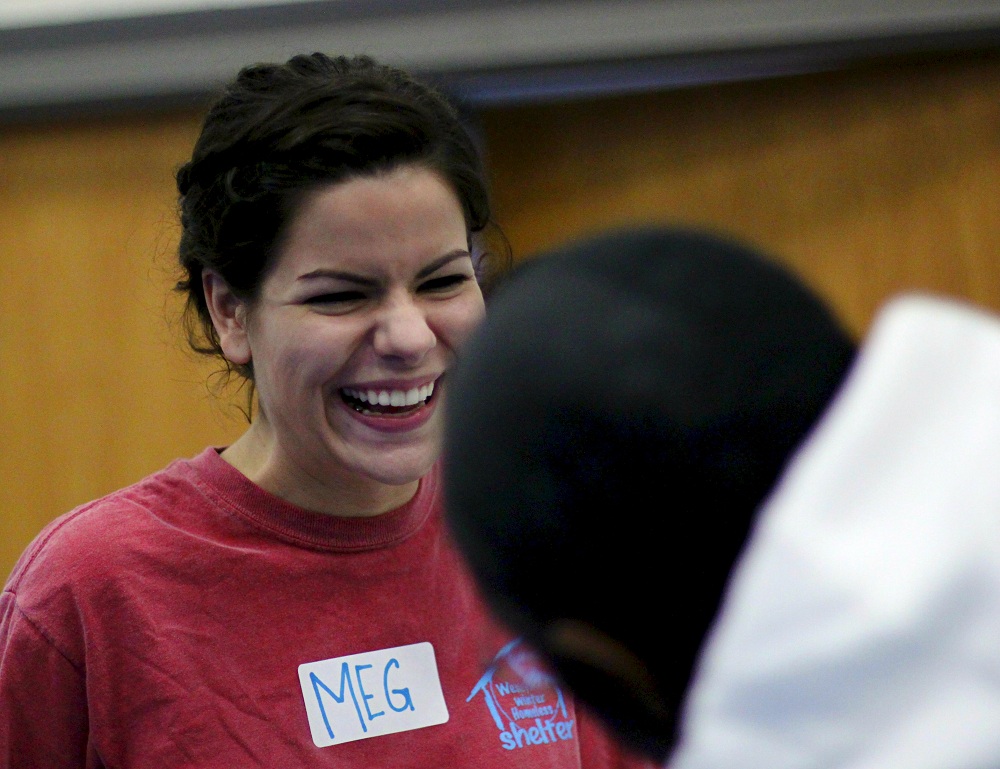 There's a football game on TV and the warm aroma of chicken alfredo fills the air in the Batten Center's CMAC Monday night creating a comfortable atmosphere for the 57 guests staying in the gymnasium as part of the College's seventh annual on-campus homeless shelter. The week-long student-led community service initiative, being held Jan. 6-13, has become a tradition of giving back at Virginia Wesleyan.

Established by two students in 2007 as a partnership with the Portsmouth Volunteers for the Homeless, this is the only shelter known to be operated on a college campus in the United States. In the last seven years, it has evolved into a campus-wide effort that includes theme nights and academic tie-ins such as an interdisciplinary service learning class offered during the College's winter session, an intensive three-week academic term.

Throughout the week the shelter will serve nearly 60 guests per night with the help of more than 165 students, faculty, staff and community volunteers, offering safety and comfort for homeless men and women during one of the coldest months of the year.

For VWC student volunteers, the shelter is a tangible opportunity to come face-to-face with the human toll of homelessness and make meaningful connections with guests. Many volunteers express their feelings about the experience in reflection journals placed throughout the shelter.

"Being able to experience the shelter these last two days has been amazing," one volunteer writes. "I have gotten to talk to and meet people that will forever be in my prayers and thoughts. I came into this thinking I would be helping the guests when, in reality, they helped me. They not only opened my eyes, but my heart."

Transcending social barriers and stereotypes is also an important part of the volunteer experience.

"For seven years, we've challenged student's perceptions of homelessness," says Diane Hotaling, the College's Director of Community Service. "They're engaged in the enterprise of providing a hot, nutritious meal and a safe, warm sleeping space for adult men and women who have nowhere to live. The result has been meaningful human interaction that not only dispels the stereotypes of homelessness that students bring with them, but also enriches the lives of every volunteer and informs decisions about their futures."

In keeping with the College's Wesleyan heritage, VWC students are encouraged to become engaged citizens who care about their community in active ways.

"The liberal arts attitude toward learning is characterized by an open and eager mind," adds Hotaling. "The Wesleyan Winter Homeless Shelter becomes the quintessential liberal arts experience by allowing us to respect different points of view, push our comfort zones, and increase our understanding of the world around us and our role in it."

Guests are bussed onto campus each night from the city of Portsmouth, Virginia. The shelter is not open to the general public.