Spring 2013 Scholar-Athletes Honored
Dean's List students named at State Farm/VWC Scholar-Athlete Recognition event on Dec. 1
By Staff | December, 2013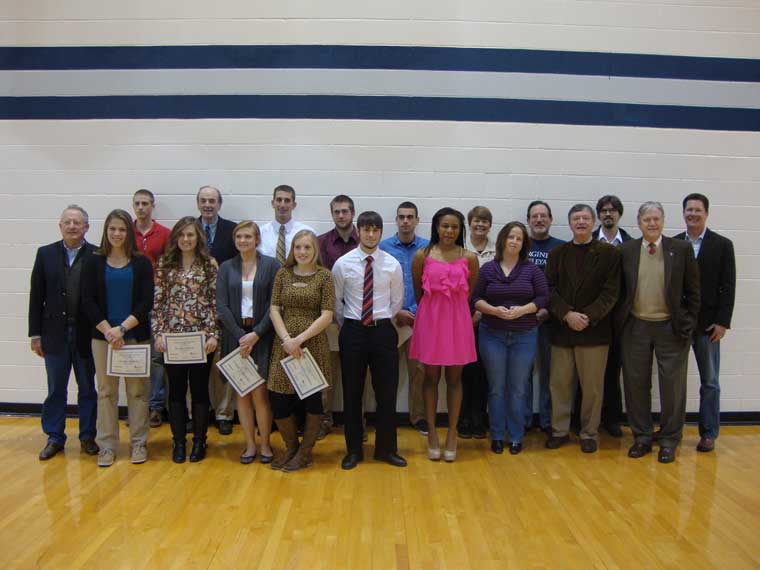 Virginia Wesleyan Scholar-Athletes were honored for their academic accomplishments on Sunday, December 1 during a halftime ceremony in the Jane P. Batten Student Center.

The Scholar-Athletes recognized were those who are a member of at least one NCAA Division III athletic team at VWC and were named to the Dean's List for the spring 2013 semester. Dean's List is awarded to all students who earn at least a 3.5 GPA. These individuals have shown an extraordinary level of dedication to their academic pursuits as well as their respective teams.

State Farm partnered with Virginia Wesleyan College to sponsor the Scholar-Athlete recognition. State Farm Agents Larry Akers, Tonya Edwards, Rhonda Floasin, Jessica Hester, Joe Query, Milt Rawles, and Paula Rosati made this possible and VWC thanks them for their continued support of Marlin athletics.
State Farm is Agency Field Executive Tim Westerman was on hand for the event.

Recipients were congratulated by VWC faculty representatives and advisors including Virginia Wesleyan President Dr. William T. "Billy" Greer, who commended the students for their remarkable efforts.

Scholar-Athlete Dean's List honorees for the spring 2013 semester are as follows:
Baseball
| | | |
| --- | --- | --- |
| Name | Major | Hometown |
| George Annunziata '15 | Criminal Justice | Pawling, NY |
Basketball (Women)
| | | |
| --- | --- | --- |
| Name | Major | Hometown |
| Katherine Tassa '14 | Criminal Justice | Bristow, VA |
| Cassie Conley '15 | Interdivisional Studies | New Market, VA |
| Nancy Kelly '15 | Biology | Phoenix, MD |
| Symonne Newsome '14 | Business | Reistertown, MD |
| Kerri-Leanne Taylor '15 | English | Stockport, England |
Cheerleading
| | | |
| --- | --- | --- |
| Name | Major | Hometown |
| Rachel Lee '15 | English/History | Virginia Beach, VA |
| Shannon Palmer '13 | Health and Human Services | Fairfeild, CT |
Cross Country/Track & Field (Women)
| | | |
| --- | --- | --- |
| Name | Major | Hometown |
| Michele Bryceland '13 | Health & Human Services | Virginia Beach, VA |
| Autumn Watson '14 | Business/Hispanic Studies | Rocky Mount, VA |
| Alexa Higbee '15 | Criminal Justice | Waltham, VT |
| Tanya Puccio '14 | Biology | Moorpark, CA |
| Mary Wade '15 | Biology/Hispanic Studies | Chesapeake, VA |
Cross Country/Track & Field (Men)
| | | |
| --- | --- | --- |
| Name | Major | Hometown |
| Kyle Kirkbride '16 | Business | Moyock, NC |
| Darren Driscoll '14 | Interdivisional Studies | Haymarket, VA |
| Keane Dye '16 | Biology | Richmond, VA |
| Kyle Chowhan '13 | Social Studies | Flanders, NJ |
| Hunter Melius '15 | Biology/Chemistry | Shakopee, MN |
| Andrew Werner '16 | Earth and Environmental Science | Chesapeake, VA |
Field Hockey
| | | |
| --- | --- | --- |
| Name | Major | Hometown |
| Nicolletta Cuthbert '14 | Biology | Morrisville, PA |
| Taylor Lober '14 | Comprehensive Liberal Studies | Wilmington, DE |
| Kirsten Olson '14 | Business | Springfield, VA |
| Jenny Wilkins '14 | Comprehensive Liberal Studies | Chesapeake, VA |
| Jordan Stellmacher '15 | Psychology | Poquoson, VA |
| Kelly Mullahy '13 | Psychology | Royersford, PA |
| Tanya Puccio '14 | Biology | Moorpark, CA |
Lacrosse (Women)
| | | |
| --- | --- | --- |
| Name | Major | Hometown |
| Amari Agee '14 | Psychology/Communications | Mason, OH |
| Catherine Amasia '14 | Psychology | Fallston, MD |
| Aoife Branco '15 | Interdivisional Studies | Chesapeake, VA |
| Candace Carey '15 | Biology/Art | Charlottesville, VA |
| Tianna Garland '16 | Business/Political Science | Norfolk, VA |
| Kelly Jacobson '14 | Biology/Earth and Environmental Science | Nokesville, VA |
| Summer Moore '15 | Religious Studies/Social Work | Stevensville, MD |
| Kaitlyn Salyers '13 | Criminal Justice/Sociology | Saverna Park, MD |
| Stacey Sank '14 | Biology/Chemistry | Elma, NY |
Lacrosse (Men)
| | | |
| --- | --- | --- |
| Name | Major | Hometown |
| Evan Bell '13 | Criminal Justice | Warrenton, VA |
| Michael Conners '13 | English | Horsehead, NY |
Soccer (Women)
| | | |
| --- | --- | --- |
| Name | Major | Hometown |
| Caitlyn Bishop '14 | Recreation & Leisure Studies | Virginia Beach, VA |
| Kristen Cherry '16 | Business | Raleigh, NC |
| Angelique Fretwell-Horowitz '14 | Recreation & Leisure Studies | Bushkill, PA |
| Melinda Myers '15 | Interdivisional Studies | Wading River, NY |
| Jenna Riegel '13 | Interdivisional Studies | Wyomissing, PA |
| Emily Sheridan '14 | Interdivisional Studies | Glassboro, NJ |
Soccer (Men)
| | | |
| --- | --- | --- |
| Name | Major | Hometown |
| Jonathan Burke '15 | Hispanic Studies/International Studies | Middletown, DE |
| William Lawson '15 | Biology/International Studies | Callaway, MD |
| Ryan Leslie '14 | Criminal Justice | Owings, MD |
| Joshua McNamara '15 | Interdivisional Studies | Springfield, VA |
| Reid Peterson '14 | Business | Virginia Beach, VA |
| Philip Smith '15 | Criminal Justice/ Business | Frederickburg, VA |
Softball
| | | |
| --- | --- | --- |
| Name | Major | Hometown |
| Courtney Bogan '16 | Psychology | Round Hill, VA |
| Hali Goad '16 | Earth and Environmental Science | Bumpas, VA |
| Kelly Keys '13 | Business | Manassas, VA |
Tennis (Women)
| | | |
| --- | --- | --- |
| Name | Major | Hometown |
| Hannah Parent '15 | Recreation & Leisure Studies | Port Tobacco, MD |
Tennis (Men)
| | | |
| --- | --- | --- |
| Name | Major | Hometown |
| Tyler Chang '16 | Computer Science | Hvre de Grace, MD |
| Donald Greathouse '13 | Religious Studies | Newport News, VA |
Volleyball
| | | |
| --- | --- | --- |
| Name | Major | Hometown |
| Kala Guy Herman '13 | Religious Studies/Recreation & Leisure Studies | Fisherville, VA |