Student Achievement in Bloom
Annual Spring Honors Convocation celebrates accomplishments of outstanding Wesleyan students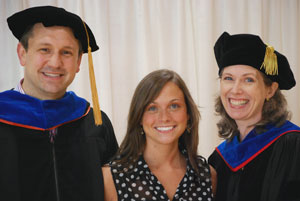 By Staff | May 7, 2012
Virginia Wesleyan College's annual Spring Honors Convocation, an event that recognizes students for their academic and leadership achievement, was held in the Jane P. Batten Student Center on Friday, May 4.
"Today is a day when we celebrate student success and faculty persistence," President Billy Greer told guests.
The event recognized individual departmental award recipients, students on the Academic Dean's List, members of Honor Societies, Student Executive Council and Senators, and the Class of 2012. President Billy Greer, Dean Timothy O'Rourke and Chaplain Gregory West were joined by VWC faculty and members of the community, who presented the awards.
The awards concluded with the singing of the alma mater led by Stephanie Drinkard.
To see a gallery of photos from the 2012 Spring Honors Convocation ceremony, click here.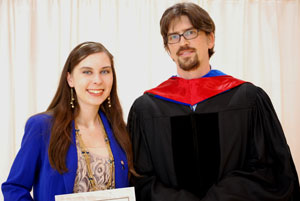 By Staff | May 7, 2012
This year's winners included:
Northside Rotary Citizenship Award - Brian Boettcher
Adult Studies Academic Achievement Award - Sunny Coons
Art Department Honors - Brandy Arab, Katie Bennett, Kathryn Creameans, Emily Menke
Biology Department Award - Kristyn Anselmo
Excellence in Chemistry Award - Kristyn Anselmo
Hampton Roads American Chemical Society Outstanding Chemistry Senior - Kristyn Anselmo
CRC Freshman Chemistry Achievement Award - Elizabeth Allen
Choral Award - Jordan Bondurant, Stephanie Drinkard
Classical Studies Award - Michele Kelly
Latin Award - Brittany Camac
Club President Scholar of the Year - Melissa Snyder
Greek Scholar of the Year - Kelsey Kidd
Communications Award - Natalie Belva
Department of Criminal Justice/Sociology Distinguished Faculty Recognition Awards - Kelly Fauth, Jennifer Wiscons, Arianna Benzineb, Kelsey Hottle, Andrew Kasecamp, Preeteka Singh
Earth and Environmental Science Department Award - Melinda Hopper
Education Department Academic Achievement Awards - Brianna Bertovich, Jennifer Brown, Edward Griggs, Holly Cromich, Elizabeth Boyce, Jaclyn Quinn, Suzann Moebes, Carol Handwerk
Outstanding Research Scholar in Education - Melissa Snyder
Delta Kappa Gamma Virginia Scholars Award - Kelsey Kidd
Outstanding Graduating English Major - Melissa Snyder
French Awards - Breanna Muir, Brittany Muir
S. Diane Guadalupe Award - Rebecca Murphy
Awards for Excellence in History - Bethany Bayles, Jennifer Brown, Amanda Tinelli
Ledeboer Family Scholarship - Cynthia Randolph
International Studies Major Award - Michele Kelly
Library Research Awards - Bethany Bayles, Tanya Puccio
The Department of Management, Business, and Economics Academic Achievement Award - Tempe Martens
The Department of Management, Business, and Economics Robert H. Cass Outstanding Senior Award - David Dunn
The Virginia Society of Certified Public Accountants' Award of Achievement - David Dunn
Math/Computer Science Department Awards - Samantha Eanes, Michael Corder
Monarch Bank Young Life Scholarship - Kala Guy
North Carolina Campus Compact Outstanding AmeriCorps Service Award for Virginia - Allison Reeves
Phoenix Awards - Edward Griggs, Nicole Rust
Political Science Major Award - Bethany Bayles
Distinguished Graduating Senior in Psychology - Amber Grader, Kimberly McKinney
Outstanding Recreation and Leisure Studies Major Awards - Heather Fay, Heather Sookram
Religious Studies Awards - Brandon Nichols, Adam Tobey
The Hite Award for Distinguished Service to the VWC Theatre Program - Kaitlin Harris