Taking Care of Business
Appreciation event honors MBE professors, other distinguished employees

By Stephanie Smaglo | April 24, 2014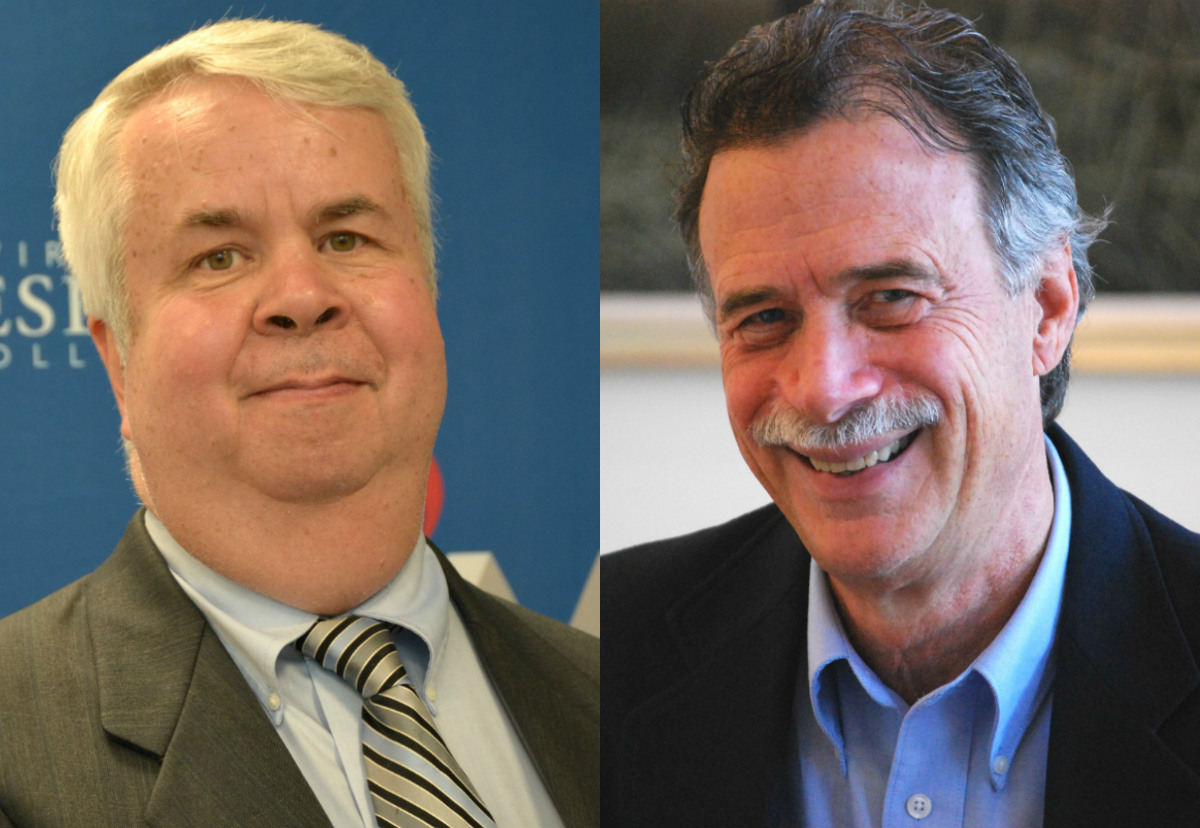 In 1979, a regular gallon of gas set you back $.86, a new home cost around $72,000, and Rocky II was showing in theaters. The end of the disco decade also marked the beginning of Virginia Wesleyan careers for business professors Bob Albertson and Dave Garraty—and 35 years later, they're still going strong. The two were celebrated at an Employee Appreciation Reception April 8 along with 19 other VWC employees whose service ranges from 10 to 30 years.

"It is staggering to me to see the number of years that add up here," VWC President Billy Greer remarked at the reception. "The people who have been here 10 years, 20, 30, 35 years; that really strikes at the heart of why Wesleyan is what it is."

One of the lengthiest careers celebrated at the event is that of Bob Albertson. Affectionately called "Dr. Bob" by his students, the professor currently teaches in conjunction with his responsibilities as chair of the Division of Social Sciences and business internship director. Over the years he's also spent time as coordinator of the Department of Management, Business, and Economics (MBE) and associate dean of the College.

"It's certainly been a wonderful life," he says. "Working at Virginia Wesleyan has allowed me not only to have a profession and a career, but truly an extension of my own life. The College has supported me as I've grown and has allowed me to try different things. I'm able to mix my love of administration and ability to teach. That's an unusual thing at a college."

Albertson teaches a wide variety of courses—accounting, management, and intro to business, to name a few—and values the relationships he's able to build with students. He takes great pride in their success and the ability to play a role in their futures.

"I know I've done a good job of teaching when somebody apologizes to me for doing poorly on a test," he says. "I've had that happen, more than once."

Celebrating equally lengthy years of service is Dave Garraty, who began his VWC career as a visiting assistant professor. Throughout the years he advanced his teaching roles before becoming a full-fledged professor in 1992. He spent time as the MBE program coordinator and served as a Batten Professor from 2006-2009. He currently teaches courses in economics and finance.

A committee of students selected the beloved professor as the 1990 recipient of the Samuel Nelson Gray Distinguished Teaching Award, based on his effective, creative and influential teaching style. The feeling is mutual. It is the emphasis and focus Wesleyan places on students that Garraty treasures most at VWC.

"The College really does provide a caring community where students can grow both academically and personally," he says. "As a child of the 1960s, that sense of community and the importance of the individual has made it a pleasure for me to teach here for three and a half decades."

Albertson, Garraty and all other distinguished honorees were recognized with a token of appreciation from President Greer and Human Resources Director Karla Rasmussen. Guests enjoyed a variety of hors d'oeuvres and a special cake to mark the occasion.
Congratulations to these employees for reaching noteworthy career milestones in 2014:

10 Years
| | |
| --- | --- |
| Kathleen Bartkus | Grounds Supervisor |
| Shelley Hunter | Athletics Intercollegiate Coordinator |
| Margaret Reese | Thomas R. Fanney Distinguished Associate Professor of Mathematics |
| Elizabeth Saunders | Batten Associate Professor of Ocean and Atmospheric Sciences |
| Suzanne Savage | Associate Vice President of College Advancement |
| Saskia White | Scribner Bookstore Assistant Manager |
20 Years
| | |
| --- | --- |
| Patrick Goold | Associate Professor of Philosophy |
| David Hopper | Director of the Physical Plant |
| Joanne Renn | Athletic Director |
| Cary Sawyer | Vice President of Finance |
25 Years
| | |
| --- | --- |
| Gale Carter | Work Center Coordinator |
| Deborah Hicks | Associate Dean for Academic Support |
| Karen Hill | Audio Visual Assistant |
| Thomas Lopez | Professor of Sociology and Criminal Justice |
| Susan Wansink | Batten Professor of German and Director of Winter Session |
30 Years
| | |
| --- | --- |
| Moses Alston | Security Officer/Dispatcher |
| Audrey Gluck | Payroll Manager |
| Joyce Howell | Professor of Art History and Academic Effectiveness Committee Co-Chair |
| Kathy Merlock Jackson | Professor of Communication |
35 Years
| | |
| --- | --- |
| Robert Albertson | Professor of Management, Business, and Economics (MBE) |
| | and Social Sciences Division Chair |
| David Garraty | Professor of Management, Business, and Economics (MBE) |