Tasteful Renovations
Boyd Dining Center makeover, other campus upgrades welcomed by VWC community

By Stephanie Smaglo | October 21, 2013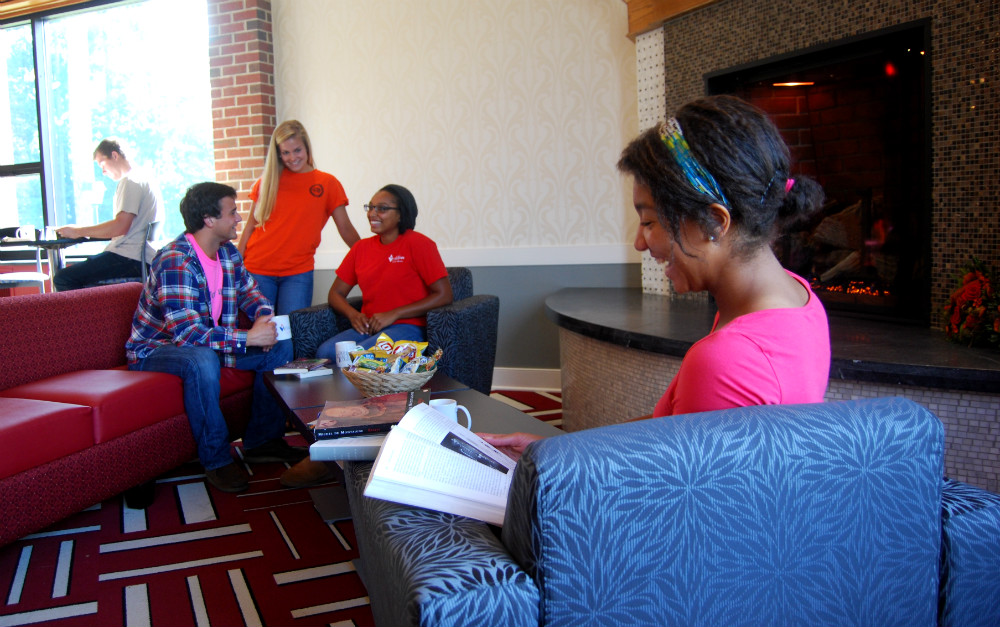 On today's lunch menu, among other items, the Boyd Dining Center flaunts a fiery Santa Fe black bean burrito, a tempting turkey burger with tomato jam, and a personal pizza bar—including your choice of BBQ pork, Hawaiian, or good ol' cheese and pepperoni pies. But what you won't see on the menu are details about Virginia Wesleyan's newly renovated dining area, completed this summer in partnership with the College's food service provider, Sodexo.

Students were in for a tasteful surprise when they returned to campus this August. A six-week summer renovation project, led by food service equipment company Atlantic Equipment Specialists, gave Boyd Dining Center's main dining room an appetizing makeover.

"Atlantic Equipment Specialists is our go-to company," says Director of Dining Services Tim Lockett. "They have a whole wing of designers. We gave them a general idea and they came back with colors, fabrics, and all new materials."

These new materials include wood-look vinyl flooring, updated carpeting in rich hues of VWC blue and red, table top replacements and family-style farm tables, fresh wallpaper and paint, and the much-needed addition of more modern overhead lighting.

"The renovations accommodate our larger student population more comfortably," Lockett continues. "Students are staying longer when they eat and it's just a more pleasant experience."

Perhaps the most noticeable update is the addition of two 60" flat screen TVs, new lounge seating and a gas fireplace in the dining room's corner. Floor-to-ceiling stone mantels now fill the large empty corners that previously occupied the space, creating the perfect place for students to gather with friends.

"It's a more comfortable and relaxed vibe," says junior Amari Agee. "I haven't seen a set up like this at any other school. It feels really personalized, like it was made just for us."

The room has also been equipped with a brand new audiovisual system. Ceiling speakers—72, to be exact—and a newly installed projector make the room a perfect spot for large presentations and social events. A Harry Potter Night was held on Sept. 19, complete with a large-screen showing of Harry Potter and the Sorcerer's Stone and a themed dinner menu that included Lord Voldemort's "Cheese Quessssssssadillas" and Hogwart's "Dragon Casserole."

"The renovations are designed to make the area more attractive, inviting and functional for our students," says Vice President of Operations Bruce Vaughan. "The introduction of the big screen televisions and fireplace add to the warmth and flexibility our students requested. In addition, the finishes will allow for more efficient cleaning and enhanced traffic flow."

Boyd Dining Center isn't the only area on campus that received updates this summer. The College replaced over $100,000 in sidewalks; made network improvements to speed up the traffic between buildings; installed new washing machines and dryers in the residence halls; upgraded the bookstore with new tile and carpet; and mounted new seating platforms in the Fine Arts building.

VWC's Trinder Center, home to men's and women's lacrosse and soccer, also received renovations to its Blue Marlin Room in spring 2013. The room was reestablished as a meeting area for coaches and recruits as well as a special event venue for alumni and Marlin Athletic Club members. Renovations include comfortable seating, new lighting, storage, and more.

Back across campus at Boyd Dining Center, peanut butter brownies are just out of the oven for today's dessert. But in the long run, the updated dining center and other campus upgrades are the real icing on the cake.