Tech on Deck at Virginia Wesleyan
Series of Technology Initiatives to Enhance Learning, Business Processes and Campus Life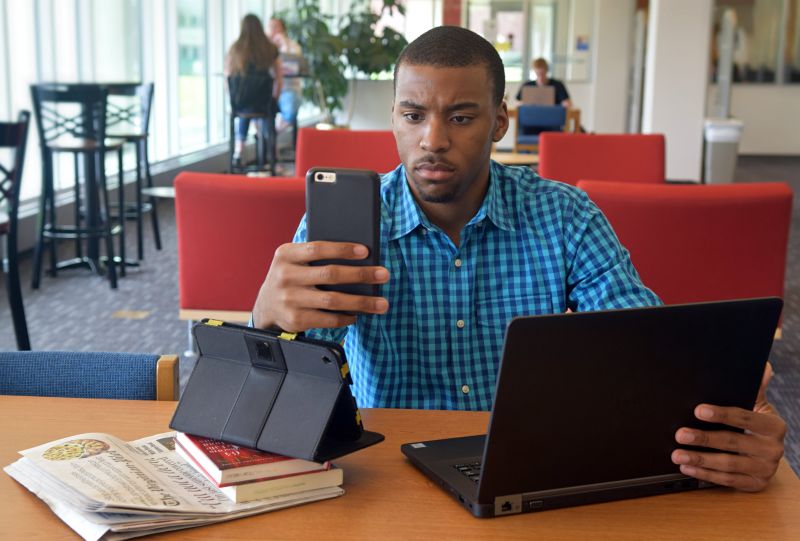 Featured News | April 7, 2017
Technology and education go hand-in-hand. The College has recently undertaken numerous efforts designed to modernize and improve the VWC experience in a holistic way using a variety of tech-based applications and strategies.
"I am pleased that we are able to advance these opportunities to improve the College's business processes through technology," says Chief Information Officer Robert Leitgeb. "These improvements will not only increase efficiency across the institution but they are critical to our mission of preparing students for success in a rapidly changing world."
The College's partnership with Ellucian, which provides technology solutions for the modern student specifically to meet the needs of higher education, is key to the success of many of these initiatives including the implementation of a single-sign-on portal. The Ellucian Action Plan is part of the development roadmap associated with the Center for Online Learning. The following projects are now in progress:
Ellucian Single Sign-on Portal
The establishment of a this single sign-on access to academic and administrative services will transform the way the College processes and shares information, facilitating more effective and streamlined communication for students, faculty, staff and other constituencies.
Ellucian Financial Aid Self-Service
This service will make navigating the financial aid process easier for students and staff. The intuitive design helps students apply for and track their financial aid status online 24/7. Staff benefit with better technology to track student progress.
TouchNet Bill Payment Suite
Touchnet will consolidate student account processes under one service. The application allows for easy self-service navigation through bill payment, while integrating with the College's student information system.
Ellucian Mobile Platform
Virginia Wesleyan student interns are instrumental in the ongoing development of the Ellucian Mobile Project, which will provide mobile access to items found on our portal.
StarRez Student Housing Software
A web-based student self-service with built-in reporting, room assignments and more, StarRez will modernize and expedite business processes associated with Residence Life.
The Center for Online Learning
Development continues on a center to serve as a focal point for the College's online needs, advancements and foundational issues. The Center will provide faculty and student support, quality instruction, access and business planning.
Online Security Vigilance
Virginia Wesleyan's Office of Information Technology has been engaged in ongoing efforts to shore up our security posture with existing technology and to provide educational information about cyber security through an awareness campaign aimed at the campus community as a whole.
Technology for New Buildings
Work continues on shoring up technology offerings for our new building projects. Projects include the Greer Environmental Sciences Center and Frank Blocker Youth Center. These projects will reflect state-of-the-art advances in classroom technology. Work in these areas should be complete over the summer.
Student Internships in IT Services
The Office of IT Services has developed an internship program to allow VWC Computer Science and Mathematics majors a "hands-on" opportunity to work in a real IT environment.
Office 365 Implementation
Progress continues on the implementation of the productive Office 365 suite for all students and staff and a dual system for faculty utilizing both Microsoft and Google platforms to meet the needs of all communities.
Information Technology Roadmap
The College's technology roadmap for the near future will include the following opportunities: A VWC online bookstore, Ellucian's Intelligent Learning Platform, Ellucian's Student Planning, and SQL Data Store.