Technology and the Human Touch
The Birdsong Initiative at Westminster-Canterbury shows positive impact of bedside computers among dementia patients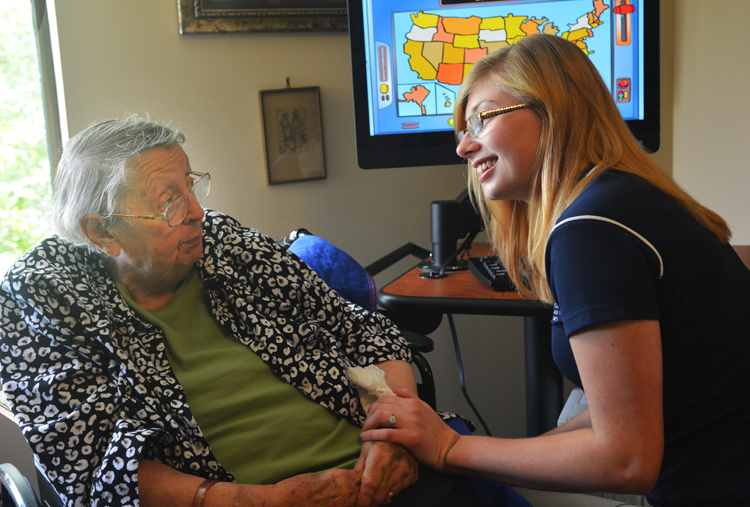 News Release | March 18, 2016
As experts seek to reduce antipsychotic drug use among people with dementia, a new study shows engagement with bedside computers can have a positive impact.
Results are in for The Birdsong Initiative, a 24-week study examining whether the use of computer technology can increase socialization and improve mental health among residents of nursing homes and memory support programs.
The study was conducted among residents of the Hoy Nursing Care Center by the non-profit life plan community Westminster-Canterbury on Chesapeake Bay. It was made possible by Westminster-Canterbury Foundation Board Member Sue Birdsong and her husband, George, who are longtime friends and supporters of Virginia Wesleyan.
"If it turns out to be real effective, then it will be, as you'd call it, a game changer," George Birdsong said at the kick-off event for The Birdsong Initiative.
And a game changer it is. Researchers at Eastern Virginia Medical School—with support from students in VWC's Recreational Therapy program—found a clinically significant decrease in utilization of the medication for those using touchscreen computers with an interface tailored to the interests and abilities of seniors.
In addition to the medication decrease, organizers of The Birdsong Initiative noted other clinically significant outcomes: Behavioral episodes became less frequent for 54 percent of participants, ceasing entirely for 30 percent of those. They became less intense for 75 percent; Depression decreased 41 percent; Cognitive/brain power scores rose for nearly 23.5 percent, with an average increase of 4.86 points on a 30-point scale; And stress indicators for staff caregivers dropped by 47 percent.
A total of 20 Virginia Wesleyan students participated in the initiative, playing a critical role in assessing residents, providing treatment intervention and collecting data for the study, which was conducted using a unique adaptive technology program called It's Never 2 Late—or iN2L for short.
The iN2L system features a picture-based interface and senior-friendly applications designed to stimulate cognitive functions and brain fitness with everything from education, virtual travel, and spirituality to music, games, trivia, and exercise. Family communication tools such as video chat and user-friendly email also allow users to more easily connect to loved ones.
Tenley Scott '18 is one of a handful of VWC students who worked with residents at Westminster-Canterbury during the study.
"The software is incredible in my opinion," Scott says. "It's versatile based on resident interests, and it's frequently updated so there is new material for the residents to explore and enjoy."
Scott's research on the topic, titled "Treating Dementia in the Twenty-First Century: The Effects of Technology Use on Increasing Socialization and Improving Mental Health," earned her first-place recognition in VWC's annual Undergraduate Research Symposium.
In order to be prepared to assist in the research study, students were trained during the spring 2015 semester in the administration and scoring of assessment instruments, says VWC Assistant Professor of Recreation and Leisure Studies Wayne Pollock. Participation in the study was part of Pollock's course, "Recreational Therapy Analysis and Assessment."
"The opportunity for students to interview and assess residents, to provide recreational therapy treatment interventions and witness the positive outcomes achieved has been an incredible learning experience," says Pollock.
Learn more about The Birdsong Initiative and its results at www.wcbay.com/birdsong.