The First Salute
Three Virginia Wesleyan ROTC graduates commissioned as army officers following commencement.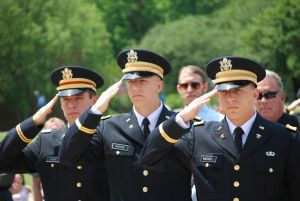 By Laynee Timlin | July 18, 2012
For recent 2012 graduates Nicholas Forno, Alexander Maguire and Brock Waddell, commencement day was more than a time to celebrate earning a diploma. All three were also commissioned as officers in the U.S. Army during a ceremony on the Boyd Plaza following commencement exercises. Forno, Maguire and Waddell, all student athletes and community service volunteers, participated in Army ROTC while attending Virginia Wesleyan.
Lieutenant Colonel Brian Kerns, professor of military science at Old Dominion University, and VWC President Billy Greer addressed the crowd of family and friends gathered on Batten lawn for the commissioning ceremony-- the first to be held on the VWC campus.
"It is indeed a great day," said Greer, "today, the army gets three new outstanding leaders. These fine officers bring honor to their families, our school and our country."
In addition to the commissioning oath, pinning of bars, and silver dollar tradition, the first salute was a significant part of the event. Each of the young officers chose a special individual for their first salute. Forno, a Criminal Justice major from Wilmington Delaware, chose his mentor, AFC Timmy Hall (Ret.). Maguire, from Manassas, Virginia, majored in Psychology while at VWC. He selected his friend CPL Joe Malazita, USMC, for his first salute. Waddell, a Social Science major from Winsor, Colorado, chose his grandfather, CPL Galin Waddell, US Army, as the recipient of his first salute.
The newly commissioned officers begin their careers at their first duty stations in Ft. Campbell Kentucky and Ft. Bliss, Texas.