The Magic of Music
Dr. David Clayton, the College's first full-time music professor, to retire after nearly 40 years at Virginia Wesleyan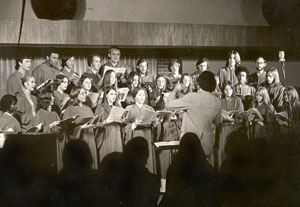 By Leona Baker | May 5, 2012
Outside the entrance to the Hofheimer Theater and just down the hall from Dr. David Clayton's corner office hangs a series of elegantly framed programs from concerts past—each focused on a famous composer. Bach. Schubert. Brahms. Handel.
But one concert in particular stands out in Clayton's mind as a coming of age for Virginia Wesleyan College's music program, a program Clayton has been building since he was hired as the College's first full-time music professor in 1972.
After working with renowned choral conductor Robert Shaw, Clayton was emboldened to take on one of the most enigmatic and challenging masterpieces in the classical canon: Mozart's Requiem. On April 30, 1988, VWC student singers, faculty, staff and guest artists were joined on stage by a full orchestra for a performance Clayton remembers as a turning point.
"It was really amazing," says Clayton, who will officially retire at the end of the current semester. "More than anything it reconfirmed my belief in the magic of music."
Clayton, known to his students simply as "DC," has been conjuring that magic in and out of the classroom for 39 years. When he arrived at VWC, the College had just 625 students and around 32 faculty members and, as he says, "everybody knew everybody."
As strains of piano waft in from a nearby classroom, Clayton gestures toward a photo on his office wall. In it, a group of eager young choristers are in mid-song. Their leader is a familiar figure—with a less familiar, yet impressive, head of dark hair—in a pinstripe suit.

"That's me with hair conducting," Clayton laughs. "That was our first concert ever, our first choir ever. That was in what is now Eggleston Commons, where there are offices now. That was the cafeteria. That was only place we had to perform. We moved out all of the tables and chairs, set up the set, ran the show and moved it out and put the tables and chairs back."
At a recent sold-out farewell concert in Hofheimer Theater, which appropriately opened with a version of Randall Thompson's "The Last Words of David," 18 alumni returned to perform with the Wesleyan Singers and the College Choir in a program befitting a man whose mark on VWC is as indelible as it is musical. Among them was Nenie Schara (Langston) '86, who says when she arrived at the College she was terrified at the idea of performing.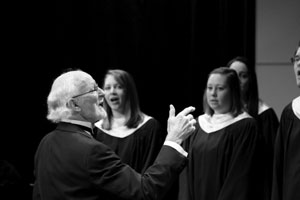 "Somehow DC saw beyond my shyness and inexperience," Schara recalls. "I'll never forget the time he gave me the solo in 'Shenandoah.' I had such a bad case of stage fright that I asked him to give it to someone else. He didn't want to and in a fit of frustration said, 'Nenie, don't you know that people would kill to have your voice?' From then on the shyness began to melt away. I can't imagine VWC without DC. He is the embodiment of my happy college years."
For Marcie Williams (Fombell) '99, having Clayton as a mentor meant being challenged to look beyond the surface.
"My favorite thing about Dr. Clayton is the way he makes knowledge always run deeper," explains Williams, now a private music teacher. "I remember the first time I met him, he was in choir practice and invited me to listen for a while. After class, he asked me thought-provoking questions about the piece they had been practicing. I couldn't wait to enroll and be challenged to learn more like that every day and my future with him at VWC did not disappoint."
Among the notable students who began their musical journeys under Clayton's tenure at VWC and went on to successful careers are international opera singer Robynne Redmon and Michael Daily, who graduated with a degree in psychology but is now a resident artist with the Opera San Jose.
"These were folks that could have been anywhere and been successful but they came here," Clayton says. "I think because we are a small school, we were able to help them develop—to give them opportunities they may not have had elsewhere."
Leaving on a High Note
Clayton was instrumental in creating the Center for Sacred Music as well as the annual Sacred Music Summer Conference, which brings church musicians and choral directors together with outstanding national leaders in the field. He developed the College's first concert series, presenting young, emerging classical artists as well as talented local musicians.
Under Clayton's direction, VWC students have performed with Virginia Symphony and Virginia Opera and on tour at Walt Disney World, National Cathedral in Washington, D.C., and St. Patrick's Cathedral in New York City. The Wesleyan Singers, the vocal touring group led by Clayton, have performed all along the East Coast and recorded four CDs. The annual "Wesleyan Christmas" concerts have become a beloved campus tradition, selling out each December.
Clayton will leave Virginia Wesleyan with many fond memories of students and colleagues whose interest in and respect for music enriched his time at the College.
"One of the things I liked so much about coming to Wesleyan was that so many of my colleagues, even those who weren't necessarily musicians, were musical people. We had a lot of that. I remember one time me, Bob Hufstedler [former chemistry professor], Bill Wilson [former dean] and Lambuth Clark [former president] even made up a barbershop quartet and sang for some events on campus. And we had a lot of avid listeners."
Life After VWC
A small bird feeder on the edge of a grove of trees outside the window of Clayton's office hints at one of his other passions: nature. Clayton is a dedicated gardener, and many VWC faculty and staff have benefitted from his green thumb. He is known to bring in potted daylilies, many of them hybrids of his own creation, small trees and other garden plants to work to give away on a first-come-first-serve basis.
Gardening at his home in Virginia Beach will certainly be among the activities Clayton will have time to catch up on after his retirement, as will more time with his daughter, who lives near Winchester, Virginia.
"The first thing I am looking forward to is breaking the routine. I've got a lot projects in mind that have been kind of waiting. I haven't had time to follow them through without being interrupted with school work. I've got stacks of books to read. I'm going to travel. I've got Australia and New Zealand on my mind."
Clayton will participate in the traditional tree-planting retirement ceremony in the Wilson Arboretum this month along with fellow retirees Registrar Bobbie Adams and Library Director Jan Pace.