The Politics of Hip-Hop
Course analyzes the evolution of a music genre shaped from societal circumstances of the 1960s and beyond
By Stephanie Smaglo | February 28, 2013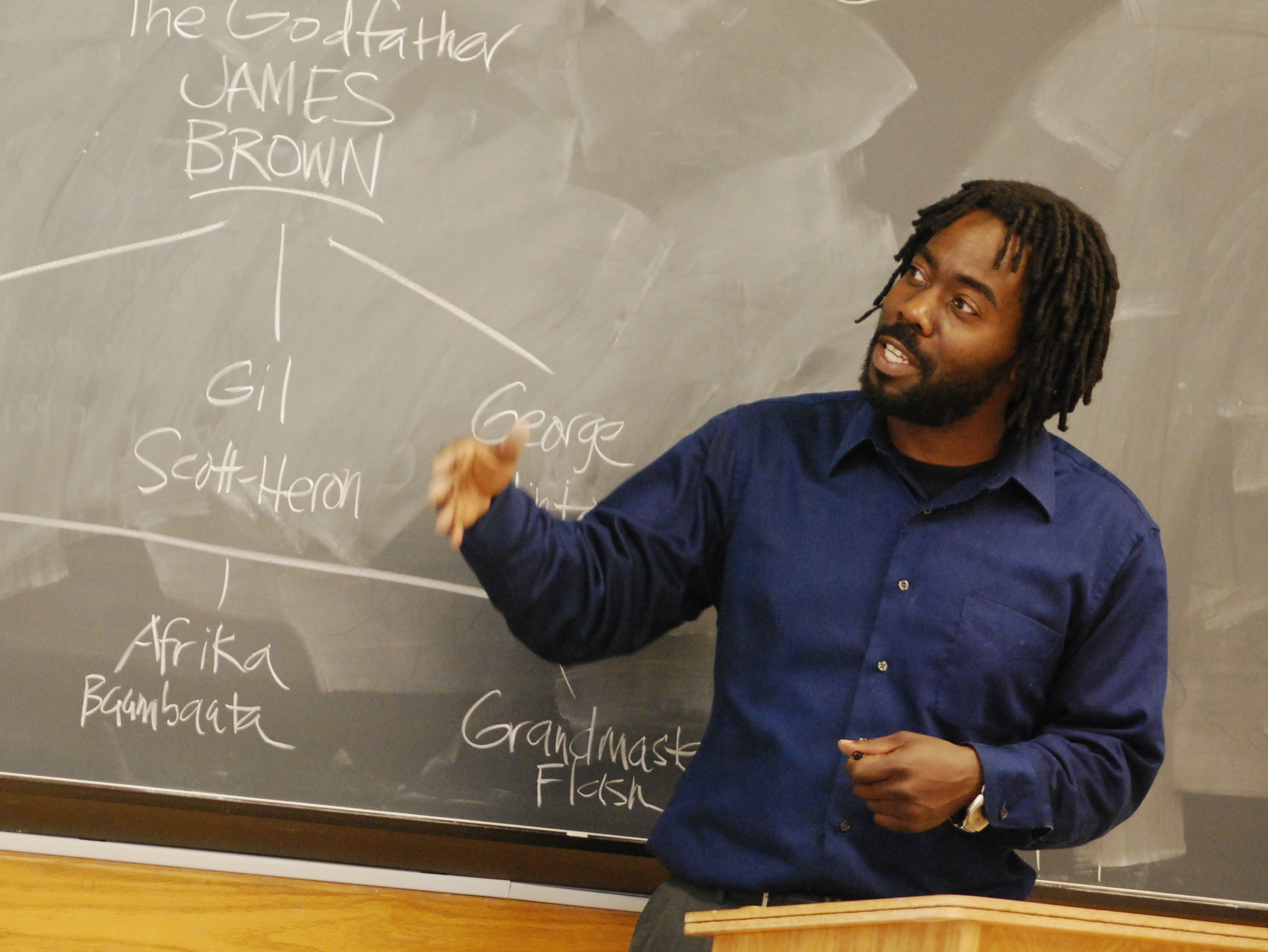 Shiny polyester, high-energy dance moves, and the signature shrieks of James Brown erupt from an overhead screen Wednesday afternoon, transporting students out of their Blocker Hall classroom into a 1973 Soul Train episode. Disguising it as entertainment, Dr. Murrell Brooks has cleverly carried his students into the heart of a hip-hop history lesson, providing a front row glimpse into the music genre and cultural phenomenon shaped by the American Civil Rights Movement and subsequent political issues. This look back in time is all part of Brooks' course, "The Politics of Hip-Hop."

These days the assistant professor of political science may be schooling students on the genre's radical social underpinnings, but 25 years ago Brooks was actively participating in the movement as a member of the hip-hop group Double Trouble. As teenagers in 1980s Los Angeles, the group would rap, emcee and breakdance their way through "battles" against other schools.

"We didn't have enough money to go take music lessons," says Brooks. "But we did have our parents' records and a turntable. So basically you took those and you turned them into an instrument. We couldn't play music in the traditional way, so we had to innovate."

His passion for hip-hop continued long past his breakdancing days, into college, graduate school and a teaching career. Brooks recalls many discussions with colleagues about the changes the genre faced in the late 1990s and early 2000s. With crime-related rap on the rise, there was a fear that the hip-hop message of community and non-violence would be lost on younger generations. These concerns led Brooks' friend, Dontraneil Clayborn, to implement the Los Angeles-based community development program "FOR REAL HOP" in the mid-2000s, creating a platform to share the music's history with LA youth.

Brooks came to Virginia Wesleyan in 2008 and brought his musical interests with him. Inspired by Clayborn's community development program, he created a more intensive semester-long course examining the relationship between politics and popular culture. The course takes a subject students are already interested in – music – and demonstrates how a unique set of social conditions can influence history.

"The music is just a hook," he says. "The students are into it and want to learn more about it, so even if that means having to read a little bit, they're willing to do it. There is a set of political concepts and theories that have a tradition in the field of political science. If you want to explain international politics or talk about war and peace, hip-hop has addressed these issues."

Serving as an overview for the course is Brooks' self-contrived "Hip-Hop Legends Tree," a handout stemming from the true originator and godfather of hip-hop, James Brown. In a career spanning more than six decades, Brown influenced the development of various musical genres, using his lyrics to take a stance on many political and social issues. Following the assassination of Martin Luther King, Jr., Brown composed the song "Say It Loud," which became an unofficial anthem to the Civil Rights Movement.

From Brown, the legend tree branches out to other politically conscious hip-hop figures of the 1960s, including funk pioneer Curtis Mayfield, soul and jazz poet Gil Scott-Heron and musical innovator George Clinton. It then moves on to the 1970s-80s, covering influential hip-hoppers such as DJ Cool Herc, who perfected the breakbeat and introduced the use of two turntables; Afrika Bambaataa, whose international awareness group Universal Zulu Nation successfully positioned hip-hop as a cultural alternative to gangs and street violence; and DJ Grandmaster Flash, who paved the way for the cutting and mixing styles first associated with hip-hop music.

Brooks examines the new styles and approaches used by these prominent hip-hop forefathers in conjunction with various reading materials, including Black Noise: Rap Music and Black Culture in Contemporary America by New York University Africana Studies and History Professor Tricia Rose. In the book, Rose chronicles the "multiple voices" of rap by exploring underlying urban cultures, music technologies and later sexual politics of the genre, including questions of misogyny.

Though the course's objective is to connect hip-hop to the political conditions of the last 30 years, Brooks hopes students will also gain a deeper understanding of their own influential abilities.

"We talk a lot about the role of students in the 1960s and how important they were in terms of popular culture," he says. "I want students to understand their place in society today, to see themselves as part of history and connect to it."

Junior Jasmine Motley is finding these connections unexpectedly. Her love for rhythm and blues led her to enroll in the course, but what she's taking away from it has far exceeded her expectations.

"Many of the historical aspects and social changes we've covered were student led," says Motley. "We learned about Stokely Carmichael, who was a leader of the Student Nonviolent Coordinating Committee and then later the Black Panther Party. It made me realize that students can start a revolution and that's really cool."

Motley, a social work major, was also impressed by the diverse academic makeup of the class.

"There are a lot of political science and history students," she says. "So when Dr. Brooks asks what was happening in 1965 that sparked a movement, you get a lot of different perspectives. It's refreshing and very interesting."

What's also refreshing is to witness a classroom full of millennials dancing at their desks to influential music of the '60s and '70s.

"This is a different generation," says Brooks. "You have to be more creative."

As James Brown might say, Brooks is definitely on the good foot.