Three Decades of Parties in the Dell
Fun annual event, taking place April 20, has become a sign of spring and a much-anticipated celebration for students, alumni, faculty and staff
By Leona Baker | April 19, 2013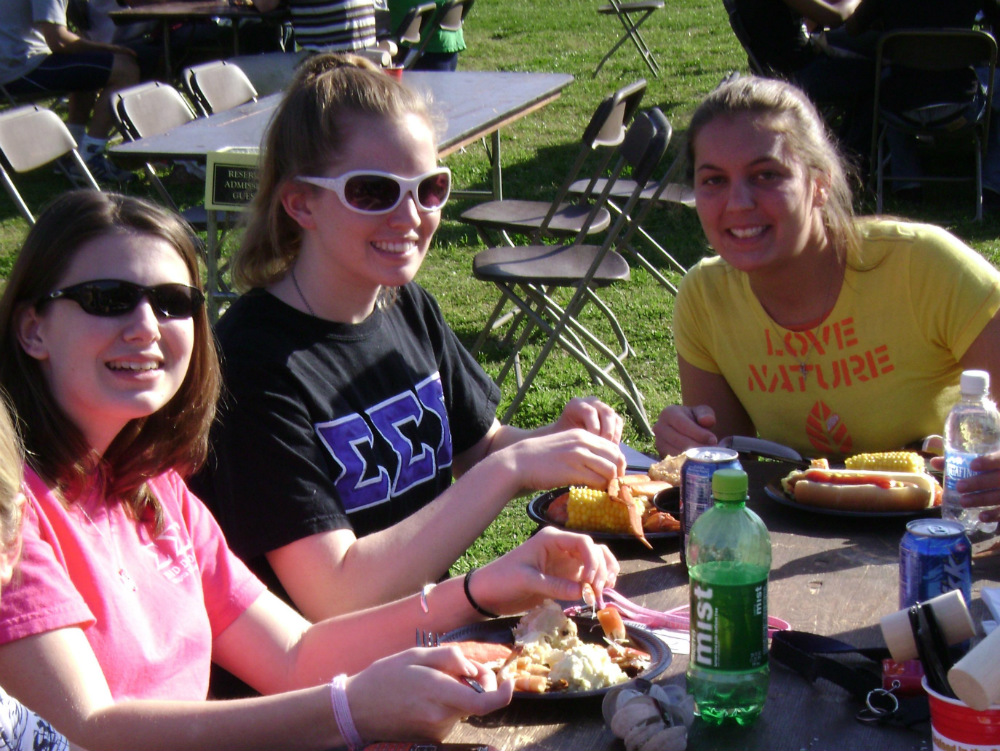 Spicy steamed shrimp, bushels of succulent clams, all-you-can-eat crab legs, and plenty of Marlin spirit. What's not to love about the Seafood Party in the Dell? This Saturday, April 20, the Virginia Wesleyan community will gather on the Batten Lawn for this highly anticipated yearly event featuring not just seafood (and other eats for non-seafood lovers) but live music and entertainment and recreational activities for students, faculty, staff, alumni and friends.

A great way to celebrate spring and blow off steam before exams, the Seafood Party in the Dell has become a longstanding tradition—30 years, to be exact—at the College since its first incarnation in 1983. But, as is sometimes the case with well-established customs, its origins have become the stuff of legend.

Some alumni remember the first "Party in the Dell" as something of an impromptu get-together in the area of campus between Old and Eggleston Halls, at the time referred to as "The Dell." There were oysters from the Eastern Shore, makeshift barrel grills and chairs gathered for the occasion.

"It was a neat party," recalls Jason Smith '87. "Because it was right around the time the weather broke up into the mid-70s and everyone was ready to do something outside."

According to the April 12, 1983 issue of the Marlin Chronicle, VWC's student-run newspaper, the party was a planned event sponsored by Residence Life. An article by Denise Prosser '82, announced that the staff would sponsor the very first "Party in the Dell" on April 23, and that Navy blue event t-shirts would be sold and tickets could be purchased from any Residence Life staff member or through the Dean of Students office for $7.

Vice President for Student Affairs and Dean of Enrollment Services David Buckingham, who was the newly appointed Dean of Students at the time, remembers hearing the suggestion of a seafood party from then Resident Assistant John Boyle '82. The Director of Residence Life Anita Naugle '78 got on board, Buckingham recalls, and the first official "Party in the Dell" was held, complete with all-you-can-eat shrimp, clams and burgers.

However it got started, a seafood party just made sense for a College located in Hampton Roads, surrounded by seafood. It was also a great way for Marlins to come together in helping to establish a culture and lasting connections to an institution like VWC, still in the early years of its development.

"Traditions are important to a College," Buckingham says. "At the time, we were young and we didn't have many. This event has become part of our fabric and it's just a lot of fun."

No matter how it got started, we hope you will come out this weekend to celebrate three decades of this fun-filled and family-friendly Virginia Wesleyan tradition.

Seafood Party in the Dell will take place Saturday, April 20, from 5-7 p.m. on the Batten Lawn. Tickets include all-you-can-eat buffet, live music from Ryan Cabrera, recreational activities (frisbee golf, swimming, climbing wall, Alpine Tower, sand volleyball, and more). Pricing: $24 for adults; $12 for ages 6-12; Free for children under 6 (students may purchase ticket with meal card). Alumni: Please RSVP here or contact Director of Alumni Relations Lina Green at lina@vwc.edu or 757.455.2115.