Through the Wardrobe
Students and faculty travel to Oxford, England to immerse themselves in the life and work of C.S. Lewis and J.R.R. Tolkien
By Leona Baker | September 18, 2012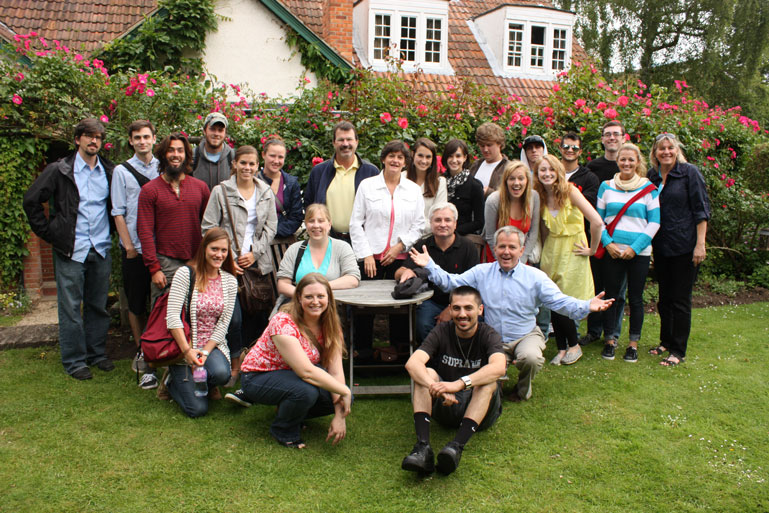 C.S. Lewis's Narnia came to life for a group of Virginia Wesleyan students who traveled to the other side of the wardrobe and all the way to Oxford, England over the summer to "imbibe the words and spirit" of the great fantasy author and literary scholar in the place he lived and worked.
Seven students enrolled in Professor Terry Lindvall's seminar on C.S. Lewis—along with some recent graduates and friends—spent a week exploring the haunts and habits of Lewis and his contemporaries, especially Lord of the Rings author and Lewis's lifelong friend J.R.R. Tolkien. Dr. Lindvall, who is Virginia Wesleyan's C.S. Lewis Endowed Chair in Communication and Christian Thought and the author of Surprised by Laughter: the Comic World of C.S. Lewis, organized the trip.
"I have rarely had such an amazingly delightful group of fellow pilgrims in learning and hiking and eating and drinking in all of C.S. Lewis and J.R.R. Tolkien's Oxford," Lindvall says. "Visiting their colleges, their favorite pubs and churches, homes and tombstones, bookstores and cobblestone streets, not only gave us all a sense of their lives and their creative work in the Shire and in Narnia, but it brought our diverse group together as a merry band of explorers."
Some highlights of their adventure included time at Lewis's home, known as The Kilns; high tea at the Eastgate Hotel; visits to Merton College and Magdalen College; a tour of Christ Church; and a three-mile hike through cow pastures for an evening of fellowship at the Trout Inn, a favorite hangout of Lewis and Tolkien.
As part of the group itinerary, Lindvall delivered a lecture on C.S. Lewis in the Holy Trinity Churchyard in Oxford. VWC Assistant Professor of Classics Ben Haller was also part of the "merry band of explorers" on the trip and gave a lecture on the life and work of J.R.R. Tolkien.
Junior Morgan Stroyeck, who is majoring in religious studies and English, took hundreds of photographs of the trip and used them to create a promotional brochure as a project for the class. The cover of the brochure reads "adventures…they aren't just for hobbits," while the inside invites readers to "learn and laugh with Lewis and Tolkien." Stroyeck calls the experience "extremely inspirational."
"This trip was an indispensable opportunity for me to learn about C.S. Lewis and J.R.R. Tolkien in a setting that brought their works to life," she says. "Not only was the city amazing and rich with history, but everything we learned during the lectures and pub conversations was heightened by being there and walking the very streets where these two authors once walked. Studying with Dr. Haller and Dr. Lindvall made the literature personal. It was like the whole area of Oxford was an endless classroom with something new to learn for all of the students."
Short-term faculty-led trips like this one offer Virginia Wesleyan students uniquely immersive opportunities for in-depth exploration of a specific area of study. Whether wandering in C.S. Lewis's Oxford, teaching on a Native American reservation in Montana or examining the big business of travel in Hawaii, students gain invaluable insight and understanding through these once-in-a-lifetime experiences.