United They Stand
Model UN team heads to New York to represent the African nation of Liberia at international conference
By Leona Baker | March 16, 2012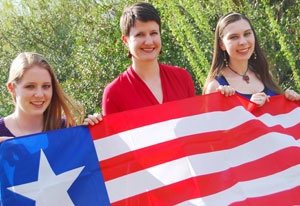 A group of 14 VWC students are headed to New York City in early April for a conference that is truly international in scope. While they are there, they will represent not only Virginia Wesleyan College but the entire West African country of Liberia.
These students, mostly political science and international studies majors, have been participating in a Model United Nations group that meets weekly on the Virginia Wesleyan campus. The group studies the inner workings of the UN, the organization that promotes international cooperation, security, economic development, human rights and other important issues around the world.

"Model UN is a fantastic learning opportunity for any student because it provides them with real experience in the practice of diplomatic decision making," says Assistant Professor of Political Science Dr. Aubrey Westfall, who leads the group. "That is a relevant skill for social interactions ranging from marriage relationships to corporate boardrooms."
The annual National Model United Nations Conference in New York brings together more than 5,000 participants, students and higher education faculty representatives from all over the globe. More than half of the attendees are from outside the U.S.
Each group of students is assigned a country to represent at the conference. In preparation for the conference, the VWC Model UN team has been immersed in the politics and culture of Liberia. Bordered by Sierra Leone and Guinea, the history of this nation of 5 million people is connected to that of the U.S. in that it was populated in part by freed American slaves in the late 19th century.
Twentieth-century Liberia was marked by long periods of political upheaval and economic and social challenges, particularly regarding the plight of women and girls. The election of Ellen Johnson Sirleaf, the first and currently only African female head of state, as president of Liberia in 2005 brought hope for change in this arena. Sirleaf's influential autobiography This Child Will Be Great has served as one of the primary reading materials for the VWC team.
"It's an excellent book discussing important elements of Liberia such as history, culture and future planning coupled with Sirleaf's own personal experiences," says junior Carissa Chantiles, who is participating in Model UN for the first time this year. "This creates a unique read as it approaches Liberia with both an objective and subjective lens."
Chantiles is looking forward to the New York trip as an opportunity to expand her knowledge and broaden her perspective.
"My goals for my life include traveling the world, learning about everything and helping people. I hope this will help me be able to see the world, and my place in it, from a different perspective. And I hope the experience I gain from it will help open doors for me."
For senior Michele Kelly, this will be the second trip to the National Model United Nations Conference. Last year, she helped represent the Republic of the Gambia. In addition to representing a nation as a whole, each student is assigned to a committee covering a particular issue.
"The most important topic this semester is the status of women in Liberia and the world," Kelly says. "I may be biased because I am on the Commission on the Status of Women committee, but Liberia's history and its current major shift into promoting women's rights and empowerment is something not seen in most countries around the world, not even really our own."
As a political science and international studies major, Kelly sees this trip as a training session for the jobs she hopes to have in the future.
"I have wanted to work in the United Nations for several years, and each time I go I see it as a chance to better my understanding of the UN and what I am getting myself into. Last year's trip was my first time traveling to New York, and I fell in love with the city and the atmosphere. I love how the conference brings together students from across the country and the globe. You meet so many different people: Italians, French, British, Chinese, Germans, Austrians, Japanese, Texans, New Yorkers, Californians, etc. It's a great experience."
Other VWC students participating in Model UN this year include: Adam Amick (junior), Brittany Anning (freshman), Scott Blank (freshman), Kourtni Brown (senior), Kori Burcher (freshman), Kristen Creameans (junior), Meagan Hohman (senior), Bogan "Butch" Missouri (freshman), Sarah Nwokorie (freshman), Marisa Postma (graduate), Ashley Stinger (junior), and Hilliary "Peyton" Wolfe (freshman).