VWC 2020: Pathway to Prominence
Virginia Wesleyan College unveils strategic plan for 2014-2020

News Release | July 25, 2014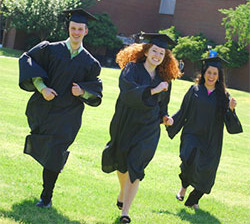 On May 21, 2014, the Virginia Wesleyan College Board of Trustees approved a long-term strategic plan that provides a path for growth and positive change for the College. The approved plan, VWC 2020: Pathway to Prominence, is the result of a two-year collaborative process that involved broad-based stakeholder input from students, alumni, faculty, staff, Board and community members. Implementation of the plan begins in fall 2014.
The plan grew out of the College's existing mission to prepare each student for a meaningful life and career. It includes a primary goal, five strategic priorities and twenty key actions. Notably, the plan also resulted in the articulation of a new vision for the College and five core values: academic excellence, supportive community, religious freedom, ethical conduct and social responsibility.
The primary goal of the plan is to "provide a transformational educational experience for students." The five strategic priorities are as follows: enhance and expand experiential learning opportunities; support innovative teaching and engaged learning; improve and integrate the total student experience; strengthen connections between VWC and the community; and maintain, modernize, and beautify the campus.
The new vision articulated in the plan reads: "Virginia Wesleyan College will be a beacon for the liberal arts in the 21st century, where experiential learning opportunities empower students to grow as principled scholars and community leaders."
Named a "Best College" in the nation by the Princeton Review and listed in the top tier of national liberal arts colleges by U.S. News and World Report, Virginia Wesleyan College celebrated its 50th anniversary in 2011. In May 2014, VWC President William T. "Billy" Greer announced that he would retire in 2015 after more than 20 years at the College. One of the primary goals of his last year in office will be providing resources and aligning infrastructure to support the key priorities in the new strategic plan.
"Implementation of our plan requires our focused attention to five key areas of growth and development for the College," notes Dr. Greer. "These are critical to distinguishing Virginia Wesleyan in the future: increased attention to experiential learning, innovative teaching, student engagement, community connections and an inspiring sense of place on the VWC campus."
For more detailed information about VWC 2020: Pathway to Prominence or the strategic planning process, visit www.vwu.edu/vwc2020.