VWC Choir on Quest to Sing at Carnegie Hall
College ensemble planning May 2014 debut at the historic NYC venue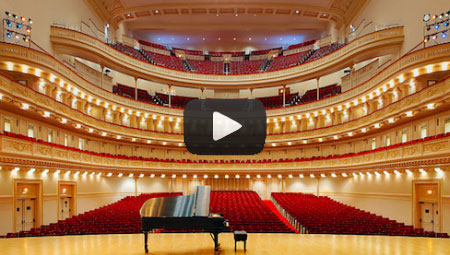 How will Virginia Wesleyan students get to Carnegie Hall next spring? Practice, of course. Age-old jests aside, a VWC choir of more than 50 singers plans to make its prime-time debut at the historic Midtown Manhattan venue on May 26, 2014 and they will get there through passion, persistence, and an entrepreneurial spirit that has led to a variety of fundraising strategies.
Forty four members of the Virginia Wesleyan Chorale and Wesleyan Singers, as well as a handful of faculty and students from Tidewater Community College and others from the Hampton Roads community, plan to travel to the Big Apple over Memorial Day Weekend 2014 for two performances that make up "The Voices of Virginia Wesleyan in Carnegie Hall."
The VWC ensemble will perform solo for their first concert, titled "Music of Stillness, Peace, and Hope," which includes original compositions by Director of Choral Music Michael John Trotta. For their second performance, the group will collaborate with 10 colleges from across the country in a presentation of "Requiem," composed by internationally acclaimed composer John Rutter.
"I want to go to Carnegie Hall because it's the Super Bowl of musicianship," says freshman Beverly Harper. "It's like the pinnacle of everything that you've ever done musically."
That sentiment has led the choir to embrace a variety of fundraising strategies including personal solicitations of family and friends, letter writing campaigns, and social media giving sites.
"Contributions will not just help our choir financially," says freshman theatre major Darrell Wood. "They are making a dream come true for a group of young adults passionate about using their voices as an instrument of change in the world."
Those interested in supporting VWC's Carnegie Hall debut are encouraged to make a donation through the VWC music page. Donation incentives are available, including program recognition, a concert CD, a commemorative tour photo signed by the choir and even tickets to the event.
For more information, visit the VWC music page or contact Michael Trotta at mtrotta@vwc.edu.