VWC President Announces Retirement Plans
After 22-year tenure, President Billy Greer will retire June 30, 2015

Press Release | May 21, 2014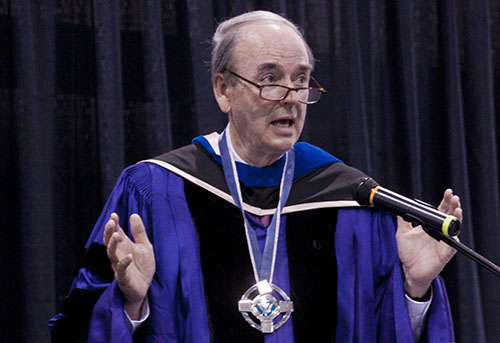 Virginia Wesleyan College President Billy Greer announced today that he will retire on June 30, 2015. His announcement was made at the annual May Board of Trustees meeting.

President Greer first came to Virginia Wesleyan in 1992, after serving as president of Brevard College in North Carolina and Andrew College in Georgia. During his 22-year tenure as president of Virginia Wesleyan, the College has experienced significant transformation, including expanded enrollment; the most successful fundraising campaign in the College's history; the implementation of a new curriculum; and new construction and renovation of the College's facilities.

Board Chairman Gary Bonnewell, VWC Class of 1979, thanked President Greer for his leadership, commitment and dedication.

"What President Greer has achieved at Virginia Wesleyan College is nothing short of remarkable," said Chairman Bonnewell. "While there will be a more fitting time to fully celebrate his accomplishments, a quick glance around campus paints a great picture."

Under President Greer's leadership, facilities such as the Jane P. Batten Student Center and Brock Village were built, and the College made significant progress toward becoming a Phi Beta Kappa-caliber institution. The Birdsong Community Service Program was also established, greatly increasing opportunities for student volunteerism and support for community needs. President Greer has built a strong base of community support for Virginia Wesleyan; support that is led by a distinguished and active Board of Trustees.

"I'm most proud of the improvements to our campus over the last 22 years and the significant difference they have made for our students," said President Greer. "I'm deeply grateful to our Board of Trustees for their generosity and support of the College. My time here has been a labor of love. I look forward to getting our new strategic plan off the ground in 2014-15 and leaving the College well-positioned for a successful future."

Chairman Bonnewell reported that the Board of Trustees will oversee a process that includes a national search for the College's next president.
###
About Virginia Wesleyan College
Named a "Best College" in the nation by the Princeton Review and listed in the top tier of national liberal arts colleges by U.S. News and World Report, Virginia Wesleyan College is a small, private four-year liberal arts college focused on empowering students to become active learners and engaged citizens. In accord with the College's United Methodist heritage, Virginia Wesleyan aspires to be a supportive community that is committed to social responsibility, ethical conduct, higher learning and religious freedom. The College is located on a picturesque 300-acre campus on the border of Norfolk and Virginia Beach, Virginia.