VWC Selected for National Consortium
Group to study Lumina Foundation's Degree Qualification Profile, aimed at defining quality higher education based on student outcomes
By Staff | June 31, 2012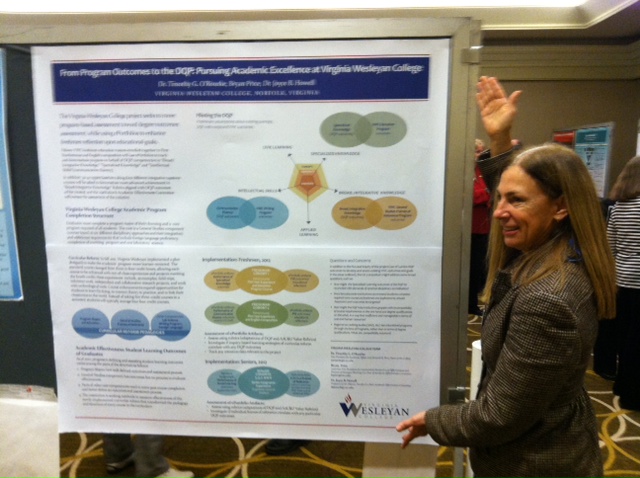 Virginia Wesleyan College has been chosen to participate in the Council of Independent Colleges' (CIC) Consortium studying the Lumina Foundation's Degree Qualification Profile (DQP). The DQP is a qualifications framework illustrating the knowledge and skills students should be expected to have acquired by the time they earn their college degrees. VWC is one of only 25 colleges selected nationwide by the CIC to participate in the Consortium.
Assistant Professor of Education Dr. Hilve Firek, Professor of Art History Dr. Joyce Howell, Associate Vice President for Institutional Research Bryan Price and Vice President of Academic Affairs Dr. Timothy O'Rourke are the Virginia Wesleyan representatives participating in the Consortium, which is a two-year study funded by the Lumina Foundation, the nation's largest foundation committed to enrolling and graduating more students from college.
"The purpose of the DQP is to define quality higher education in terms of a very important and progressive educational concept: establishing student outcomes as a basis for curricular development," said Howell. "VWC has taken a national leadership role in representing independent liberal arts colleges in this undertaking, and we expect to learn a lot from the experience and from our peers at the other institutions participating in the consortium."
"In choosing Virginia Wesleyan to pilot test DQP, the CIC undoubtedly recognized the close fit between the college's new 4X4 curriculum and the Degree Profile," said O'Rourke, "VWC will use its participation in the Consortium to generate useful data about the value of a Virginia Wesleyan degree. The data can also be used to demonstrate compliance with various standards of our regional accrediting agency."
The College's new curriculum provides additional time and resources that give students opportunities for experiential learning, through applied and community-based projects.
In order to define the quality of higher education in terms of student performance, the DQP defines student outcomes for five areas of learning which are specialized knowledge; broad, integrative knowledge; intellectual skills; applied learning; and civic learning, for each of three degree levels (associate, bachelor's, and master's levels).
The VWC pilot study is investigating the correspondence between DQP student outcomes and VWC outcomes. For example, part of the VWC project investigates the correlation between integrative knowledge outcomes of the DQP and VWC's General Studies program, in particular its senior integrative-experience.
The Virginia Wesleyan representatives will attend the next meeting of the full DQP Consortium with all 25 participating colleges in October in Washington, DC.