Wansink Selected for Interfaith Understanding Seminar
Religious studies professor chosen from nationwide pool to participate in teaching seminar July 31-August 4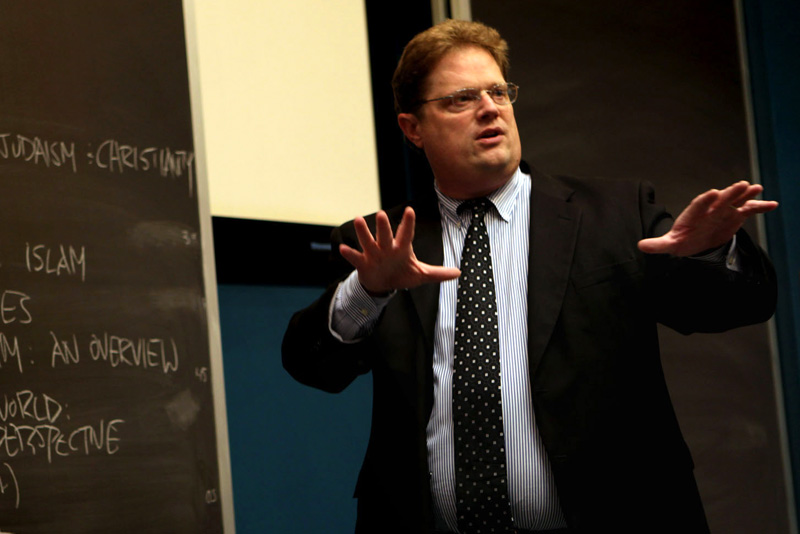 News Release | May 24, 2016
Virginia Wesleyan College Professor of Religious Studies Craig Wansink has been selected from a nationwide pool of nominees to participate in a faculty seminar on the teaching of interfaith understanding. The Council of Independent Colleges (CIC) and Interfaith Youth Core (IFYC) will offer the summer seminar with support from the Henry Luce Foundation.
Wansink, who also serves as the Joan P. and Macon F. Brock Jr. Director of the Center for the Study of Religious Freedom at Virginia Wesleyan, will be among 26 participating faculty members at the Teaching Interfaith Understanding seminar taking place July 31-August 4 at DePaul University in Chicago. The program is intended to broaden faculty members' knowledge and strengthen their teaching of interfaith understanding, with the development of new courses and resources.
"Colleges and universities today are incredibly diverse," says Virginia Wesleyan College President Scott D. Miller. "Students and faculty come from all over the world, from myriad socio-economic, religious and cultural backgrounds—and many institutions utilize this diversity to enhance the educational experience and foster interfaith dialogue. I applaud Dr. Wansink's selection and look forward with great interest to what he will bring back to our campus."
The seminar will be led by two leading scholars: Eboo Patel, founder and president of IFYC, a Chicago-based organization building the interfaith movement on college campuses; and Laurie Patton, president of Middlebury College and former dean of Trinity College of Arts and Sciences and the Robert F. Durden Professor of Religion at Duke University.
"Strengthening participation in American life with greater understanding of the distinctive contributions of different faiths is a key to America's future success as a democracy," says CIC President Richard Ekman. "The number of institutions that nominated faculty members to participate in the interfaith understanding seminar is most impressive."
For more information, visit www.cic.edu/TeachingInterfaith.

Photo at top courtesy of The Virginian-Pilot | Vicki Cronis-Nohe