Welcoming the Class of 2017
Incoming students and their parents visit campus this summer as part of Scene I and Scene II orientation sessions
By Stephanie Smaglo | July 9, 2013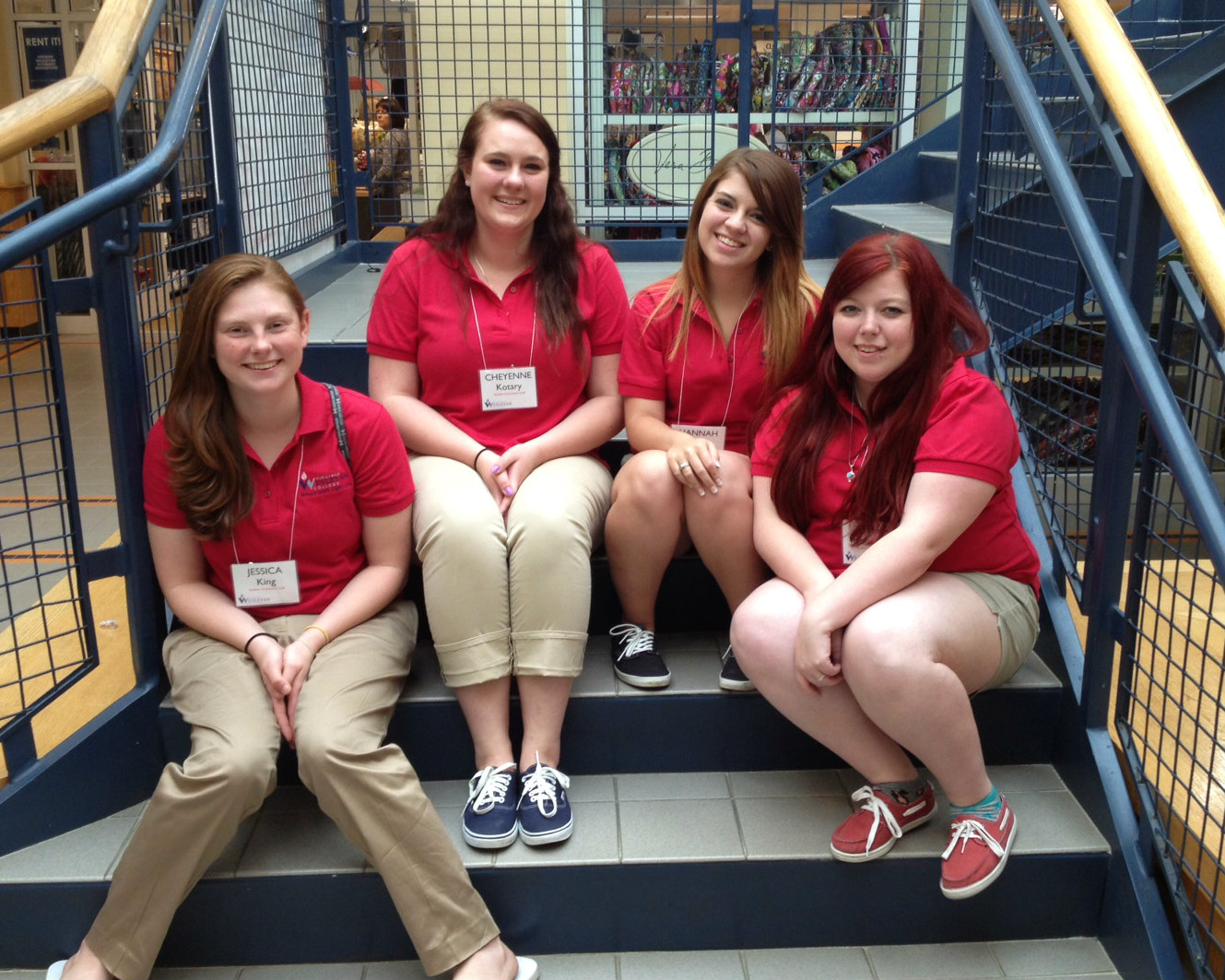 Summer is a time for burgers on the grill, toes in the sand and naps in the hammock, but here at Virginia Wesleyan it is also a time for preparation. College faculty and staff have been hard at work this season, gearing up to welcome the newest members of the VWC family, the Class of 2017.

The new class has already begun to take shape, and on June 21 and July 1 nearly 470 incoming students and their families visited campus as part of Scene I, the first of two orientation sections. While on campus, students were introduced to their academic advisors and had the chance to schedule their first semester classes. Parents also played a large role in the day's activities, attending various student support sessions.

"Ultimately we hope to provide students and parents with the tools they need to make a smooth transition and to show them who will be there to help them along the way," says David Buckingham, Vice President for Student Affairs and Dean of Enrollment Services. "We want to give them a sense of who we are, a very caring and nurturing institution."

The Class of 2017 is the most qualified in the College's history, with an average SAT score of 1024 and a combined high school GPA of 3.33. Representing 23 states, the incoming student group includes more than 20 bilingual students, multiple valedictorians and salutatorians, Eagle Scouts and Girl Scout Gold Award winners, and 67 percent class engagement in some form of community service.

"This is a very strong, diverse class," says Buckingham. "They have reason to be proud of themselves. They are poised and ready to have a successful college career."

To help first-year students make the transition to their first year of college, VWC requires all incoming students to participate in "First Year Experience (FYE 101)." The one-credit course is designed to engage students in activities and exercises that explore the nature of liberal arts learning while connecting them to the campus community. As part of the class, students are required to read a pre-selected book before arriving on campus in the fall. The chosen book for the Class of 2017 is The Power of Habit by Charles Duhigg.

"We chose The Power of Habit as our freshmen 2013 summer read because the book is engaging, relevant to students and can be viewed from many disciplinary perspectives, which allows students to better understand the liberal arts," says Denise Wilkinson, Director of First Year Experience and Professor of Mathematics.

Students will begin discussing the book at Scene II, the second section of orientation kicking off August 21. Book discussions will help them explore the nature of liberal arts learning by examining how different disciplinary perspectives raise various questions, and how those questions reflect the different frames of reference showcased in VWC's general studies requirements.

Faculty and staff aren't the only ones hard at work at VWC this summer. The College's Student Orientation Staff (SOS) are also on campus during Scene I and Scene II to help welcome incoming students and answer any questions they may have. Focus on time management is one of the biggest pieces of advice offered by SOS volunteer and Student Government Association Vice President Thomas Mills '15.

"Having a routine is really helpful," Mills says. "I wake up in the morning, work out, go to class, eat lunch, do homework, eat dinner, and repeat. I think finding consistency is key to success in college. It's good to have repetition."

The VWC community is excited to welcome the Class of 2017 to campus this fall. For additional information, please visit our Freshman FAQ page or call 757.455.3208 or 800.737.8684.