Wesleyan Christmas Celebrates Season
Choral director Michael Trotta puts a new spin on a College tradition, combining musical elements from VWC and beyond
By Stephanie Smaglo | November 28, 2012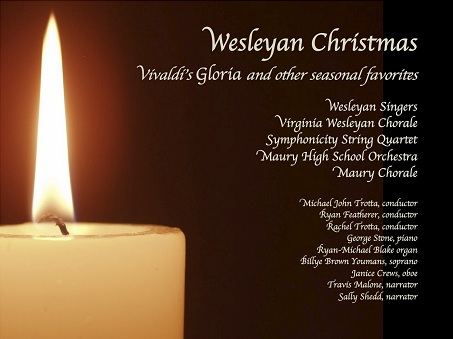 Wesleyan Christmas 2012
Hofheimer Theater
November 30: 7:30 p.m.
December 1: 4 p.m. & 7:30 p.m.
Reservations: 757.455.3381

Adults: $10
Students, Seniors, Military: $5
VWC Students, Faculty, Staff: Free

It's that magical time of year again. A season filled with bright lights, warm fires, hot chocolate and one of Virginia Wesleyan's most beloved holiday traditions: Wesleyan Christmas.

Each year, students, faculty, staff, family and friends gather for Wesleyan Christmas in Hofheimer Theater to celebrate the season and its beautiful sounds. Adding an enchanting feel to the annual gala is Dr. Michael Trotta, the College's new Assistant Professor of Music and Director of Choral Music. Trotta has worked hard this semester to bring his individual style and creativity to this long-standing tradition, known for its choral excellence.

This year's event will feature three choirs, instrumentalists from two orchestras, three guest artists and four faculty artists who will come together to perform Antonio Vivaldi's Gloria along with other seasonal favorites.

The Wesleyan Singers and the Virginia Wesleyan Chorale, conducted by Trotta, will perform along with visiting ensembles, including the Maury Chorale, conducted by Rachel Trotta; the Maury Chamber Orchestra, conducted by Ryan Featherer; and the Symphonicity String Quartet.

Featured guest artists will include organist Ryan-Michael Blake, trumpeter Daniel Brown and oboist Janice Crews.

Faculty members contributing to the festivities include applied music specialists Billye Brown Youmans, singing soprano, and George Stone, who will play piano. Theatre professors Sally Shedd and Travis Mallone will serve as narrators to help capture the spirit of the season.

"The exciting thing about this concert is the way it combines elements from all around the Hampton Roads area and beyond," says Trotta. "It's all about bringing arts into the community and bringing community into the arts."

Community is certainly a theme of this event, just as it is the essence of the season. It's a time of year to celebrate life and bring loved ones together.

"There are friends and family members coming from all over the country for this concert," Trotta explains. "This is the arts at its best. Bringing people together without regard to location, socio-economic status, race or creed. Everyone is coming together for a reason greater than themselves. It's wonderful that we can be a part of that."

All members of the community are invited to attend Wesleyan Christmas. Due to the popularity of the event, guests are encouraged to make reservations by calling 757.455.3381.