Wesleyan Named Top Liberal Arts College
VWC ranked in top tier of U.S. News & World Report's 2014 Best National Liberal Arts Colleges
Press Release | September 18, 2013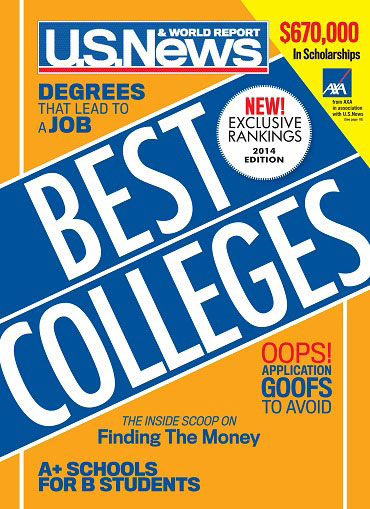 U.S. News & World Report released its annual Best Colleges guide Sept. 10, which includes rankings and data of nearly 1,800 schools nationwide. This year, Virginia Wesleyan College has been named among the top tier of National Liberal Arts Colleges and has also been recognized as one of the most diverse institutions in the country.

In the 2014 edition, U.S. News made changes to the Best Colleges ranking methodology to reflect the current state of college admissions and place more emphasis on student outcomes. In addition, graduation rate performance, which measures the difference between a school's predicted and actual graduation rates, was extended to all of the Best Colleges ranking categories. U.S. News also increased the weight of graduation and retention rates in the National Universities and National Liberal Arts Colleges categories. As a result, outcome-related measures account for 30 percent of the rankings and are now the most heavily weighted factors.

"U.S. News strives to provide students and their families with the most comprehensive data available," said Bob Morse, director of data research. "Measuring outcomes is critical to understanding how well a school retains and educates its students."

To identify colleges where students are most likely to encounter undergraduates from a different ethnic group, U.S. News factored in the proportion of minority students—leaving out international students—and the overall mix of groups in each institution's 2012-2013 student body. On a diversity index ranging from 0.0 to 1.0, Virginia Wesleyan received a .54, falling into the publication's top 25 most diverse liberal arts colleges in the nation for 2014.

"Since 1983, U.S. News has been improving the school data, content and tools available to provide our readers with the most trusted information on this important—and expensive—life decision," said Brian Kelly, editor and chief content officer.

U.S. News & World Report is a multi-platform publisher of news and analysis, which includes the digital-only "U.S. News Weekly" magazine, www.usnews.com and www.rankingsandreviews.com. Focusing on Health, Personal Finance, Education, Travel, Cars and Public Service/Opinion, U.S. News has earned a reputation as the leading provider of service news and information that improves the quality of life of its readers. U.S. News & World Report's signature franchise includes its News You Can Use® brand of journalism and its annual "Best" series of consumer Web guides and publications that include rankings of colleges, graduate schools, hospitals, mutual funds, health plans and more.