Wesleyan Professor Appointed Music Director for Local Orchestra
Lee Jordan-Anders, Professor of Music and Artist-in-Residence, is the Music Director for the Orchestra of the Eastern Shore.
By Megan Z. Shearin | September 14, 2009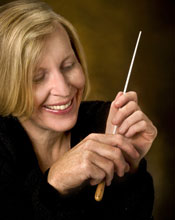 Norfolk/Virginia Beach, Va. – ¬Virginia Wesleyan College's Professor of Music and Artist-in-Residence, Ms. Lee Jordan-Anders, was recently appointed the new music director for the Orchestra of the Eastern Shore.
"I resisted at first, but I was won over by the musicians themselves, people from all walks of life who share a passion for making music," said Jordan-Anders. "If I didn't take on the job, I was afraid the orchestra would disappear, and I just couldn't stand by and watch that happen."
In December, the founder of the orchestra, and previous music director, stepped down making Jordan-Anders the second music director for The Orchestra of the Eastern Shore since it was established in 1999. The orchestra mainly focuses on works from the Baroque and Classical periods, but next year Jordan-Anders will be introducing a work by Bartók, a 20th-century composer, to the orchestra's repertoire. In addition to selecting music, Jordan-Anders will conduct and rehearse the orchestra.
Jordan-Anders received both her Bachelor and Master of Music degrees from Northwestern University's School of Music in Evanston, Ill. For five years, she resided in Madrid, Spain, a period devoted to performing extensively as both soloist and chamber musician. After returning to the United States in 1986, she joined the Virginia Wesleyan community and created Virginia Wesleyan's Familiar Faces Concert Series, for which she served as director for until 1997. The following year, Jordan-Anders made her Virginia Symphony Orchestra debut as piano soloist.
Jordan-Anders teaches an array of courses at Virginia Wesleyan that focus on aesthetics, listening, music theory, chamber music and applied piano. She has recorded two CDs, published articles in Clavier magazine and is currently undertaking an audio tour project that is available at the Chrysler Museum of Art that is titled Picture This! A Gallery of Musical Canvases Framed by Works of Art from the Collection of the Chrysler Museum.
###