Winter Session to Host Musician Kishi Bashi
Performing at VWC on January 10, the singer, songwriter and classical violinist serves as inspiration for the annual three-week academic term
By Staff | December 18, 2012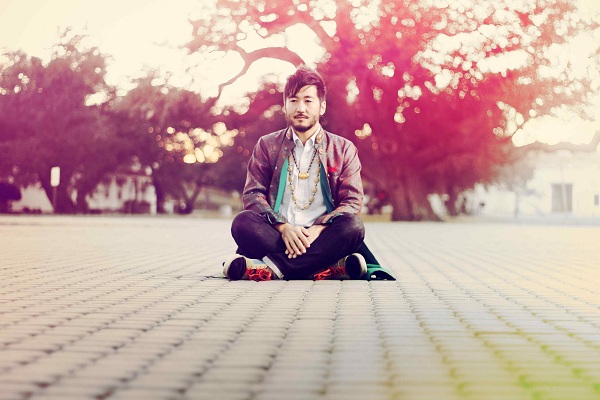 With his classical violin riffs, bilingual lyrics and flare for beatboxing, it's clear to see – or rather, hear – why musician Kaoru Ishibashi, also known as Kishi Bashi, is the inspiration for "Crosscurrents," VWC's 2013 Winter Session theme. His multi-layered music and Japanese-American culture fusion perfectly embody the theme, which in a more literal sense recognizes the overlapping of river currents and their ability to create new, sometimes conflicting, pathways while maintaining separate streams. Winter Session students will explore this idea in January as it relates to culture, politics, literature and, of course, Kishi Bashi.

A singer, songwriter and classically trained violinist, Kishi Bashi has recorded with and toured internationally alongside diverse artists such as Regina Spektor, Sondre Lerche, and most recently, the indie rock group of Montreal. His single "Bright Whites" was featured on NPR's "All Songs Considered," and his debut full-length release, 151a, was chosen as a listener favorite for 2012. The Hampton Roads native is a graduate of Maury High School and the son of two Old Dominion University professors. He recently moved back to the area with his wife and 6-year-old daughter to focus on his solo career. Kishi Bashi will be performing on Thursday, January 10 at 7 p.m. in the Boyd Dining Center. The concert is free and open to the public.

In a recent phone conversation, Kishi Bashi weighed in on his music and how it relates to Winter Session's Crosscurrents theme and shared some insight on his musical style and inspirations.

The Crosscurrents theme was inspired by your music and all the different styles that combine to make it so unique. Because there are so many layers, do you ever experience a sort of tension or contradiction when you're putting your music together?
As an artist, whatever aesthetic you're trying to convey, you try to do it in a new way. I looked at what I have – my skill set, my instruments – and violin was pretty strong. Also, Japanese singing was kind of new to me so I started to incorporate that. I never really thought I would incorporate these things because I always just wanted to be a singer in a rock band, but there are so many of those out there that it's really hard to cut through and do something unique. I guess what I started to do is to really look for something that I was good at. Melding [violin and Japanese lyrics] together was at first a little awkward, but I just got over it and I saw that people were actually getting kind of excited about it. I never really thought I was experimental until I took a step back and saw that what I was doing was a lot different from what other people were doing. Infusing the two cultures, you know, some of it's going to fail and it's not going to sound very good, but it's actually going to be quite refreshing. I always kind of keep that in mind and strive for experimentation. It is difficult though.

How do you approach live performances versus studio recordings? You use recording equipment to achieve your layered, looping style. Do you ever have a problem carrying that over into your live performances?
When I make my albums I don't really think about how I'm going to perform it live. I do a little bit, to some extent, but there are some songs that I can't really do that well live, like the song "Bright Whites." It's something where I just try to do my best to switch it up. I treat them as two completely different things. When you're in the studio, you have all this unlimited time to perfect it and there's no performance aspect to it. Nobody can see you beat boxing. Nobody can see you playing these instruments. It's just basically your sound coming out of two speakers, as opposed to a live show where you're a real human being and you have a certain performance aesthetic to maintain. If anybody expects to hear the album exactly like that in the live show, I think they should just go home and listen to it on their iPod or something. I figure that I should just treat it as a different beast. It kind of works for me in that way because I don't like to rely on computers and pre-recorded material. That's too easy. So what I do is try to recreate everything live as best as I can. I used to have other instruments like guitars and a drum sampler, but eventually I just realized that, to challenge myself, I just needed my voice, my violin, and my pedals. It's like athletics, almost like Olympic sports.

Your first full-length album, 151a, was partially funded through the creative crowdfunding company Kickstarter. How did you get involved with this platform and is there any particular reason you chose to fund your music that way?
I had a friend who had a successful Kickstarter campaign. He raised enough money to fund his album, so it kind of gave me the courage to do it. It's kind of scary in that, if you don't meet your goal, you don't get your funding. There's another [crowdfunding platform], Indiegogo, that's starting to get popular. With that one, you can keep your funding even if you don't reach your goal. To me, that doesn't sound as exciting. It's not as much of a challenge. Kickstarter is great because you don't need a label anymore. It gives you the kind of funding that normally you wouldn't be able to raise. It's not like you can afford to spend that kind of money to put an album out. If you can get a lot of people to come together and fund your music, it's great. It's empowering. It gives you the freedom to make the kind of artistic choices that you want and a lot of people have found great success from it.

What types of music did you listen to growing up?
I grew up with a lot of classical. I really got into it in high school. Of course, I listened to everything a teenage kid would listen to, you know, Nirvana, Jane's Addiction… But as a kid, I had a really strong classical background, which I think helped me a lot in my compositions. Now I don't even really have to think about how to sound classical, because I've been playing in orchestras all my life and it's something that's pretty natural to me. When I pick up the violin and layer myself, it's something that's just an extension of me. I kind of modeled my debut album after a little bit of 70's psychedelic, Pink Floyd-ish stuff with the synthesizers. I'm a big fan of Electric Light Orchestra. I kind of use that as a model for my sound. It's not too heavy. There are a lot of strings in there, a lot of jangly acoustic guitars, and a lot of layered vocals.

You'll be performing in Japan in a couple weeks. Where is your favorite place to go on tour?
I like everywhere. It's not like I look forward to going back to any place in particular because, in my experience, I find that it can be drastically different depending on weather, who you meet there, or if you have friends there. I've been to Japan a lot, but not as a performer. Actually, my album is kind of taking off in Japan and I'm in some commercials there, so it's the first time where I'm actually pretty active. I'm going to be pretty busy over there on this little tour.

Is there anything you absolutely cannot live without when you're on tour? Maybe a certain food or a special blanket?
I do have a blanket! I find that if I'm traveling, every few days I need to eat rice for some reason. I guess I grew up eating rice. I need to find some kind of Asian-something at least once a week. Also, sandwiches, hummus and American food. Luckily there's a lot of sushi and that kind of stuff now all around the country, and around the world, so that's pretty easy to find.

Kishi Bashi will be performing on Thursday, January 10 at 7 p.m. in the Boyd Dining Center. The concert is free and open to the public.

About Winter Session
Winter Session, a special three-week academic term each January at VWC, gives students a chance to explore unusual subjects, immerse themselves in unique experiences, or even learn through travel while earning credits toward graduation. A variety of classes and events will explore this year's theme, "Crosscurrents," as it relates to culture, politics, music, literature and more. On Jan. 17, a panel of Virginia Wesleyan professors will expand on the crosscurrents concept with presentation titles such as "Transcending Language Barriers through Visual Art" and "Words Across Cultures." Courses being offering during Winter Session 2013 range from "Food Fights & Christian Identity" to "Supply Chain Management and Logistics" to "Latin American Music and Dance." Faculty-led travel destinations include Costa Rica, Hawaii, the Mayan region of Mexico, and the Blackfeet Reservation in Montana. Also during Winter Session, VWC hosts its annual Winter Homeless Shelter, the only homeless shelter held on a college campus in the U.S. For more information, contact Susan Wansink at 757.455.3235 or e-mail swansink@vwc.edu. More