2017 Alumni Award Recipients Honored
Virginia Wesleyan recognizes Doug Wilson '86, W. Taylor Franklin '04 and Sydney Covey '16
News Release | September 7, 2017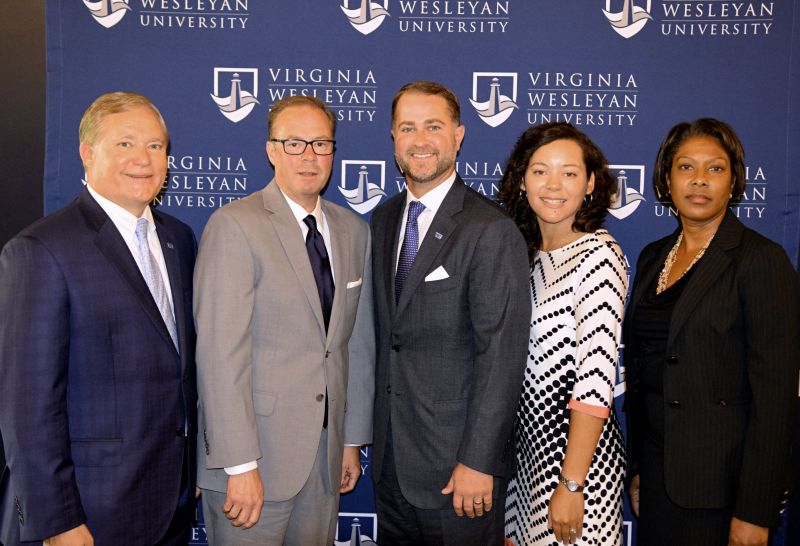 Virginia Wesleyan recognized the 2017 Alumni Award recipients at a Breakfast Reception and Awards Program and at the Founders Day Convocation held in the Jane P Batten Student Center on September 7. Celebrated for their outstanding professional and personal accomplishments, this year's honorees were Doug Wilson '86—Distinguished Alumnus Award, W. Taylor Franklin '04—Alumni Service Award, and Sydney Covey '16—Graduate of the Last Decade Award.
"Our accomplished alumni are the very best examples of our mission and educational programs," said President Scott Miller. "The three talented individuals we honor today are a tribute to all that is valuable and notable about a Virginia Wesleyan education."
Recipients were honored during a morning Alumni Awards Celebration and again during the Founders Day Convocation held in the Jane P. Batten Student Center. Alumni Council Chair Mavis McKenley '11 introduced the honorees.
"There are many distinguished alumni of Virginia Wesleyan University, many professions and many locations throughout the world," said McKenley. She then addressed the current Virginia Wesleyan students in attendance. "Our hope for you, the Class of 2021 and all students of Virginia Wesleyan University, is that you too will pursue your lives and careers in a spirit of service, leadership, achievements and contributions of many kinds."
Chartered in 1961, Virginia Wesleyan first opened its doors to students on September 14, 1966. Since the first graduating class of approximately 75 students in 1970, the Virginia Wesleyan community has grown to include approximately 1,500 students and 9,000 alumni.
Congratulations to the 2017 Alumni Awards recipients:
Doug Wilson '86
Distinguished Alumnus Award
Executive Vice President, LifeNet Health
Doug Wilson received his B.A. degree in Political Science, with focus on communication, from Virginia Wesleyan in Virginia Beach, VA. His entire career has been spent in biologics as he started working in transplantation as an administrator for a blood center and joined LifeNet Health in 1989. Doug began as a field representative and went on to establish the marketing and sales departments at LifeNet Health. In August 2006, Doug was promoted to Executive Vice President and is responsible for the Marketing and Business Development, Corporate Public Relations (PR) and Legal matters. He also serves as Vice -President of the LifeNet Health Foundation, which provides resources for the research and donor family support missions of LifeNet Health. Doug has received the Public Relations Society of America (PRSA) Medallion award for Excellence in Communications.
---
W. Taylor Franklin '04
Alumni Service Award
Co-Founder and Chief Operating Officer, The Franklin Johnston Group
W. Taylor Franklin is co-founder and Chief Operating Officer with The Franklin Johnston Group. His primary responsibilities include new business development, multi-family management (est: 12,000 apartment homes), the supervision of new construction and the location of new development opportunities. Taylor works alongside the company's development team designing, planning, financing, and stabilizing new apartment communities. Taylor has been responsible for the development of 15 communities over the past 12 years with a total value of $500 million. Taylor serves on the boards of many local organizations, including the Chesapeake Bay Wine Classic, Access College Foundation Board, and The Virginia Gentlemen. He is the chairman of the board at Norfolk Collegiate School.
---
Sydney Covey '16
Graduate of the Last Decade (GOLD) Award
Sustainability Program Analyst, Hourigan Construction
As the Sustainability Program Analyst for Hourigan Construction, Sydney has been leading the Sustainable Construction certification processes on many commercial and federal projects for Hourigan Construction, including the Greer Environmental Sciences Center at Virginia Wesleyan University and the interior fit out of the ADP Office in Norfolk. While green building and construction practices are her focus, Sydney is also assisting in developing Hourigan's sustainability plan to manage the company's impact on the environment, community, and economy. As the Sustainability Program Analyst, she is connecting green building practices and corporate sustainability to help guide the organization to a more sustainable business model. Sydney started with Hourigan as a sustainability intern and has since been able to incorporate two other VWU students in Hourigan's summer internship program. Sydney currently serves on the Market Leadership Advisory Board for the USGBC-Hampton Roads Community, as well as the Program Partners Committee for the Lynnhaven River Now and the Hampton Roads Corporate Volunteer Council.