A New Chapter Begins for the Class of 2018
Diplomas in hand, 308 graduates set out to make their mark on the world
Featured News | May 19, 2018
By Laynee H. Timlin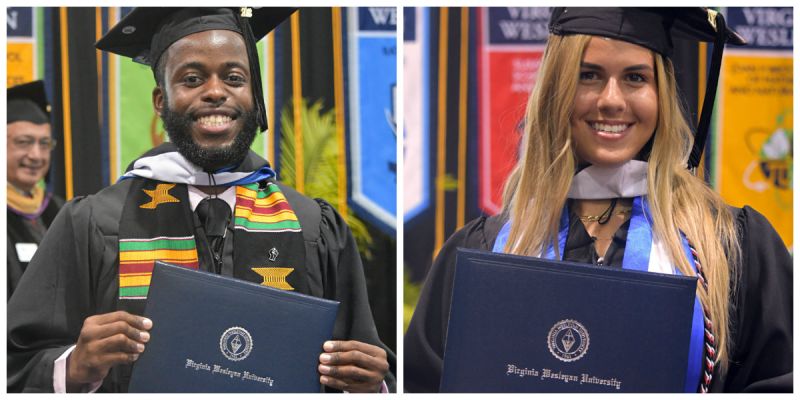 Photo Gallery: 2018 Commencement Ceremonies
It was a commencement of firsts for Virginia Wesleyan. The First Lady of Virginia delivered the commencement address, the Class of 2018 was the first class to graduate from Virginia Wesleyan "University," and the first Class to be permitted to decorate their graduation caps.
The Class of 2018 entered Convocation Hall in the Jane P. Batten Student Center to "Highland Cathedral" played on the bagpipes, another commencement first. Graduate Luke Wentling delivered the invocation and President Scott D. Miller opened the program with welcoming remarks.
"After today, you will no longer be VWU students," Virginia Wesleyan President Scott D. Miller told the Class of 2018 in his welcoming remarks. "For the rest of your lives, you will be Marlin alumni, and as such, one of nearly 10,000 accomplished men and women whose experiences at this premier national liberal arts university continue to inform careers and contributions."
President Miller and Provost and Vice President Timothy O'Rourke conferred degrees to the Class of 2018. Three-hundred and eight students earned Bachelor of Arts, Bachelor of Science, and/or Bachelor of Social Work degrees, walking across the stage to receive their diplomas in front of beaming family and friends, VWU faculty and staff, trustees, alumni and honored guests. Cheers from the crowd celebrated the graduates' achievements and acknowledged their promising futures.
DECORATED CAPS
Decorated mortarboards made their appearance in Convocation Hall with flourish. Many members of the Class of 2018 took full advantage of the opportunity to adorn their mortarboards with sparkle, flowers, tributes to family and messages like Hamilton's "There's a million things I haven't done, but just you wait." Whether optimistic or humorous, each embellishment displayed a meaningful expression for the individual wearer.
ADDRESS TO THE CLASS OF 2018
Commencement speaker Pamela Northam, First Lady of Virginia and an educator, environmentalist and advocate, delivered the keynote address. She talked about "a new chapter" for each of the new graduates.
"Change is rarely an easy thing to do," Northam acknowledged, "It takes courage to dare greatly, to step out into new territory. But as Virginians, we have always been explorers, revolutionaries and innovators."
Northam referenced nature and how it teaches us about evolutionary changes and transformation. She quoted biologist Jane Goodall, telling the graduates, "You cannot get through a single day without making an impact on the world around you. What you do makes a difference, and you have to decide what kind of difference you want to make."
She closed by congratulating the Class of 2018, "Because of you, the future is bright in the Commonwealth of Virginia."
FACULTY AWARDS
Provost and Vice President Timothy O'Rourke recognized four Virginia Wesleyan faculty members during the ceremony. He announced that the recipient of the 2018 Samuel Nelson Gray Distinguished Teaching Award was Batten Associate Professor of Psychology Taryn A. Myers; The Frank and Jane P. Batten Distinguished Scholar Award was presented to Professor of Communication Kathy Merlock Jackson; Instructor of Recreation and Leisure Studies Takeyra M. Collins received the Service and Community Engagement Award; and the United Methodist Church General Board of Higher Education and Ministry 2018 Exemplary Teacher Award went to Associate Professor of Education B. Malcolm Lively.
HONORARY DEGREES
The University recognized keynote speaker and First Lady of Virginia Pamela Northam and Baccalaureate Speaker Rev. Dr. Karla M. Kincannon, a Virginia Wesleyan Alumnae and Director of Spiritual Formation at Aldersgate United Methodist Church, with honorary doctoral degrees. Board of Trustees Chair David Kaufman, President Miller, and Provost O'Rourke conferred the honorary degrees. Mrs. Northam was presented for her honorary degree by Maynard Schaus, associate provost and professor of biology. Dr. Kincannon was presented by Craig Wansink, professor of religious studies.
The commencement ceremony closed with the singing of the University's Alma Mater led by the Virginia Wesleyan Chorale, accompanied by Eastern Virginia Brass, and a benediction from Chaplain Greg West.
ARMY ROTC COMMISSIONING CEREMONY
With diplomas in hand, four VWU graduates were commissioned as second lieutenants in a separate ceremony in Hofheimer Library, immediately following the commencement ceremony.
The commissioning oaths of office, pinning of bars, and first salute/Silver Dollar Ceremony followed opening remarks from ODU Professor of Military Science Lieutenant Colonel Michael E. Warren, Jr. and President Miller. The Marlin Detachment is part of the Army ROTC Monarch Battalion at Old Dominion University.
Second Lieutenant Joseph Fairbanks (Williamsburg,VA) was pinned by his father Captain George C. Fairbanks (Ret. U.S. Army) and his mother Sabrina Fairbanks. His first salute was from his cousin Petty Officer 3rd Class Will Kogan, U.S. Navy (Retired). Fairbanks received a Bachelor of Arts degree in Criminal Justice and will serve in the Army National Guard as an Armor officer.
Second Lieutenant Alexander Gallant (Sterling, VA) received his bars from his father Todd Gallant and his grandfather Fred Katz. Gallant received his first salute from his father, Sergeant U.S. Army, honorably discharged. Gallant's Bachelor of Arts degree is in Criminal Justice and he will serve in the Army National Guard as an Aviation officer.
Second Lieutenant Jake Morgan's (Norfolk, VA) bars were pinned by his mother Julie Morgan and his wife Jessica Morgan. His first salute was from his grandfather, SPC Arthur Rea, U.S. Army, honorably discharged. Morgan received his Bachelor of Arts degree in Criminal Justice and will serve on active duty as a Military Police Officer.
Second Lieutenant Rolanda Taylor (Norfolk, VA) received her bars from her mother Rhoda Young and her sister Gabrielle Williams. Her first salute was from her aunt, SFC Jamie Accoo. Taylor received her Bachelor of Arts degree in Political Science and will serve on active duty in the Corp of Engineers.
The newly commissioned second lieutenants also rendered Silver Dollar Salutes, a time-honored tradition in which new second lieutenants award a silver dollar to the first enlisted soldier that salutes them. After leaving the stage, they were met by Colonel Jim Edge, U.S. Army (Retired) from the Hampton Roads Chapter of the Military Officers Association of America. He presented the new second lieutenants with a set of gold bars and a complimentary membership to the Association.
Live Stream Information
The 2018 Commencement Ceremony was live streamed - Watch the Commencement Ceremony at: https://boxcast.tv/view/vwus-49th-commencement-ceremony-644036
Commencement Photographs
Lifetouch Special Events Photography photographed each graduate crossing the stage. Those professional photos will be available for purchase, if desired. A link to commencement photograph proofs will be sent to participating graduates via email. For more information, visit https://events.lifetouch.com/vwu. Questions may be addressed to specialevents@lifetouch.com, 800-505-9496 Monday-Friday, 8:00 a.m.-6:00 p.m. EST, or http://events.lifetouch.com/about/contactus.aspx.