Batten Honors College Recognition Ceremony
Batten Fellows, Shumadine Scholars mark start of educational journey with ceremonial pinning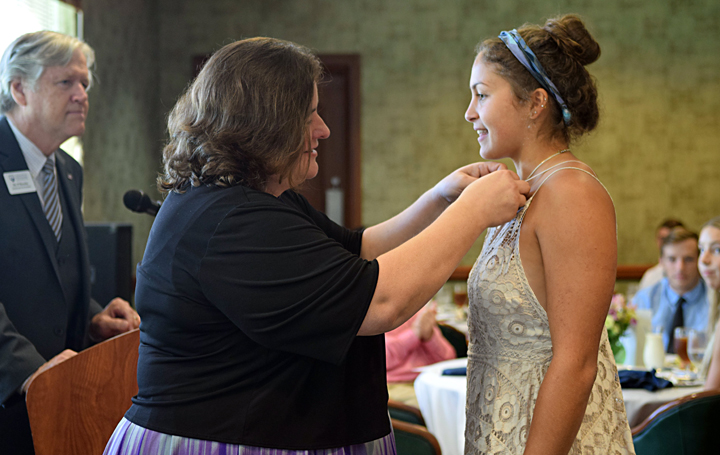 News Release | September 7, 2017
As campus-wide celebration and activity continued through the lunch hour on Founders Day Sept. 7, an intimate recognition ceremony was taking place inside the Shafer Room of Boyd Dining Center. The first class of Batten Honors College students had assembled to mark the start of their academic journey with a ceremonial pinning.
Batten Fellow Aleah Brinn '21 spoke on behalf of class, sharing collective hopes of the group.
"We are comprised of many different values, customs, ideals and places of origin," she said. "However, we all share the desire for one thing: to fulfill our dream. The dream to be a globally aware citizen that can contribute to the future of our society."
Launched this academic year, the Batten Honors College was created to inspire, engage and prepare academically talented students to become impactful leaders and environmental stewards in the global community. Signature program features include small class sizes, a living-learning community, personalized instruction, funded international study away, and full academic-leadership scholarships. The program is named for Trustee Emerita Jane P. Batten and her late husband, Frank Batten, Sr.
"We feel blessed to be given this opportunity, and even though it won't be easy, we accept the challenges the world has put in place for us to solve," Brinn told Mrs. Batten during the ceremony. "We are future biologists, engineers, oncologists, FBI agents, surgeons, artists, and much more. Thank you…for allowing us to make a difference in this world."
Virginia Wesleyan University President Scott D. Miller addressed the students and presented Joyce Easter, Dean of the Batten Honors College, with the initial Dean's Medallion that she will wear at all formal academic functions of the Batten Honors College and Virginia Wesleyan University.
Dean Easter and Steve Pinto, Director of Recruitment for the Batten Honors College, pinned the 40 first-year Batten Fellows and Shumadine Scholars with a keepsake honors college lapel pin.