Larry Hultgren to Highlight Founders Day Festivities
VWU's longest-tenured professor will keynote the Founders Day Convocation on Sept. 6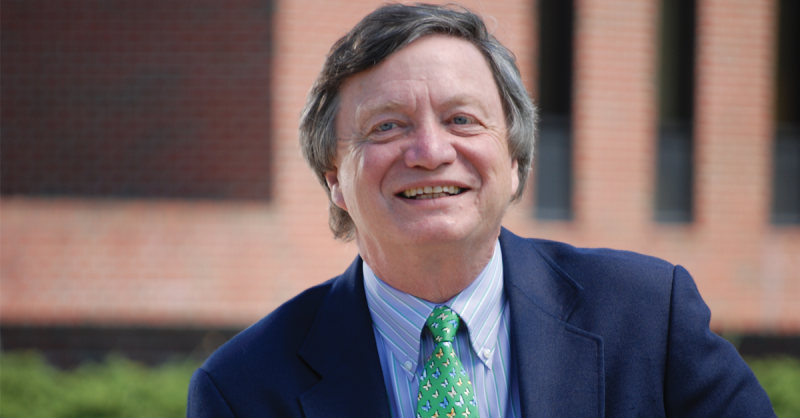 University News | August 9, 2018
Larry Hultgren, Virginia Wesleyan's longest-tenured faculty member, will serve as keynote speaker for Founders Day, President Scott D. Miller has announced. The Founders Day Convocation will be held on Thursday, September 6, at 11 a.m. in Convocation Hall of the Jane P. Batten Student Center. The event will be live streamed through the VWU Digital Broadcasting Network.
"We look forward to sharing additional details about the day's events, highlighted by Dr. Hultgren's unique perspective on the institution he has served so faithfully," Dr. Miller said in a message to campus.
Hultgren has been a member of the Virginia Wesleyan family for nearly 50 years, having arrived on campus in September 1969. He serves as Professor of Philosophy and Director of the PORTfolio Program, and has also been an NCAA Faculty Athletic Representative at VWU for more than 40 years.
A former Associate Dean and Batten Professor, Hultgren has received the Sears-Roebuck Foundation Teaching Excellence and Campus Leadership Award, the Samuel Nelson Gray Distinguished Teaching Award, and the Frank and Jane P. Batten Distinguished Scholar Award. In 2016, he was inducted into the Virginia Wesleyan University Athletic Hall of Fame. He was selected in 2009 by the Virginia Foundation for Independent Colleges as the recipient of the Hiter H. Harris Jr. Memorial award for Excellence in Undergraduate Teaching, the top statewide award for faculty from Virginia's private colleges.
Founders Day was launched in 2016 as an annual event to honor the history and heritage of Virginia Wesleyan. The convocation will also celebrate the University's 2018 Alumni Awards recipients—Joe Ruddy '83, Chief Innovation Officer at The Port of Virginia (Distinguished Alumni Award), Clayton Singleton '94, Artist/Teacher at Norfolk Public Schools (Alumni Service Award), and Alisa Crider '10, Public Relations Coordinator at Hampton Roads Transit (Graduate of the Last Decade Award).
Founders Day Convocation will be live webcast through the VWU Digital Broadcasting Network.