Professor Salek Retires after 25 Years of Service
A reception and special ceremony were held in his honor on May 10
Featured News | May 15, 2018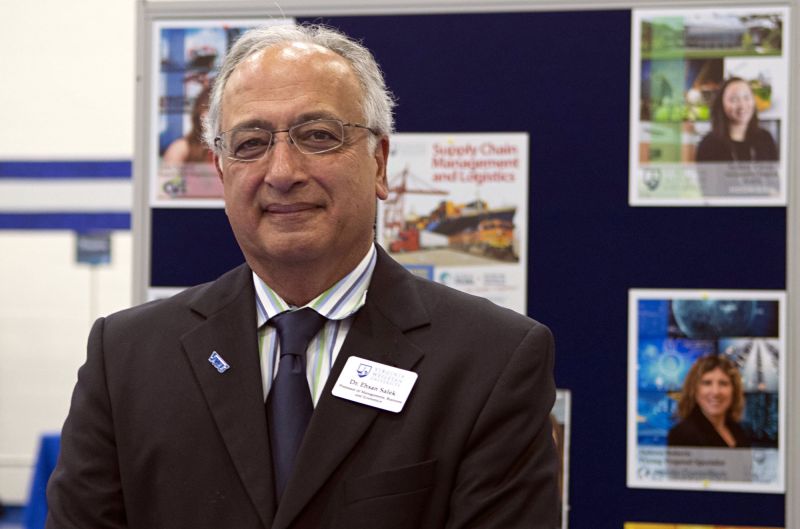 Virginia Wesleyan bids farewell to retiring Professor of Management, Business, and Economics Ehsan Salek after 25 years of service to the institution. A reception in the Greer Environmental Sciences Center was held in his honor on May 10, followed by the traditional commemorative tree planting ceremony in the Wilson Arboretum.

Salek graduated from National University of Iran with a degree in economics in 1976, after which he came to the United States to pursue graduate studies at Oklahoma City University (MBA), University of Missouri-Columbia (M.S.), and Nova-Southeastern University-Florida (DBA). After a three-year stint as a manager in banking and hospitality industries, he began teaching in higher education at Lewis Clark State College in Lewiston, Idaho. He moved with his family to Virginia in 1990, and after teaching at St. Paul's College for three years, arrived at Virginia Wesleyan in 1993.

Professor Salek's teaching, research, and consulting interests are in strategic management, human resource management, ethics and workforce diversity. For his first sabbatical in 2000, he served as a faculty intern/consultant to Applied Materials, Inc., the largest semiconductor manufacturing equipment maker in the world, in Santa Clara, California. For his second sabbatical in 2009, Dr. Salek taught and conducted research in management at the University of Madero in Puebla, Mexico.
Salek says that some of his fondest memories at Virginia Wesleyan include his interview day 25 years ago, a Commerce and Theater in London trip with Professor Rick Hite in January 1995, receiving tenure and being promoted to full professor, being awarded his first sabbatical in 2000 to do consulting in Silicon Valley, and his second sabbatical in 2009 to teach at a Mexican university for a semester.
In keeping with the Virginia Wesleyan tradition first established in 1997, retiring faculty plant or select a tree in the Wilson Arboretum to commemorate their service at the institution.
"I selected a Ginko tree," says Salek. "I love the shape of the leaves, especially when they turn yellow in fall. I chose the male species on the advice of our botany professor. He said the female species of the Ginko tree stinks!"
In retirement, Salek will return to California and continue to teach online courses through VWU Online. He also hopes to find time for biking, hiking, tennis, painting, playing music, and playing with this granddaughter. He says that his experience at Virginia Wesleyan has been "the greatest experience of his life."
About the Wilson Arboretum on the campus of Virginia Wesleyan University
In the spring of 1995, members of the campus community gathered to plant the first dozen trees in the Wilson Arboretum on campus. The Arboretum was established by the Virginia Wesleyan classes of 1986 and 1995 to honor the memory of Dr. William M. Wilson, dean of the College from 1971 to 1994. College Archivist Stephen Mansfield's book, "Wisdom Lights the Way: Virginia Wesleyan College's First Half Century," documents the tradition of planting trees to recognize retiring faculty that began in May 1997 when Gordon A. Magnuson, English professor and William R. Shealy, religious studies professor, selected a weeping willow and a Japanese maple for inclusion in the Wilson Arboretum.