Retiring Faculty Honored
A VWC tradition since 1997, retiring faculty plant a tree in the Wilson Arboretum
Featured News | May 16, 2017
By Laynee H. Timlin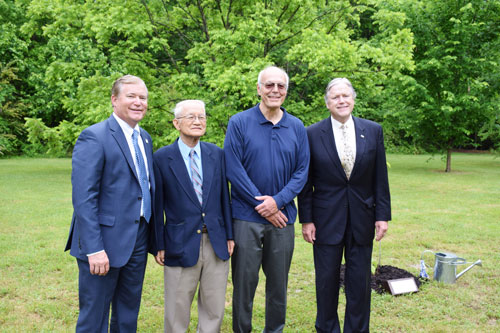 View Photo Gallery
Two longtime faculty members, Cheul Kang and Garry Noe, each with Virginia Wesleyan careers spanning about three decades, were honored at a retirement luncheon May 11 in the Pearce Hospitality Suite inside the College's Jane P. Batten Student Center. The traditional commemorative tree planting ceremony followed in the Wilson Arboretum.
Provost and Vice President Tim O'Rourke, commended the retirees for their distinguished service to the College.
"Both Dr. Chang and Dr. Noe are beloved by their students," said O'Rourke. "And they almost single-handedly have transformed their respective disciplines -- economics and physics. A reasonable estimate would be that about a third or more of our 7,000 plus graduates over the past 30 years have sat in a classroom with either Cheul or Garry."
Freshly planted pink dogwood and pawpaw trees now stand in Virginia Wesleyan's Wilson Arboretum to honor their long and distinguished teaching careers.
Professor of Business, Management and Economics Dr. Cheul Kang chose the pink dogwood to be planted in the Arboretum. Kang has taught at Virginia Wesleyan for 32 years. Born and raised in South Korea, he served in the Korean Army before coming to the United States to attend college. He graduated from King College in Bristol, Tennessee in 1958 with a B.A. in economics and business. He continued his studies at the University of Wisconsin, earning a Ph.D. in economics.
Kang has taught mainly economic and some business courses and has enjoyed working with many Virginia Wesleyan students through the years. His research has been on the foreign trade and economic development of Korea, and he has written several articles including " The Korean Economy during the Japanese Colonial Period." He plans to continue his work on this topic during his retirement years.
"I feel I have been fortunate to teach here for 32 years, and I will cherish the fond memories at Virginia Wesleyan the rest of my life," says Kang. "I look forward to retirement and time for relaxing, traveling with my son, David, reading and watching YouTube, listening to classical music, gardening and playing golf."
Associate Professor of Physics and Chair of the Earth and Environmental Sciences and Physics Departments Dr. Garry Noe selected a pawpaw tree to plant. Noe first came to Virginia Wesleyan in 1988. He has taught upper division lab courses and watershed hydrology and introduction to geographic information systems in earth and environmental sciences, and physical chemistry in the chemistry department at VWC for 29 years. Recently he's collaborated with students on projects in building energy science, groundwater hydrology, and bird habitat ecology, and he's worked independently in the area of immunotherapy. Noe earned his degrees—a B.S., M.S., and Ph.D.—from the University of California, Riverside.
"I really enjoyed introducing almost a thousand students in college and university physics to our contemporary understanding of many physical principles and laws during my 29 years at VWC," said Noe. "I was the college's first Webmaster, at a time when posting photos online was discouraged because they took too long to load. Mark Zuckerberg was still in elementary school then."
Noe's retirement plans include a move to Munich, Germany this summer to be closer to family, to bike flatter parts of Bavaria, Austria, and Switzerland, and to do potable water research.
"Cheul and Garry, we shall miss you greatly," added O'Rourke. "We wish you a long and happy life and hope that you return to campus often. The welcome mat will always be out for you."
About the Wilson Arboretum on the campus of Virginia Wesleyan College
In the spring of 1995, members of the campus community gathered to plant the first dozen trees in the Wilson Arboretum on campus. The Arboretum was established by the VWC classes of 1986 and 1995 to honor the memory of Dr. William M. Wilson, dean of the College from 1971 to 1994. College Archivist Stephen Mansfield's book, Wisdom Lights the Way: Virginia Wesleyan College's First Half Century, documents the tradition of planting trees to recognize retiring faculty that began in May 1997 when Gordon A. Magnuson, English professor and William R. Shealy, religious studies professor, selected a weeping willow and a Japanese maple for inclusion in the Wilson Arboretum.