Robert C. Nusbaum Named Founding Fellow
Community civic leader recognized April 25 as Founding Fellow of the Center for the Study of Religious Freedom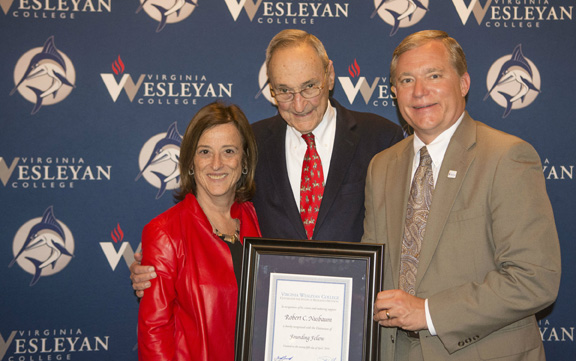 News Release | April 26, 2016
Photo Gallery: Justine L. Nusbaum Lecture
Beloved Hampton Roads civic leader Robert C. "Bob" Nusbaum was honored by Virginia Wesleyan College April 25 for his original vision and enduring support of Wesleyan's Center for the Study of Religious Freedom. During the College's annual Justine L. Nusbaum Lecture, held on campus, Bob Nusbaum was recognized as the Founding Fellow of the Center, created in 1996 to promote religious freedom and understanding of different faiths.
In November 1995, Nusbaum wrote a letter to then VWC President Billy Greer proposing the idea for the Center. In the letter, he wrote:
"I venture to guess that more persons have been slaughtered in the name of religion that from any other cause… in this continuing saga of man's inhumanity to man, the one bright light that goes beyond mere tolerance is Jefferson's Statute for Religious Freedom. It laid the foundation for the First Amendment, and has served as a beacon for all enlightened constitutions ever since."
The letter led to the creation of the Center for the Study of Religious Freedom at Virginia Wesleyan College in September 1996.
Nusbaum and his brother, V.H. Nusbaum, later established the Justine L. Nusbaum Endowed Lectureship in honor of their mother, also well known for her lifelong volunteer service and dedication to humanitarian causes. Dr. Cassandra Newby-Alexander, a renowned historian and friend of Nusbaum's, served as this year's lecturer, presenting "Spirit Voices of an Emerging African-American Community in 18th-Century America."
Nusbaum recently established an endowment enabling the Center to hold an annual student essay contest. Beginning this fall, during the 20th anniversary of the Center's founding, an essay contest will be launched for Virginia Wesleyan students to write about issues of religious freedom. Prize money will be awarded to the authors of winning essays.
"Bob is concerned that many young people do not understand the heritage of religious freedom," VWC President Scott D. Miller told guests Monday night. "His dream—and our dream too—would be for every VWC student to graduate with an understanding of the challenges and obstacles that humanity has overcome in attaining religious freedom. Moreover, it is important for our students to have an appreciation of the need to be ever vigilant to maintain those rights."
President Miller presented Nusbaum with a certificate recognizing the distinction of Founding Fellow of the Center for the Study of Religious Freedom. Nusbaum's family and many friends were in attendance for the special occasion.