Schaus Selected For National Leadership Development Program
VWU Associate Provost and Professor of Biology is one of 45 selected nationwide
News Release | April 11, 2018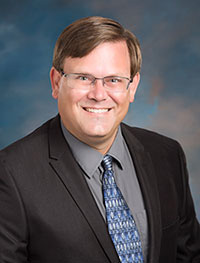 Virginia Wesleyan University is pleased to announce that Maynard Schaus, Associate Provost and Professor of Biology, is one of 45 mid-level administrators in higher education nationwide selected by the Council of Independent Colleges (CIC) to participate in the 2018–2019 Senior Leadership Academy.
Individuals chosen for the year-long program are administrators in higher education who have been identified by their institutions as having the potential for senior leadership positions in independent colleges or universities. Schaus will participate in an opening seminar in St. Louis, Missouri, November 2–4, 2018, and a closing seminar in Washington, DC, June 20–22, 2019. He also will undertake a mentoring program, work with experts, participate in webinars, and engage in a series of readings and case studies during the academic year.
The Academy is designed to prepare prospective leaders to assume positions as the chief officers in any division—including academic affairs, student affairs, finance, enrollment management, and advancement—in independent higher education.
"Because the generation of senior leaders now on campus is rapidly approaching retirement, the need for able new leaders is significant," said CIC President Richard Ekman. "Competition for the available places in the program was intense, and the review committee found the nomination materials to be most impressive. They (and I) believe that Maynard Schaus has the potential for highly effective leadership in a position of senior responsibility on campus."
Schaus has been at Virginia Wesleyan since 1998. He received his B.S. in Biology from California Lutheran University and his Ph.D. in Zoology from Miami University (Ohio). In addition to his current role, he has previously served as the Natural Sciences and Mathematics Division's Chair and as Director of Undergraduate Research.
"I'm excited about the prospect of participating in the Senior Leadership Academy," said Schaus. "In graduate school and as a young faculty member, no one provides you with training on how to be an administrator. The Senior Leadership Academy provides a way for us to learn about effective administration from experts at other institutions."
Sixty-one percent of participants in the first Senior Leadership Academy cohort (2010–2011) have advanced in their careers, and 28 percent of all participants in SLA thus far have earned more advanced positions. "These indicators suggest that CIC is helping to meet the leadership needs of higher education by offering highly effective leadership development programs for modest fees to member institutions," Ekman said.
The Academy is co-sponsored by CIC, the American Academic Leadership Institute (AALI), and Academic Search, Inc. Linda M. Bleicken, president of AALI, will direct the program. For more information about the Senior Leadership Academy, visit www.cic.edu/SeniorLeadershipAcademy.