VWC Grads: Big Fish Entering the Big Sea
2017 Marlin Graduates urged to "get in the game" and make the world better
Featured News | May 20, 2017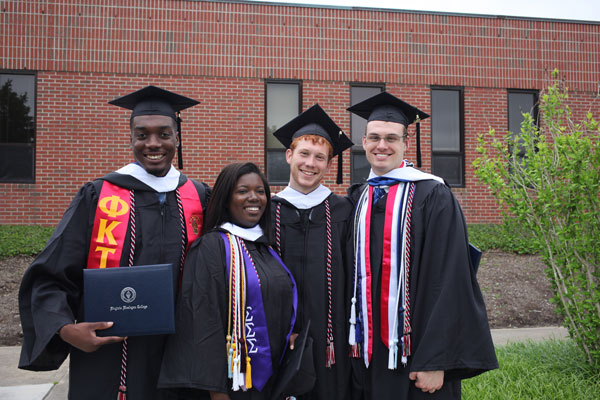 In his address to the Class of 2017, David R. Goode, retired Chairman of the Board and Chief Executive Officer of Norfolk Southern Corporation, urged graduates to "get in the 'game' that is our society."
"You have a big asset – an education and background from a strong liberal arts institution," said Goode. "You have more technological expertise than any generation before you, and you have experience that, while still accruing, is perfectly suited for helping to shape the world of tomorrow. Use all of those assets, and make the world better and more just – for you, for me, and for those who don't have your strengths."
As keynote speaker, he suggested two simple acts to cement their entry into the team that will improve society.
"First, resolve this: I will vote. Your society deserves your input." Second, he encouraged the graduates to get involved in some organization focused on improving the world and fortunes of those who inhabit it. "Your community needs your participation, but you need it more. You'll learn something new, meet different people, and see the world in a new light and perhaps even make a new friend. Our civic life will be better and so will you. We really do need the Virginia Wesleyan Class of 2017."
Active community leaders and devoted advocates for the arts, Goode and his wife Susan, a longtime member of the Virginia Wesleyan Board of Trustees, along with their daughters and son-in-law, recently made a lead gift for the construction of a new fine and performing arts center on the Virginia Wesleyan campus. The family's gift launched the planning and fundraising for the forthcoming Susan S. Goode Fine and Performing Arts Center.
In his final words to the Class of 2017, Goode concluded, "Virginia Wesleyan College has prepared you well. Your mascot, the Marlin, is entirely fitting: You are now big fish, entering the big sea. Make progress and swim with the flow when the tide is right, but have the courage to press against the current when change in direction is necessary."
The Class of 2017 is the last class to graduate from Virginia Wesleyan "College" and included approximately 300 graduates who received Bachelor of Arts, Bachelor of Science, and Bachelor of Social Work degrees. The College will transition to a University in the fall.
"Now that the accomplishments I worked so hard for here are complete, I look back at myself as a freshman and see how much I have grown in confidence," said Sarah Antozzi, who graduated summa cum laude with a degree in Comprehensive Liberal Studies. "Many of my abilities that were relatively raw have been trained and developed by my experiences at Virginia Wesleyan, so that now I know how to use them effectively. It's been a welcoming place with so many kind and intelligent people."
The 2017 Commencement Ceremony was held in the Jane P. Batten Student Center. The ceremony was attended by family and friends of the graduates, VWC faculty and staff, alumni, and honored guests, each celebrating the graduates' achievements and promising futures.
"After today, you will no longer be VWC students," Virginia Wesleyan President Scott D. Miller told the Class of 2017. "For the rest of your lives, you will be Marlin alumni, and as such, one of nearly 10,000 accomplished men and women whose experiences at this premier national liberal arts college continue to inform careers and contributions."
Timothy O'Rourke, Provost and Vice President, recognized four Virginia Wesleyan faculty members during the ceremony: The recipient of the 2017 Samuel Nelson Gray Distinguished Teaching Award was Batten Associate Professor of Management, Business and Economics Paul L. Ewell; The annual Frank and Jane P. Batten Distinguished Scholar Award went to Professor of Art Philip R. Guilfoyle; The Service and Community Engagement Award was presented to Assistant Professor of Political Science Leslie A. Caughell; and the United Methodist Church General Board of Higher Education and Ministry 2017 Exemplary Teacher Award went to retiring Associate Professor of Physics Garry Noe.
The College recognized David R. Goode and Baccalaureate Speaker Rev. Susan Pendleton Jones '80, a Virginia Wesleyan Alumnae and Senior Fellow of the Faith and Learning at Baylor University, with honorary doctoral degrees. President Miller, Provost O'Rourke and VWC Board of Trustees Chair David Kaufman conferred the honorary degrees.
The ceremony closed with the singing of the College's alma mater led by 2017 graduate, Joy Vernon, accompanied by Eastern Virginia Brass.
Photo Gallery by VWC Marketing and Communications and Augusta Pittman
Candid Color Photography also took photos of each graduate crossing the stage. Those photos will be available for purchase online at www.candidcolor.net approximately 10 days after graduation. The following login code is required: VWSG17.