VWC Means Green
College selected as 2014 Green College by The Princeton Review

News Release | April 22, 2014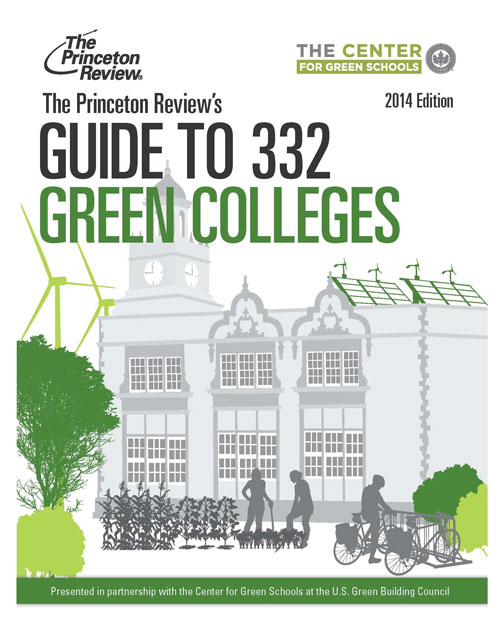 In celebration of Earth Day, Virginia Wesleyan College proudly announces its selection by The Princeton Review as one of the most environmentally responsible colleges in the U.S. and Canada. The education services company profiles VWC in its 2014 edition of The Princeton Review's Guide to 332 Green Colleges.

The guide's featured schools were chosen based on a 2013 survey conducted by The Princeton Review at hundreds of four-year colleges to measure commitment to the environment and sustainability. Profiles in the guide include essential information for applicants—facts and stats on school demographics, admission, financial aid—plus write-ups on the schools' sustainability initiatives. A "Green Facts" sidebar reports on schools' use of renewable energy sources, recycling and conservation programs, and the availability of environmental studies and career guidance for green jobs.

In Virginia Wesleyan's profile, The Princeton Review highlights the College's commitment to conform all future construction to LEED specifications (Leadership in Energy & Environmental Design); the bio-retention ponds installed to clean water before it runs into Lake Taylor; the groundskeepers' use of native plants and the sparse use of fertilizer; as well as VWC's recycling efforts through the annual RecycleMania competition. The profile also references the $50,000 grant the College received from the Commonwealth of Virginia's Department of Conservation and Recreation to install a 5,066 square foot green roof on Smithdeal Hall, providing energy savings and ongoing environmental research opportunities.

"We are pleased to recommend Virginia Wesleyan College to the many students seeking colleges that practice and promote environmentally-responsible choices and practices," said Rob Franek, senior vice president and publisher at The Princeton Review. "Among 10,116 college applicants who participated in our 2014 'College Hopes & Worries Survey,' 61 percent said having information about a school's commitment to the environment would influence their decision to apply to or attend the school."

Rachel Gutter, director of the Center for Green Schools at the U.S. Green Building Council, commented, "In collaborating with The Princeton Review on this annual guide, we have seen that sustainability on campuses continues to be an important deciding factor for today's four-year college bound students. We are excited to once again provide prospective students and their parents with a resource to help them navigate this often daunting decision-making process."

The Princeton Review's Guide to 332 Green Colleges was created in partnership with the Center for Green Schools at the U.S. Green Building Council. The 216-page guide, and additional information on how schools were chosen, can be found at www.princetonreview.com/green-guide and www.centerforgreenschools.org/greenguide.

Virginia Wesleyan College was also selected as a 2014 "Best College in the Nation" by The Princeton Review.

###
About Virginia Wesleyan College
Named a "Best College" in the nation by the Princeton Review and listed in the top tier of national liberal arts colleges by U.S. News and World Report, Virginia Wesleyan College is a small, private four-year liberal arts college focused on empowering students to become active learners and engaged citizens. In accord with the College's United Methodist heritage, Virginia Wesleyan aspires to be a supportive community that is committed to social responsibility, ethical conduct, higher learning and religious freedom. The College is located on a picturesque 300-acre campus on the border of Norfolk and Virginia Beach, Virginia.

About The Princeton Review
The Princeton Review is a leading test preparation and college admission services company. Every year it helps millions of college- and graduate school-bound students achieve their education and career goals through its test preparation, tutoring, and admissions services, its online resources, and its more than 150 print and digital books published by Random House LLC. The Company delivers its services via a network of more than 4,000 teachers and tutors in the U.S.A. and Canada, and through its international franchises in 14 other countries. The Company also partners directly with school districts and non-governmental organizations to provide students with college readiness services including college selection, test preparation, financial aid advice, and admissions support. The Princeton Review is headquartered in Natick, MA, and is privately held. For more information, visit www.princetonreview.com and www.facebook.com/ThePrincetonReview. Follow the Company's Twitter feed @ThePrincetonRev

About the Center for Green Schools at the U.S. Green Building Council
The Center for Green Schools at USGBC is making sure every student has the opportunity to attend a green school within this generation. From kindergarten to college and beyond, the Center works directly with staff, teachers, faculty, students, administrators, elected officials and communities to drive the transformation of all schools into sustainable places to live and learn, work and play. For more information, visit centerforgreenschools.org or find us on Twitter and Facebook.

About the U.S. Green Building Council
The U.S. Green Building Council (USGBC) is committed to a prosperous and sustainable future through cost-efficient and energy-saving green buildings. USGBC works toward its mission of market transformation through its LEED green building program, robust educational offerings, a nationwide network of chapters and affiliates, the annual Greenbuild International Conference & Expo, the Center for Green Schools and advocacy in support of public policy that encourages and enables green buildings and communities. For more information, visit usgbc.org, explore the Green Building Information Gateway (GBIG) and connect on Twitter, Facebook and LinkedIn.