VWU Community Gathers to Honor Veterans
Alumnus Chief Warrant Officer 5 (Ret.) Ron Stebbins '92 to speak at this year's ceremony
Featured News | November 8, 2017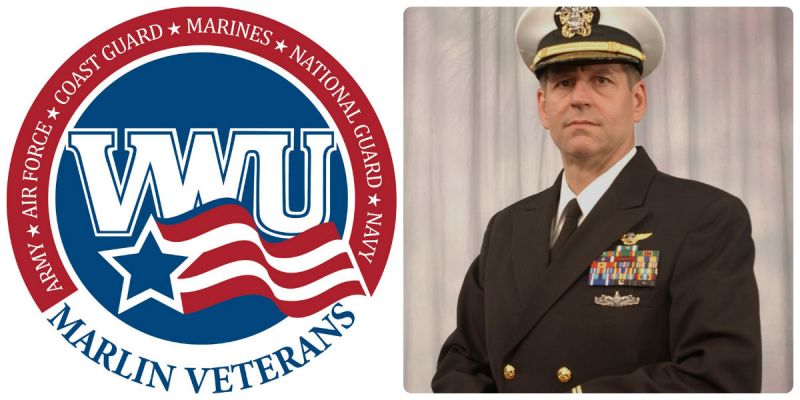 In observance of Veterans Day on November 11, members of the Virginia Wesleyan community are honoring all veterans and paying tribute to active duty and veteran Marlins. VWU Director of Student Activities Kate Griffin and Deputy Director of The Lighthouse Amy Rush have collaborated to plan this year's campus events.
Active duty and veteran Marlins have been invited to provide photos for display to acknowledge their service. In addition, a Military Honor Tree, at the Batten Student Center Hub, is available during the week of November 6 for students, faculty and staff to pay tribute to those who have served by placing a ribbon on the tree in their honor. VWU's salute to veterans will culminate with the annual VWU Veterans Day Ceremony which will take place on Friday, November 10, 2017, at 1:30 p.m. in the Pearce Hospitality Suite in the Jane P. Batten Student Center. The ceremony will be followed by a reception.
This year's Veterans Day ceremony will include an introduction by Cory Franklin '20, United States Marine Corps (Ret); entrance of the Color Guard Army ROTC Detachment; "The Star-Spangled Banner" by the Virginia Wesleyan Chorale; a welcome from VWU President Scott D. Miller; "My Country, Tis of Thee" by the Campus Community & Virginia Wesleyan Chorale; Invocation and Prayer of Thanksgiving by University Chaplain The Rev. Greg West; and remarks from keynote speaker and Virginia Wesleyan Alumnus Ron Stebbins '92, United States Navy (Ret).
Chief Warrant Officer 5 (Ret.) Ron Stebbins '92 enlisted in the Navy Reserves in 1979 and retired in September 2010 after 31 years of service. He ascended to the rank of E-9, Master Chief Petty Officer (MCPO) before receiving a commission as a Naval Officer. Ron completed his Associate's degree at Tidewater Community College in 1987, his Bachelor's degree at Virginia Wesleyan University in 1992, and his Master's degree in Business Administration at Troy State University in 1994. He received a commission as a Naval Officer in 2000 and was promoted to Chief Warrant Officer 3. Over the next 10 years, he served as Maintenance Material Control Officer, Assistant Maintenance Officer, and Aviation Maintenance Branch Head. His final promotion to Chief Warrant Officer 5 occurred in 2008. During his career, he served in multiple combat environments and a variety of staff assignments. He has been awarded the Meritorious Service Medal, Navy and Marine Corps Commendation Medal (6 awards), Navy and Marine Corps Achievement Medal (2 awards), and various unit and personal awards. After retiring, Ron accepted a partnership in a newly formed company, AVMAC LLC (Aviation Management Analytical Consultants), headquartered in Chesapeake, Virginia, where he is the Chief Financial Officer. Ron has three children — Sarah, Emma and Blakely.
A Veterans Memorial was installed on the Virginia Wesleyan campus in 2013. The Memorial was created to honor members of the Virginia Wesleyan family who have served in the United States Armed Forces and was envisioned as a space where people can gather in fellowship or for quiet reflection. Students, faculty and staff were involved in the planning for the memorial, including students enrolled in a business management course who were charged with the beautification of the area surrounding the stone marker.
The campus community is grateful to those who played a special part in making the VWU Veterans Memorial Monument possible: David Buckingham, Kimberly Brown, Patty and Mark Clark, Keren Dixon, Hilve Firek, Mr. and Mrs. David Garraty, Lina Green, Fann and Billy Greer, Philip Guilfoyle, Roger Haas, The Hotaling Family, Joyce Howell and Henry Howell, III, Commander and Mrs. Ronald Hyman, Joe W. and Kathy Merlock Jackson, Judy and Tim O'Rourke, Robert Moody, Lisa Lyon Payne, Gary Richardson, Nicole Rust, Mr. and Mrs. Donald Stauffer, Kathy and William Stolley, Tom Underhill, Mita Vail, Mr. and Mrs. Bruce Vaughan, Jermaine Williams, and Jay Windsor.
Virginia Wesleyan University is committed to supporting veterans. A participant in the Yellow Ribbon Program and recognized as a Military Friendly School by G.I. Jobs magazine, VWU offers a full range of Veterans Support Services—from financial aid benefits and early registration opportunities to counseling and career services. For more information, contact VA Certifying Official and Financial Aid Counselor Melanie Monk: mmonk@vwu.edu