VWU Featured in "The Best 382 Colleges"- 2018 Edition
VWU is one of the nation's best for undergraduate education, according to The Princeton Review
NEWS RELEASE | August 1, 2017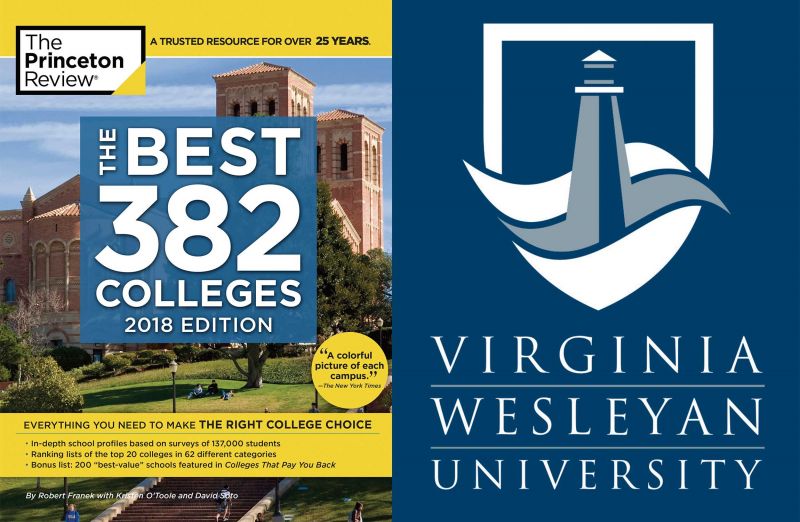 Virginia Wesleyan University is one of the nation's best institutions for undergraduate education, according to The Princeton Review. The education services company features VWU in the new 2018 edition of its college guide, "The Best 382 Colleges" (Penguin Random House / Princeton Review, $24.99) released today.
Only about 15 percent of America's 2,500 four-year colleges and two colleges outside the U.S. are profiled in the book, which is one of The Princeton Review's most popular guides. Published annually since 1992, it has detailed profiles of the colleges with rating scores in eight categories. The book also has ranking lists of top 20 schools in 62 categories. All of the ranking lists are based on The Princeton Review's surveys of students attending the colleges.
"We chose Virginia Wesleyan University (VWU) for this book because it offers outstanding academics " said Robert Franek, Princeton Review's Editor-in-Chief and author of "The Best 382 Colleges." "Our selections are primarily based on our surveys of administrators at several hundred four-year colleges. We also visit dozens of colleges each year and give considerable weight to opinions of our staff and our 24-member National College Counselor Advisory Board. Most importantly, we look at valuable feedback we get from each school's customers - our surveys of students attending them. We also keep a wide representation of colleges in the book by region, size, selectivity and character."
"It is an honor to be included once again among America's best, said VWU President Scott D. Miller. "We continually strive to inspire excellence and achievement in our students and as an institution and it is gratifying to be recognized by preeminent organizations such as The Princeton Review."
In its profile on Virginia Wesleyan University, The Princeton Review praises it for being "the quintessential small liberal arts university, providing undergraduates with a close-knit community where one can easily build strong relationships." The Review quotes extensively from VWU students that the company surveyed for the book. Student comments include: "The professors seem to genuinely care about their students and are approachable even outside the classroom." A current student added "I have never met a faculty so invested in my own personal success. Professors go above and beyond to ensure that every student understands the material and they make lifelong connections with students."
The Princeton Review does not rank the colleges from 1 to 382 in any category. Instead it uses students' ratings of their schools to compile 62 ranking lists of top 20 colleges in the book in various categories. The lists in this edition are entirely based on The Princeton Review's survey of 137,000 students (358 per campus on average) attending the colleges. The 80-question survey asks students to rate their schools on several topics and report on their campus experiences at them. Topics range from their assessments of their professors as teachers to opinions about their school's career services. The Princeton Review explains the basis for each ranking list at http://www.princetonreview.com/college-rankings/ranking-methodology.
The Princeton Review's school profiles and ranking lists in "The Best 382 Colleges" are posted at PrincetonReview.com/best382. There users can also access lists of schools the company profiles in its book, "Colleges That Pay You Back," and its Honor Rolls saluting schools that received the highest possible score, 99, for Financial Aid, Fire Safety, and Green ratings.
The Princeton Review also recommends Virginia Wesleyan University on its website feature, "2018 Best Colleges: Region by Region - Northeast / Midwest / Southeast / West" which salutes 658 schools (all U.S. based schools in "The Best 382 Colleges" plus an additional 278 schools) as outstanding in their regions.
"The Best 382 Colleges" is the 26th annual edition of The Princeton Review's "Best Colleges" book. It is one of 150 Princeton Review books published by Penguin Random House in a line that includes the annually-published "Complete Book of Colleges," "Colleges That Pay You Back," and guides to dozens of standardized tests. The Princeton Review (www.PrincetonReview.com) is an education services company known for its tutoring, test-prep courses, books, and other student resources. It is headquartered in New York, NY and not affiliated with Princeton University.